NYC post punk and garage rock act The Strokes were a breath of fresh air when they arrived on the scene in 2001 with their debut full-length album, Is This It. In fact, the band is credited with ushering in the garage punk revival that included acts such as the Killers, Franz Ferdinand, and Arctic Monkeys.
Naturally, The Strokes' rhythm guitarist Albert Hammond Jr.'s solo material is informed by his work with The Strokes, but he also makes forays into new wave, baroque pop, and folk. This Tuesday, Feb. 26, he plays the SLO Brew Rock Event Center (7 p.m.; 18-and-older; $20 at Boo Boo's and slobrew.com; $25 at the door; standing room only) in support of his fourth solo release, Francis Trouble.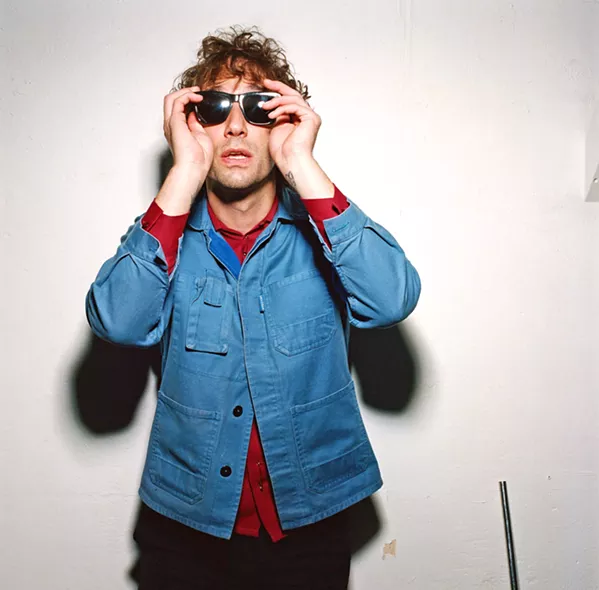 Photo Courtesy Of Autumn De Wilde
POST-PUNK POP Albert Hammond Jr. of The Strokes plays the SLO Brew Rock Event Center on Feb. 23.
According to press materials, Hammond's live show is "an indie rock adventure that explores deeply personal topics that have influenced his life and music." The videos I've seen online reveal an engaging and energetic performer.
Since the release of Francis Trouble almost a year ago, Hammond—the son of singer-songwriter Albert Hammond ("It Never Rains in Southern California," "99 Miles from L.A.," "I'm a Train")—has toured the world, playing at Roskilde, Splendour in the Grass, and Fuji Rock, not to mention late night appearances on Conan and The Late Late Show with James Corden. In The Valley Below will open the show.
Also this week at the SLO Brew Rock Event Center, see TV Girl with George Clanton opening on Saturday, Feb. 23 (7 p.m.; 18-and-older; $15 at Boo Boo's and slobrew.com; this is also a standing-room-only show, so bring your strong legs).
According to their bio, "TV Girl is a sunny, throwback splash of '60s French pop and Southern California soul. Yet, under that shiny veneer lays a dark heart, beating with sharp wit and cynical alienation, and the music is all the more alluring for it."
Prodigal daughter returns
Without a doubt, Santa Margarita local Jade Jackson has made it big. She signed with Anti Records and released the album, Gilded, to wide acclaim and excellent reviews. She went on a national tour, opening for Social Distortion under the mentorship of frontman Mike Ness. She performed on national TV when she appeared on CBS This Morning.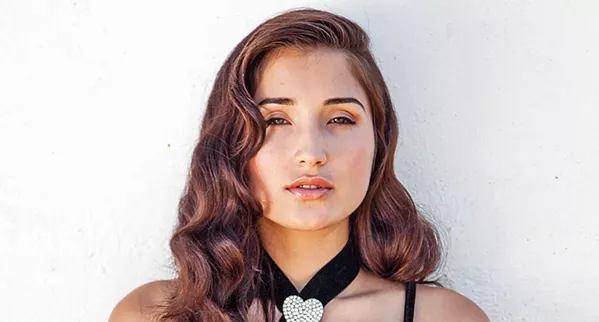 Photo Courtesy Of Jade Jackson
GOIN' TO JACKSON After two national tours, Santa Margarita native Jade Jackson is back in town for a short while with a show on Feb. 22, at The Siren.
That didn't stop her from returning to Santa Margarita to work some shifts at her parents' restaurant, The Range, to bank a few bucks before her next big tour. Jackson has retained her small-town-girl charm, humility, and warm personality, which will be on display when she plays this Friday, Feb. 22, at Morro Bay's The Siren (8 p.m.; 21-and-older; $15 presale at Boo Boo's and ticketfly.com or $17 at the door).
Jackson's a prolific singer-songwriter. In fact, when I last spoke to her about Gilded, she told me she already had a couple more albums' worth of new material she'd been writing on the road. This will be a wonderful opportunity to see her in an intimate club setting, and it may be your last chance for a while. When I saw her at The Range a few weeks ago, she mentioned that she and her band may be moving south soon to be closer to the LA music scene.
Don't miss your chance to catch Jackson's soulful, melancholy country songs that will remind you of Lucinda Williams and Emmylou Harris.
Sound dreams
Indie psych-pop quartet The Gift Machine brings their swirly and dreamy sounds to A Satellite of Love this Saturday, Feb. 23 (7 to 10 p.m.; all ages; free), where they're stopping by to promote their new album, New Tangles.
Photo Courtesy Of Jens Ochlich
UNWRAPPED Indie psych-pop quartet The Gift Machine plays an intimate show at SLO's A Satellite of Love on Feb. 23.
Featuring husband-and-wife co-vocalists Dave and Andrea Matthies, Alanna Cassidy (bass), and Matt Lawson (guitar and keys), the band's new album also features guest appearances by Blau, John and Jozette Vineyard (The Polyphonic Spree), and Brandon Lawhorne (Thee Sick Balloons).
Layered with sound and littered with engaging songs, New Tangles was mastered at the famed Abbey Road in London by Frank Arkwright (Arcade Fire, The Smiths, Belle and Sebastian).
If you haven't been there, A Satellite of Love is a very cool vintage shop located at 1335 Walker St., in SLO. Should be a great night of intimate music!
Blues shredder
Blues singer-songwriter and guitarist Albert Castiglia brings his hard-core blues, soul, rock, and country sounds to the SLO Vets' Hall this Saturday, Feb. 23 (7:30 p.m.; 21-and-older; $25 at Boo Boo Records, Cheap Thrills, and Paradise Records, or at the door).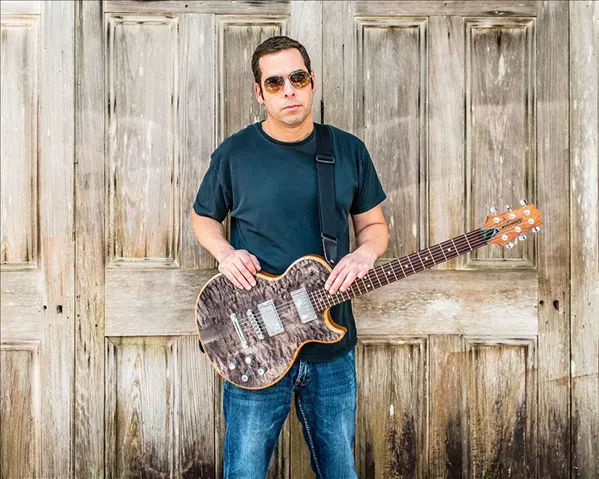 Photo Courtesy Of Albert Castiglia
HARD BLUES Albert Castiglia brings his blues, soul, rock, and country sounds to the SLO Vets' Hall on Feb. 23.
Vocally, he's been compared to Van Morrison, and they certainly share a similar husky quality, though Castiglia has more of an edge. He was born in NYC to a Cuban mother and Italian father, but they relocated to Florida when he was 5, and he took up the guitar at 12. In 1990, he joined the Miami Blues Authority and was named the "best blues guitarist in Miami" by the Miami New Times in 1997.
Chicago harmonica player Junior Wells selected Castiglia as his lead guitarist, and after Wells' death, he joined Atlanta vocalist Sandra Hall's touring band. In 2002, Castiglia joined the Alligator Alley Allstars, the same year he also began his solo career. He formed his current band in 2017.
"Putting my new band together was a pivotal moment and this recent incarnation has really upped my game," Castiglia said in press materials. "My drummer, Brian Menendez, is very dynamic and gives me that extra spark. Jimmy Pritchard is my bass player and he's solid as a rock. It's a power trio with no boundaries or restrictions. You'll rock out and dance like nobody's watching."
Catalina Eddy and the Blue Keys will open the show.
More music ...
Self-described psychedelic neo-prog folk jazz act Zen Mountain Poets have been diligently woodshedding and working on a new studio album, which they plan to release this summer before embarking on a tour. But that hasn't stopped them from booking a few local shows, including playing SLO's farmers' market this Thursday, Feb. 21 (6 to 9 p.m.; all ages; free), and Puffers of Pismo on Saturday, Feb. 23 (7 to 10 p.m.; all ages; free).
Photo Courtesy Of Timo Beckwith
NEO-PROG Triptastic shamanic music ensemble Zen Mountain Poets play two shows this week, Feb. 21 at the SLO farmers' market; and Feb. 23 at Puffers of Pismo.
"We also play the Whiskey a Go Go on Thursday, March 14," band member Anthony Roselli noted. "Our sound is uniquely infectious, tapping into so many different musical genres."
Reggae act Dub Seeds will bring their roots sounds to Frog and Peach this Friday, Feb. 22 (10 p.m.; 21-and-older; free). Get your irie on.
Only a few seats remain for the Cafe Musique concert at Painted Sky Recording Studios this Saturday, Feb. 23 (7:30 p.m.; all ages; $22 at Boo Boo Records, Ball & Skein, or by calling (805) 927-8330). The quintet is fresh off a SoCal tour and says they have "new tunes, new shoes, and new ties!" If you're looking for an amazing mix of Gypsy jazz, wild classical, tango, swing, and more, buy those last few tickets!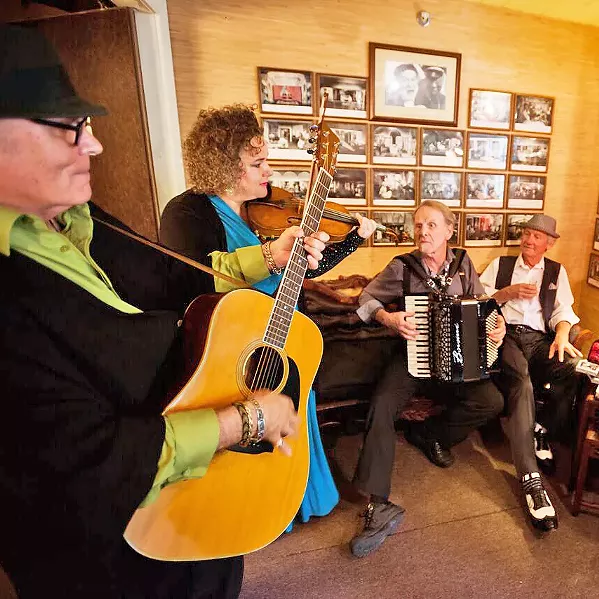 Photo Courtesy Of Cafe Musique
UNIQUE MUSIQUE Gypsy jazz, swing, tango, and wild classical ensemble Cafe Musique plays Painted Sky Recording Studios on Feb. 23.
Love is the theme of the Cal Poly Arab Music Ensemble's Winter Concert this Saturday, Feb. 23, in Harold J. Miossi Hall in the Performing Arts Center's Christopher Cohan Center (8 p.m.; all ages; $14 and $12 general, $12 and $9 students, at (805) 756-4849). Among other pieces, expect a performance of "Alf Layla Wa Layla"—or "A Thousand and One Nights"—a four-movement composition based on Persian, Arabic, and Indian stories.
Basin Street Regulars hosts another hot jazz concert, this time with Santa Barbara's The Ulysses Jasz Band and local act The Amigos Jazz and Swing Band this Sunday, Feb. 24, in the Pismo Vets' Hall (11 a.m. jam session, 1 p.m. concert; all ages; $10 at the door). Enjoy great swing, NOLA styles, antique pop songs, and big band sounds for your listening or dancing pleasure!
Photo Courtesy Of The Ulysses Jasz Band
SWINGERS Santa Barbara's The Ulysses Jasz Band plays a hot jazz concert on Feb. 24, in the Pismo Vets' Hall.
Cal Poly celebrates Black History Month with "We Shall Overcome," a showcase of "African American music traditions that electrified generations of civil rights activists and defenders with interwoven spoken word from Dr. King's recorded speeches," according to press materials. On Wednesday, Feb. 27 (7:30 p.m.; all ages; student and adult tickets from $30.40 to $58 at calpolyarts.org or (805) 756-4849), in the Performing Arts Center, producer and Musical Director Damien Sneed and his choir will perform music from "Aretha Franklin to Wynton Marsalis; Duke Ellington to Stevie Wonder; Nina Simone to Donny Hathaway; traditional spirituals to music from The Wiz." The event also features The Cuesta Chamber Singers and Cuesta Voce. Δ
Keep up with New Times Senior Staff Writer Glen Starkey via Twitter at twitter.com/glenstarkey, friend him at facebook.com/glenstarkey, or contact him at gstarkey@newtimesslo.com.