Lee Lawson's acrylic paintings hail from a separate place, or perhaps a separate plane, as though Lawson discovered an enchanted well, drank deeply of its contents and found herself in a dreamland where female agency, nature, and symbolism intertwine. She counts among her admirers
IMAGE BY LEE LAWSON
SONG OF THE SEA :
Clarissa Pinkola Est»s, who penned the holy book of women's self-empowerment, Women Who Run with the Wolves. In fact, in the past Est»s has used Lawson's work to illustrate her magazine articles. And after her exhibit at Linnaea's—titled Earth Sea Sky—which runs through Aug. 30, she will likely be able to add some more names to her list of happy conquests.
"I've always been a really vivid dreamer," said Lawson, who frequently receives comparisons between her work and dreams. "And I have a lot of experience in my dreams, of color. It gives me kind of an impulse to connect with what I was dreaming while I'm painting. It's kind of a similar heart state when you're dreaming; art comes from the same place that dreams come from."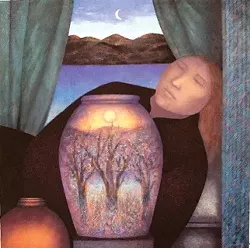 IMAGE BY LEE LAWSON
SEASONS OF TIME:
While the dream painter has exhibited her work around the world, including Japan, New York, and Los Angeles, her show at Linnaea's marks the first occasion that her paintings will have been displayed locally since she moved to San Luis Obispo County eight years ago. Since her move from Half Moon Bay, the focus and palette of her work has shifted. Where her images were once figurative, Lawson's enchantment with the Central Coast's earth, sea, and sky has given way to golden landscapes in which the sky, meadows, and mountains reflect rich hues imparted by the sun. Images that were once dominated by blues are now an intense meld of ochre, mustard, and honey.
But the figures and symbols that appeared in her figurative paintings haven't disappeared altogether. Women still find their way into her images, often in the foreground of a landscape. Jars and the potters that create them also figure prominently in her work.
"They're symbolic of embodiment, of essence, of the unseen," Lawson explained. "For me, life is like the clay and we're the potters and in every moment we're creating. I see it as indicative of the creative process and of being creative."
Yet another frequently employed symbol is a doorway or window within a landscape, which Lawson refers to as "a world within a world." These portals are not so much opportunities for escape as reminders of possibility, and, perhaps, of the new worlds that arise through dreams, and the ones we leave behind as we slumber.
IMAGE BY LEE LAWSON
MIGRATION :
With her doorways, vessels, and amber-soaked landscapes, Lawson consistently creates a peaceful, comfortable world, a haven, a space that many might identify as spiritual, despite the fact that Lawson is justifiably wary about the significance of the word.
"[My paintings] come from my experience of my inner life," she explained. "My works are like metaphors for my inner life and that's spiritual as far as I'm concerned."
INFOBOX: Elemental
Earth Sea Sky, the paintings of Lee Lawson, will be on display through Aug. 30 at Linnaea's CafÈ, 1110 Garden Street.
---
Arts Editor Ashley Schwellenbach is spirited, but has yet to run around with a pack of wolves. Send raw meat and protective gear to aschwellenbach@newtimesslo.com.