Regardless of your opinion on America's wars in Iraq and Afghanistan, everyone seems to agree that the men and women who serve deserve our respect, which seems to be the driving motivation for the nearly 100 people who have gathered at the SLO Regional Airport to welcome eight wounded American soldiers to the county for "Operation Surf," a rehabilitation program that teaches these men and women how to ride the waves. The day before, 11 British soldiers arrived to a crowd holding British flags, but today it's the Stars and Stripes lining the sidewalk in front of the airport.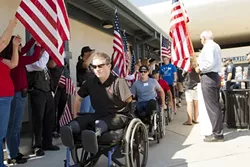 PHOTOS BY STEVE E. MILLER
WELCOME! : Wounded American and British war veterans arrived Sept. 25 at the SLO Regional Airport for Operation Surf, a rehabilitative surfing program.

SHOW YOUR SUPPORT!: The public is invited to come out and watch American and British wounded vets as they experience a five-day rehabilitative surf adventure beginning Thursday, Sept. 27, when they surf Avila Beach from 8 a.m. to 2 p.m. That evening, the SLO Elks Lodge No. 322 will be holding a Santa Maria-style barbecue for the vets, and the public is welcome. Buy your tickets at the lodge for $12. On Friday, Sept. 28, they'll surf the south side of Cayucos pier, on Saturday, Sept. 29 they'll surf Morro Bay near the rock, on Sunday, Sept. 30, they'll surf the north side of Pismo pier, and on Monday, Oct. 1, they'll surf Avila Beach again. That evening, Mr. Rick's will host a farewell bash beginning at 7:30 p.m. with music by Nataly Lola and The Onda Matics.
"I try to come to every one I can," says Skeeter, an Atascadero biker who rides with the Paso Robles American Legion Chapter 50 group. "I'm a veteran, and we didn't get anything like this, so it's nice to welcome the fellows home. I've been to between 30 and 35 of these. Funerals, too."
Next I run into Woody Underwood, who's driven his white 1937 Chevrolet two-door sedan to chauffer the soldiers. All told, there are about 20 classic cars.
"Why do you do it?" I ask, and his answer is simple: "Give back. What can I do? This is the least I can do."
It's Woody's third year driving these wounded vets. "It's unbelievable," he says, referring to these soldiers' spirit and drive. "A couple years ago, I met a guy with a prosthetic leg wearing a T-shirt that said, 'What the hell, I lost a leg. I still got my life.'"
Sitting next to Woody, awaiting the soldiers' arrival, was Dorothy Seelos, whose quilting group made 55 quilts that will be on display at the SLO Elks Lodge No. 322 starting at 2 p.m. on Thursday, Sept. 27—the same day the lodge is serving up a Santa Maria-style barbecue during a welcome dinner for the soldiers at 7 p.m. The public is invited.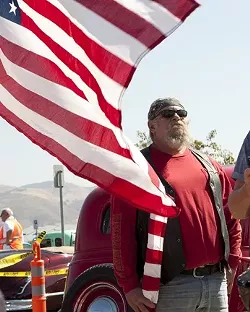 PHOTOS BY STEVE E. MILLER
BROTHER IN ARMS : Skeeter, an Atascadero biker who rides with Paso Robles American Legion Chapter 50 group, welcomes home the troops every chance he gets.
"They call me the yo-yo queen," Dorothy says, referring to a quilting pattern that combines circular fabric rosettes into a quilt. "After 9/11, I didn't have any kind of money to help out, but I brought people together to make yo-yos. Now I know why I'm still alive. I've given out more than 2,000 yo-yos."
Then I see a couple guys holding a banner that reads, "Welcome Home. We're Proud of You." One guy's name is Joe, a former Marine, and the other is Papa Joe, an Army vet—both Vietnam era. Like Skeeter, they didn't get the much of a welcome home.
"We want to show 'em we appreciate what they're doing," Joe says.
PHOTOS BY STEVE E. MILLER
PROUD! : Vietnam-era vets Papa Joe (left) and Joe came out to give a better welcome home than they got.
Finally I spot Van Curaza, whose nonprofit Amazing Surf Adventures is host to "Operation Surf" every year for these vets. Van, whom I've known since high school, was something of a ruffian in the past, but he credits his service work with helping to turn his life around. Now his work with these vets lifts his spirits in ways he never imagined.
"Oh my gosh, it's so amazing," he gushes. "I just taught this guy who was deaf and blind. It was one of the best experiences I've ever had. You see these guys go from pissed to stoked. Imagine the change in their heads as they accomplish this. Surfing is healing, as we both know. It's one of the most amazing things we can do."
Suddenly cheers go up and flags wave as the soldiers begin exiting a U.S. Airways Express jet and making their way up the tarmac, some in wheelchairs, some with canes, several with one or two prosthetic limbs. A short time later, they exit the terminal and a vet in the crowd shouts, "Detail, attention! Present arms!" and the vets in the crowd snap sharp salutes. The wounded soldiers, men and women who sacrificed their bodies and in many cases their spirits file out to shouts of "Welcome to San Luis Obispo!"
Welcome indeed!

Glen Starkey takes a beating and keeps on bleating. Keep up with him via twitter at twitter.com/glenstarkey, friend him at facebook.com/glenstarkey or myspace.com/glenstarkey, or contact him at gstarkey@newtimesslo.com.