Pam Grier, this year's King Vidor Award winner at the SLO Film Fest, may be the baddest broad in cinema, a strong black woman who kicked bad-guy asses all over the silver screen, but her toughest fight wasn't being—as auteur Quentin Tarantino called her—"the first female action star," it was overcoming rape and cancer, and learning to channel those hard lessons into a life of service to others.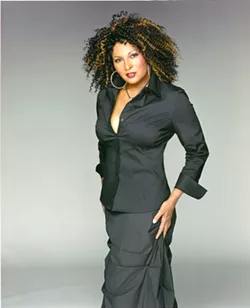 Photo Courtesy Of Pam Grier
STILL STRONG! Pam Grier is a rape and cancer survivor who still acts but has turned much of her attention to philanthropy.
In a wide ranging 50-minute phone interview with New Times, Grier discussed feminism, Blaxploitation cinema, the #MeToo movement, racism, patriarchy, philanthropy, animal therapy, LGBTQ issues, religion, philosophy, tropical disease, and her deadly skills with a baseball bat and chainsaw.
Grier was just 6 years old and left unsupervised at her aunt's home when two boys raped her. Later at 18 she was date raped. A third attempted rape ended in her favor. She'd become a fighter.
That same fighting spirit saved her in 1988 when she was diagnosed with stage 4 cervical cancer: "I was given a death sentence," Grier said matter-of-factly. Told she had 18 months to live, the otherwise healthy 39-year-old combined chemo and non-traditional medicine and fought her way back to health.
Now, when she's not working on movies such as the recently released Rod McCall film Rose (2017), with James Brolin and Cybill Shepherd, and the film Bad Grandmas (2017), with Florence Henderson and Judge Reinhold, or appearing in TV shows such as This Is Us (2018), she's reading philosophy, tending to her Colorado ranch, and doing philanthropy.
After a peripatetic childhood as an Air Force brat, at age 12 her family settled near Denver, and she credits country living and her family's draft horse for saving her from her first trauma of being raped at 6.
"I was able to slowly recover and begin speaking again," Grier recalled. "I prefer the comfort of animals and the country life, and I don't have to wear clean clothes all the time! There's an element of security—a comfy, warm, fuzzy, biscuits and gravy thing."
Her experience with that draft horse led to her involvement in a therapeutic riding program for children with autism and other disabilities. She lends her horses to the program and even buys the kids blazers, boots, and jodhpurs. She even bought an extra car to drive kids to events.
"Horses can really calm the anxiety," Grier explained. "I'll pick up the children and take them home because I know how overwhelming it can be for families with children who have special needs, but the kids don't want to be called 'disabled.' They schooled me on that! They want to be called 'different-abled.'"
Auntie Pam, as the kids call her, is also involved in a lot of other philanthropic endeavors. She works with Subaru's Pilots N Paws, an animal advocate program, and Subaru's Dining Out for Life, which helps those with HIV/AIDS by enlisting 6,000 restaurants in 60 cities to donate profits one day a year. It raises between $4 million and $5 million annually. She's also involved with PAALS (People And Animals Living Synergistically)—a Colorado-based organization that partners unwanted animals with forever homes.
"A dog will arrive in the middle of the night, and I'll take it home and feed and wash it and set it on my lap and love it and then drive it to a pre-approved family," Grier said.
Can you imagine the look on that family's faces when Pam Grier shows up at the door?
Grier came to prominence in the early '70s, shortly after America desegregated, just as the U.S. was disengaging with Vietnam. Roe v. Wade had become the law of the land, pornographic films such as Deep Throat and The Devil in Miss Jones screened in mainstream theaters, and new genres of cinema—Blaxploitation and sexploitation—were the rage.
Grier's first role was a small part in the mesmerizingly weird Roger Ebert-penned Russ Meyer-directed sexploitation film Beyond the Valley of the Dolls (1970). She followed it up with a series of women in prison flicks such as The Big Doll House (1971), Women in Cages (1971), and The Big Bird Cage (1972).
Many of these early movies were filmed in the Philippines, and during filming, Grier became extremely ill.
"It's true! It was some kind of virus or amoeba that went into my brain and paralyzed me," she explained. "They were going to send me to Hawaii because they didn't know how to treat me."
Luckily, a doctor for the L.A. Rams who had previously treated Grier decided to quarantine her and then try to freeze the infection to kill it. They literally wrapped her in bags of ice.
"I still think some day something's going to come crawling out of me," Grier joked. "There was dangerous stuff down there. Those rice paddies were full of bacteria and leeches and larva that will go into your eyes. I drank a lot of Jack Daniels trying to kill it all off."
Grier really hit her stride in Blaxploitation films such as Coffy (1973), Foxy Brown (1974), and 'Sheba, Baby' (1975), where she played—respectively—a vigilante nurse taking down inner-city drug dealers, a woman posing as a high-class sex worker to go after her boyfriend's murderers, and a Chicago detective who returns to Kentucky to help her father fight the mob.
Photo Courtesy Of Pam Grier
FOXY AND FIERCE! Pam Grier rose to prominence in early '70s Blaxploitation films, playing strong and beautiful characters that could best any man.
Did she feel exploited in these so-called Blaxploitation films?
"Oh, not at all!" Grier exclaimed. "We made sure we got the best deals, which we did, and that we'd be set up in perpetuity. We also signed up a lot of people to the union, a lot of behind-the-scenes workers who could make a good living. I think the reason they called it Blaxploitation was there was a subtle economic conspiracy involved, and a lot of men were threatened by a strong woman stepping into men's shoes. It was a bitter pill to swallow, and a lot of people were threatened by black power. Think about it! Black magic—negative. Black hole—negative. Black cat—negative. We were taking that all back. It was about black unity and black culture."
Grier sees a lot of parallels today in women's empowerment through the #MeToo movement and high school students taking a stand against gun violence. As a strong woman of color who fought patriarchy in the '70s, breaking barriers and bad guy's bones, she was part and parcel of second wave feminism.
Likewise, her candid autobiography, Foxy: My Life in Three Acts, inspired rape and cancer survivors and assured them they can carry on. Her memoir is being developed into a film.
Yes, some of her conservative white Colorado neighbors with Confederate-flag-festooned homes have called her the N-word to her face (she believes in part due to being emboldened by the current occupier of the White House), but Pam Grier—a strong, 68-year-old survivor, the first female action star, recipient of two honorary doctorate degrees, a Golden Globe nominee, an NAACP Image Award winner, the first black woman to appear on MS. Magazine (August 1975), and this year's King Vidor Award winner—still has faith in America ... because if she has to, she knows she can kick its ass! Δ
Contact Senior Staff Writer Glen Starkey at gstarkey@newtimesslo.com.