On-site catering—with its intense prepping and controlled chaos—is a heck of a lot of work. Any caterer will tell you it can be a dream and a nightmare, with plenty of moving pieces to keep you in your toes.
Photo Courtesy Of Carole Macdonal
PARK IT Chef/owner Santos MacDonal (right) of Il Cortile Ristorante and La Cosecha Bar + Restaurant in Paso Robles has taken the wheel of a state-of-the-art food truck. Now, with wife and business partner, Carole (left) at his side, the couple is ready to bring a new kind of mobile fare to the masses.
However, there are moments that make the mobile food frenzy worth it. You might end up at a location you've never been, and sometimes—just sometimes—you might get to see your own backyard in a completely new light.
For Paso Robles restaurateur Carole MacDonal, it was a breezy day at the coast years ago, when her husband served a catered brunch for a high-end car event.
Photo Courtesy Of Carole Macdonal
ALL THIS CAME FROM A TRUCK? The Truck's first event showed just what a mobile catering service can do. The five-course, sit-down dinner served at Clos Solène winery in Paso Robles featured a rustic barn, fine linens, and table service.
"I remember going to what I can only describe as a secluded castle-like home in Cambria, on a hill, overlooking the ocean," she said of the dreamlike day. "Looking out over the sea, the unbelievable cars—it was just amazing. And you'd never know it was there."
With any luck, a few more of these inspiring off-site culinary surprises will be in store for Carole and her husband, chef Santos MacDonal. Together, the pair owns La Cosecha Bar + Restaurant and Il Cortile Ristorante in downtown Paso Robles. Now, they're unveiling a new food truck—the vehicle that will propel Santos' culinary vision into new territory.
Dubbed simply, "The Truck," this state-of-the-art mobile kitchen will venture not only to "castles," but to vineyards, the beach, and pop-up events across northern SLO County.
"Ultimately, catering is really about creativity and intimacy," Carole said.
These two already know how to serve and delight, creating that connection between heart and food.
Perhaps that's why both their restaurants are the very definition of "dining destinations," garnering praise from Sunset magazine, Wine Spectator, and (most importantly) locals in search of elevated flavor.
Il Cortile Ristorante, located at 608 12th St., features chef Santos' rustic Italian cuisine, always heightened by seasonal ripeness. Think homemade pastas, fresh seafood, top quality meats, and antipasti. The wine list, inspired by Santos' food, is impressive—plus, with a new liquor license, you can now grab a martini, old fashioned, or digestivo. You can make that a nightcap, as this hangout stays open till 11 p.m. Friday and Saturday.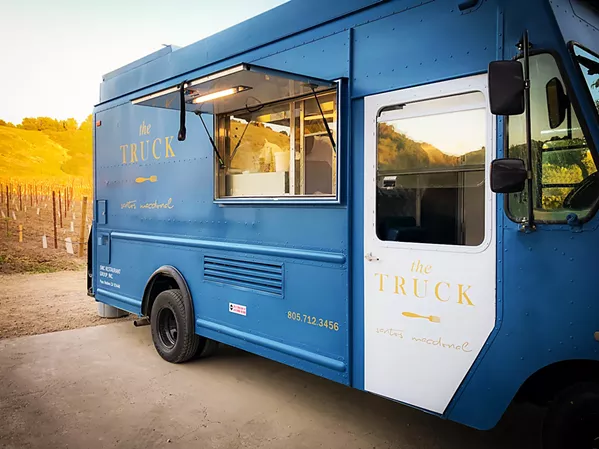 Photo Courtesy Of Carole Macdonal
DRIVING FORCE Chef/Owner Santos MacDonal of Il Cortile Ristorante and La Cosecha Bar + Restaurant in Paso Robles is known for fusing local farm fresh flavors with vibrant Italian, Spanish, and South American artistry. He's now throwing his effort behind a new food truck that is purely his own expression.
Spanish for "the harvest," La Cosecha Bar + Restaurant, located at 835 12th St., is the couple's second creation, centering on the cuisine of Spain and South America.
Expect culture-specific, specialized Latin flavors featuring imported herbs and spices from each dish's nation of origin (of course, Santos continues to take full advantage of local farmers' market-fresh produce, meats, and cheeses). The buzzing bar at La Cosecha also features a popular craft cocktail menu that combines herbs, fruit, and fearless creativity.
So, how much of the truck's fare will reflect these already delicious offerings?
The answer is "all" and "none," depending on the day and the event. You can choose menu elements from both restaurants, dream up your own menu, or let Santos decide.
"We are going to offer everything from small bites and sandwiches on a per person basis, all the way up to a full-on multi-course gourmet meal," Carole said.
The Truck's first event showed just what this unique mobile catering biz can do. The five-course, sit-down dinner served at Clos Solène winery in Paso Robles featured a rustic barn, wine pairings, fine linens, elegant flatware, and table service.
"It was exactly like what you'd get at one of our restaurants; the guests were so pleased with the fact that everything came out hot and fresh," Carole said. "However, say we're over at Tin City or a concert. In that case, we might offer five or six items you can buy off the truck. For other events, we'll have small bites or a buffet line with the main entree being served right off the truck."
In terms of specific menu items, that's really up to chef Santos' beautiful mind. In a way, Santos has created his own style of Paso Robles cuisine; a worldly genre all his own.
"I really wanted an additional outlet to express all the ideas I have in the kitchen and to help create one-of-a-kind menus," Santos said. "We just want to help create intimate and unique dining experiences for one-off events."
This chef means business. Just look at his truck, meticulously customized to detailed specs. Inside, you'll find a full-size commercial hood, six-burner range, flat-top grill, fryer, ample prep area—the whole nine yards.
"Santos wanted a smaller version of what we have at our restaurant kitchens; and this truck really is a full-on commercial kitchen," Carole said.
But—and you may already be thinking this—how does one chef man three stations at once? Although Santos enjoys working the line (during my interview with Carole, he was busy making pasta), he has no problem delegating.
Bay Area chef Michael Espy, who relocated to Paso with a slew of catering experience, will help man The Truck. Santos' son, Fernando MacDonal, has taken the helm at Il Cortille, and chef Rosie Matias—along with Santos' sister, Telma MacDonal, pour heart and soul into the female-driven kitchen at La Cosecha.
In the end, Santos knows that he is not, indeed, "the star." His food rules the show, and his friends and family are the players. Now that show is hitting the road.
Carole explained the tongue-in-cheek name of this feast factory on wheels.
"Il Cortile means 'the courtyard,' and we have a courtyard here; La Cosecha means 'the harvest' because the area is so well known for the harvest. The truck is 'the truck' because it's not tethered to either restaurant," she said. "We wanted to keep it independent so that we can play with creativity." Δ
Hayley Thomas Cain still doesn't know how chef Santos does it! She can be reached at hthomas@newtimesslo.com.