Walking into the Paso Robles Casino Bar and Lounge you're greeted by dimmed lights, blackjack tables, and a full service bar. You might also run into owners and brothers Don and Rob Ezzell.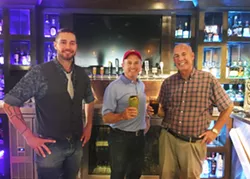 Photo By Karen Garcia
DREAM TEAM The Paso Robles Casino strives to create new nightlife in the city with an eclectic cocktail list and late night hours. Pictured left to right, Tony Bennett, Don Ezzell, and Rob Ezzell.
The duo is working to change the nightlife scene in Paso Robles by not only offering Vegas-style games but also an inviting environment where locals can enjoy a drink and a meal past normal business hours.
"Before, nobody had a reason to come to our establishment but to gamble," Rob said.
Rob said that locals and visitors alike don't necessarily need to be interested in gambling to drop by. Don said that the usual clientele of casinos are locals or retirees, but they're trying to reach a broader demographic—adults ranging from 21 to 60 years old.
"All of our customer materials are about having fun, the camaraderie, hanging out with people you enjoy, and about meeting new people," Don said.
Bar manager Tony Bennett said that most of the nightlife in the city ends around 10:30 p.m., because that's when the restaurants and bars close down for the night. But Bennett said the Ezzell brothers are changing the game by staying open until 2 a.m.
Bennett said mixing the card game environment and drinking scene is something that isn't really done on the Central Coast.
"Vegas is so convoluted because there are no personal relationships, you know, getting a drink from a bartender that you've never seen before, in a city that you maybe go to once a year," he said.
When you visit the Paso casino you see the familiar faces of Bennett and his team of bartenders, ready to serve craft cocktails.
"You could walk up to Tony and say, 'I had such drink while I was on vacation last year. Can you make that?' And the answer will always be yes," Don said.
Bennett said it's something that a lot of bartenders forget about these days and most just stick to their menu. But at the Casino, Bennett and his team are ready to serve up your preferred drink.
"It's fun to watch Tony and his gang. They light drinks on fire sometimes and it's really entertaining but it's also a very good cocktail," Don said.
Opening this kind of establishment has been a journey for the Ezzell brothers. Rob has always had an interest in the game, and Don has always liked to try his hand at different business ventures. They said this is by far the best business venture they've worked on together—creating the ultimate clubhouse.
Don said that Paso Robles has had a cardroom for about 76 years. The duo began operating the cardroom that was previously next to the casino in 2011. But they weren't happy with the customer experience or the facility. It was time for a change, and although the building is still under construction, the casino is slated to hold its grand opening Oct. 6 and 7. By then, their new patio will be up and running for customers to lounge on and enjoy a drink. Don said that they are also working to host live entertainment, just another reason to keep your eyes on the establishment. To learn more about casino visit pasoroblescasino.com.
Fast Facts
• The Buona Tavola restaurant is celebrating 25 years in San Luis Obispo! As a thank you to the community, chef and owner Antonio Varia is donating 25 percent of the proceeds from dinner purchased Thursday, Oct. 5, between 5:30 to 9:30 p.m. to the Child Development Resource Center in SLO. For more information, call 545-8000 or visit their SLO location 1037 Monterey St.
• Pacific Eye doctors are looking for nominations of nonprofits on the Central Coast for its sixth annual Pacific Eye Gives Back Challenge. Nominations for the contest are being accepted until Oct. 13. The challenge is designed to highlight outstanding organizations that contribute to positive changes in the area. The nonprofit organizations with the most votes will receive donations totaling $10,000 to be awarded in December. For more information, visit the Pacific Eye website or contact Robert Thielscher at rthielscher@paceyemd.com. Δ
Staff writer Karen Garcia wrote this week's Strokes and Plugs. Send tips to strokes@newtimesslo.com.