PHOTO BY HENRY BRUINGTON
ALL AGES: Josh Talbott's paintings are perfectly executed, but the subject matter has an undeniably youthful quality.
When Josh Talbott first placed a LEGO piece in his paintings, he was merely trying to create a sense of perspective. At that time he mainly painted insects depicted as jazz musicians, which he tried to sell to tourists in New Orleans. But that first red LEGO piece changed everything—
for a while at least.
"It hit me like a ton of bricks, excuse the pun," he said, sitting in the garden at Linnaea's, where his artwork is on display through the end of June, and painting what looked like a skeleton LEGO figure in front of a stack of aged books.
A fellow artist with whom Talbott shared a studio happened to have pirate-themed LEGO figures and blocks and they quickly became part of the adventure—battling ants and over the course of several months developing a reputation that Talbott wearied of.
"I decided I didn't want to be the LEGO guy," he said. So he quit incorporating them into his paintings. And for eight years the two artists with whom he had shared a studio in New Orleans gave him a hard time about his decision, encouraging him to return to the iconic, stackable subject matter.
It took losing most of his possessions in Hurricane Katrina and moving across the United States for Talbott to decide that he could use some playfulness in his life, and art.
But even after moving to Los Osos and making regular sojourns to businesses and public spaces to paint for whatever audience made itself available, Talbott wasn't completely convinced that there was enough meaning to his LEGO-themed pieces. It took a small child, walking with his dad, to teach Talbott that there was more to his work than even he realized.
The painting, titled Banana Boat, depicts a LEGO monkey wearing a pirate hat and brandishing a miniature sword, riding a banana with sails across what the viewer can probably assume is an ocean. The kid, who happened to be passing Talbott and happened to see the painting, explained the painting to his dad: The monkey was safe because he had a banana to ride through the seas, but when the monkey got hungry and ate the banana, the outcome would be decidedly less rosy. Talbott had painted the human condition using a LEGO monkey and had not even realized it.
PHOTO BY HENRY BRUINGTON
NERD PARTICLE :
"It took this 6-year-old to show me that there was real context," he laughed. "At that point I jumped in with both feet."
Banana Boat is one of nearly 40 pieces on display at Linnaea's. Most are prints, with a few originals in the mix, though the quality of the prints is such that it's almost impossible to tell the difference, and the prices range from $120 to $450 with most of the more memorably LEGO paintings hovering around $200. Not all of the pieces fall into what Talbott refers to on his website as "Toy Paintings." There are also the pieces that fall within the scope of the tab generically labeled "Other Paintings"—mostly mixed media pieces incorporating collage elements and heavily featuring birds and the ocean. While they're not the most attention-grabbing pieces of Talbott's work—despite being, in many cases, more than twice the size of his toy paintings—they do serve the important function of allowing Talbott to honestly claim that he is not merely a painter of children's toys, as though there was anything mere about the paintings that achieve that rare triumph of appealing to audiences of all ages.
Talbott's a full-time artist and tries to produce four original paintings per month, though he admits that with his mural projects, public painting, and giclee print production, he doesn't always hit the target. But as you might expect of a man who paints exquisitely-detailed photo-realistic images of a Honey Bear glowing contentedly with a dissected LEGO man in its belly; or a Barbie armed with that iconic white ice skate preparing to divest another hapless looking LEGO figurine of a limb, and possibly even his head; or Han Solo watching in desperation as a rubber snake consumes LEGO Chewbacca, Talbott dances a fine line between work and play.
The painter keeps a supply of toys near at hand, tucked into a messenger bag. The toys, combined with a lens for his iPhone, enable Talbott to set up a tableaux any place and any time. To prove his point, he withdraws a toy car, with Barbie already comfortably seated inside, and positions a T-rex in front of the vehicle.
"This is going to be Fossil Fuel," he reveals with a gesture that takes in the car, the doll, and the small plastic dinosaur.
Honey Bear, the painting featuring the cannibal LEGO, came about by accident while Talbott was painting You Can't Win, Darth. He noticed a pale, ghost-like honey bottle hovering in the background behind Darth. He'd taken the photo of the dueling LEGO figures in his neighbor's kitchen, where he was lying the floor. The unexpected presence surprised and pleased the artist.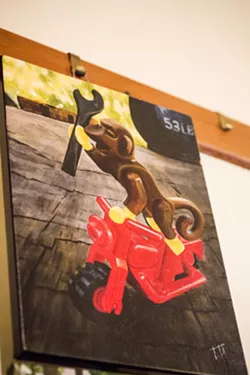 PHOTO BY HENRY BRUINGTON
MONKEY WRENCH :
"I was like, the honey bear! What the hell is he doing there?" he laughed.
He asked his neighbor if he still had the bear, and took it for his work, stuffing the pieces of a LEGO figurine into the bottle's large belly.
"It was like it was meant to be," he explained. "Look at how contented he is. He ate a LEGO man. He was hungry."
It's a seemingly simple philosophy perhaps, but it's the rare art show that can stop two young children racing through a café on Razor scooters in their tracks, and prompt them to exclaim in excitement over the subject matter. So being the LEGO guy has certain undeniable advantages.
And no, Talbott hasn't seen The LEGO Movie.
Managing Editor Ashley Schwellenbach ate a honey bear that ate a LEGO man. Send cheese to wash it down with to aschwellenbach@newtimesslo.com.