Barbara Hernandez has lived in San Luis Obispo for 16 years.
One evening, she and her husband, Lanny, were walking downtown after a film festival event. They ambled toward the corner of Marsh and Morro Street, right near the alleyway that abuts Barnes and Noble. But before they could make it any farther, they took in the scene before them.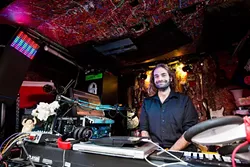 PHOTO BY KAORI FUNAHASHI
THE WANDERER: Jeffrey, aka the Wandering Madman, has been traveling around the country, playing music in his tricked-out truck, for the past three years.
In that narrow pathway, a crowd had gathered. People were dancing, singing, and swaying to the sounds of a mysterious, warbling voice crooning the classics: Bob Dylan, Etta James, Billy Joel. The couple was captivated. They hadn't seen anything like this before. In all their 16 years of living here, this was new.
The voice belonged to a young man in his early 30s, somewhere between friendly hippie and alt-rock frontman in appearance, with a smooth, almost sweet tone. He was perched behind his electric keyboard, propped against the opening of a customized, white box truck covered in the Sharpie-penned scrawls of adoring fans from across the nation. In this truck, he travels the country from city to city, singing for hours at a time, and living off the donations of kind passersby.
He calls himself "The Wandering Madman."
"I just had the best time," Barbara told me as she waited in front of the box truck one afternoon at that same alleyway. "I thought I had discovered him. … We came by the next Saturday; I called a friend. There were people dancing. We ate at Splash Café and moved the table so we could see him. He's just an old soul. His heart … you can feel it."
Barbara and Lanny are far from the only fans this box truck troubadour has attracted. Since his arrival in the area back in February, the coast of California has become a favorite haunt for his original brand of laid back, do-it-yourself, back-to-basics musicianship. Full disclosure: It was New Times photographer, Kaori Funahashi, who tipped me off to his talent, sending me the following, urgent message:
"DUDE. DOWNTOWN NOW. You gotta cover this guy."
She wasn't wrong. Every other weekend or so, dozens of people come to see The Wandering Madman, to hear him sing covers of old and new classics with his hearty vibrato. They come to listen to his goofy jokes, share in his cheery disposition, and for a few minutes, an hour or two, enjoy the songs that mean something to them, the songs they grew up with.
Many years ago, out in the country by St. Louis, Mo., The Wandering Madman wasn't so much wandering and wasn't so much a madman. His name is Jeffrey. He grew up surrounded by nature in the Midwest, where his mother took care of him and his siblings. His father worked as a dental technician. As a kid, he was super into dolphins.

GO YOUR OWN WAY: To catch up with Jeffrey, the Wandering Madman, find him on Facebook or his website, the wanderingmadman.com. He'll be back in SLO on April 23, as part of Farmers Market, with shows off and on through early May.
"That young, I was into marine biology," he reminisced over the phone. "I loved the dolphins. I went to San Diego as a kid, to SeaWorld, and during one of the exhibitions on stage, I got to pet a dolphin. They jokingly told me to jump, but I was ready to go. I was really excited."
Around the same time, he started getting into music. His father was a Motown man, favoring the grooves of the Temptations and Wilson Pickett.
"It was 'Land of 1000 Dances,'" he said. "That was my earliest memory of rock."
Around the age of 10, Jeffrey got a piano and never looked back. He started messing around, teaching himself piano and recording music off the radio on cassettes. Soon, he developed taste of his own, listening to the prog rock legends, like Genesis and Rush. In his late teens, he started picking up guitar and by the time he was in his early 20s, Jeffrey was at his peak, going strong with three bands.
"I was always the ringleader," he said. "But I was pushing people. It's so tricky with bills and five people, keeping everyone on the same page. I felt bad. I wanted friends, but I wanted the band to be better. They fell apart one at a time."
PHOTO BY KAORI FUNAHASHI
MUSIC MAN: After working as a roadie and touring with bands, Jeffrey set out on his own, performing covers of classics alongside his original material and intricate, looping mashups.
Meanwhile, Jeffrey was mainly pulling paying work as a roadie, loading the massive equipment needed for Elton John and Cake tours. Each show would take as many as 300 crewmembers 20 to 30 hours to set up. At one point, he busted a knee pretty badly. The work was grueling, but instructive.
"That was my college education of the music industry," he said.
The lessons he learned weren't necessarily positive. The more time he spent in the commercial music industry, the more he became disillusioned. He saw festivals become increasingly corporate, with independent bands fighting for time and recognition, barely getting ahead while sponsors raked in the dough. At some point, it became too much.
For three weeks, Jeffrey gallivanted about Europe on one of those cheap rail passes. The experience rejuvenated his drive and his interest. He had to pursue music, but on his own terms.
"I think I kinda reinvented the whole process," he said. "I eliminated their piece of the puzzle. So many of the musicians have their music on the radio because their label pays. They throw tons and tons of money at them, see what works, what catches, hoping for that one success that goes global. … I don't want money to come into the equation."
Alright. So, you want to play music. You want to play free music. And you want to tour. How exactly does one go about this?
Well, you do as Jeffrey did. You buy a box truck off of Craigslist for $6,500.
Betsy, as Jeffrey lovingly calls his truck, is a sturdy old broad. She's got everything you need for the young, robust, traveling musician: a walk-through between the cabin and the truck, a bed, guitars, bass, and a tambourine. On the inside walls, there's a nice, decorative tribute to Jackson Pollock. By the keyboard and many looping pedals, there's a small statue of Buddha and a printed sign of the famous J.R.R. Tolkien quote, "Not all who wander are lost."
It's a cozy fit, customized by hand.
Jeffrey rebuilt that truck, cutting out room for speakers, equipment, bedding, storage, and his neon signs.
"I had no idea, but I knew what I wanted, and I wasn't gonna let my lack of experience stop me," he explained.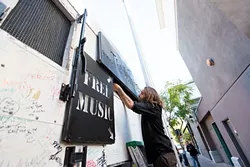 PHOTO BY KAORI FUNAHASHI
NICE SET: Jeffrey's customized box truck, nicknamed Betsy, only takes about 10 minutes to get ready. For big shows, he's installed a large projection screen to broadcast tunes and video to the bustling crowds.
What he ended up with is a bona fide mobile music box, a funky combination of food truck accessibility and café open-mic ambiance.
Or, as Jeffrey describes it, "it's like a panic room on wheels."
After three months, the truck was ready to hit the road. Jeffrey was ready to test out his new lifestyle cut off from the stability of a normal household, steady income, bills, and predictability.
So he headed to the town where street musicians flourish: Austin, Texas.
"I parked in front of 6th Street, right by the FedEx and Jimmy John's," he recalled. "I opened up with two songs. I looped 'Street Spirit' by Radiohead and 'Seven Nation Army.' I got a great crowd reaction, but the police didn't like it. I didn't really invest any thought. I got a $250 ticket."
Thus began Jeffrey's journey: a ticket and little else in terms of concrete plans.
One time, he was in Savannah, Ga., just hammering away, working on his truck when a police officer walked up.
"Someone in a uniform knocked on the door. They thought there were people in there. I almost got arrested for human trafficking, but I rolled up the door and said, 'There's just instruments in there!"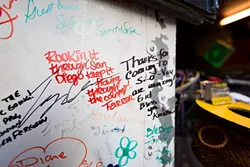 PHOTO BY KAORI FUNAHASHI
WRITING ON THE WALL: Fans from across the country, both young and old, have taken to Jeffrey's unique act, writing their well wishes on the wall of his truck.
From then on, he became a little more cautious, spending more time in cities to get the feel for the right area before parking and setting up shop. For three years now, he's crisscrossed the plains, purple mountain majesties, and city streets of America, adding songs to his already voluminous repertoire (the song total numbers around 430 as of April).
"Travel, that seems like the closest thing to flight you could ever have," he said. "The closest to being like a bird. You're not subjugated to all these walls. You can go and see what looks good to you. Everyone's gonna find something different. Florida is a good place if you know where to go. And then Portland, Seattle, and the California coast is a gold mine all to itself."
In early 2015, Jeffrey decided to head out for that golden coast. One, California offered some nice, ocean view scenery. And two, have you ever lived in the refurbished back end of a truck during the winter? It's as cold as an evil snowman's heart.
So come wintertime, he headed toward the sunshine state. In particular, he headed toward Santa Barbara, where he stationed himself by the throngs of crowds pouring out of the city's annual film festival. He hit paydirt.
"People have been overwhelmed with the music. … I've definitely proven that with travel and a truck, that mediocre talent and a monstrous amount of time can result in something phenomenal."
When he took his show on the road, up to SLO, at that corner where Barbara and Lanny first saw him, the fan response was staggering. Within a few days, he had more than 200 signatures in his guestbook from admirers young and old. On the walls of his truck, you can see a note from "Maggie, Age 4" among words of encouragement and "Rock on!"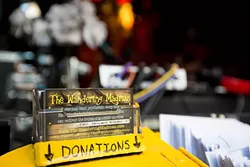 PHOTO BY KAORI FUNAHASHI
DOLLA DOLLA BILL Y'ALL: The majority of Jeffrey's income derives from donations made off shows. Recently, he donated 50 percent of his income to local animal shelters in Florida.
"I love when kids start dancing," he said. "People open up their homes to me. People get hooked, and I like a town that can entertain the unexpected. We're all on a crazy path, and I want to shake people out of the routine."
When Jeffrey plays, he's deliberate about the songs he chooses. Spectators yell out requests, and if he doesn't know it, he'll learn it. Lately, that's led to more and more contemporary pop (your Lordes, your Mumford and Sons). But the songs he likes the most are the ballads, the ones that take people back to memories of their first dance or the favorite songs of loved ones. It gets lonely on the road, he admitted.
"I would like to have a dog, but I wouldn't put a dog through that," he said. "But traveling alone … seems like such a real beauty in life is sharing it with other people. I've had some great times with groups of people. I never forget them. They're people I never met before, people I may never meet again. It doesn't fulfill the same need or desire to actually be with a family, be with someone. … But with [fans], it's like a reservoir that fills up. … Music enables bonds. That's the power, the greatest reward."
Recently, Jeffrey just received approval to play as part of the SLO Farmers Market on Thursday evening. And while this spot may be his favorite haunt for now, he hasn't stopped wandering. Currently, new sets of tourists, townsfolk, and fellow wanderers are discovering Jeffrey's soulful and homespun stylings all along the California coast, from San Diego to Santa Cruz. Maybe the Central Coast is the place he'll finally settle down. Maybe not.
"I like to give people consistency. Whatever's going on, there's always gonna be a crazy guy in a truck."
Arts Editor Jessica Peña's out movin' to the groove. Send her your favorite song at jpena@newtimesslo.com and maybe she'll sing it for you.