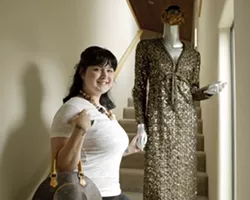 HAND IN HAND : Lisa Graystone's grandmother introduced her to the world of fashion as a child and has bestowed treasured pieces.
It began with a hunt for a silver-sequined boyfriend jacket: Lisa Graystone diligently searched for such a fashionable garment to no avail, but her frustration turned to inspiration when she decided to create her own online, eco-chic vintage clothing boutique. "I wanted to become another resource for women, to bring vintage out globally, and to bring it online," Graystone related. Evolution-Vintage officially opened its virtual doors on March 15 for "recycling, restyling, and reusing clothes to empower and inspire women."
Originally from Canada, Graystone and her husband moved their family to Morro Bay, his hometown, two years ago. She sketches, paints, renders portraits, and aspires to write a book during her fleeting free time, but at heart Graystone is dedicated to fashion, "I live and breathe it, 24/7. I've always been the fashion go-to person and decided to make a business out of it."
All of the clothing and accessories in her virtual shop are hand-selected by Graystone for their faithfulness to fashion past, with an eye to current trends. She's explicit about the quality of these relics; any flaws, no matter how minute, are described in detail. There is always something new trickling into the shop as Graystone scours local consignment and thrift stores and receives additions to her own consignment program. "I try to find pieces that are all different shapes, sizes, and styles. Each piece is unique and can be styled forward or stand alone as a beautiful piece of artwork, because that's what fashion really is: walking art."
No fur is sold by Evolution-Vintage because Graystone boycotts animal cruelty. "Fur is weak, not chic" is her anthem.
Not only does Evolution-Vintage provide global fashionistas with vintage pieces (pre-1989) but it also offers designer resale items at significant discounts. Graystone provides links to designers' sites so customers can compare prices and verify they are getting the genuine product.
Graystone does it all: the graphics, measurements, and web postings; on top of caring for her daughter, two stepchildren, her husband, and some semblance of a social life. Making customers excited about fashion is her reward. Her mission is to "inspire women to push their fashion boundaries where they otherwise wouldn't. I think going with your gut instinct is important in fashion and not enough people do it. I wear sequins to the grocery store in Morro Bay just because I feel like it. I want them to be inspired to think outside the box and flex their creative muscles a little bit."
Her fashion blog (evolutionvtg.blogspot.com) and the store's website, Twitter, Facebook, and Myspace accounts have helped her to quickly build relationships with customers. She's shipped clothes throughout the U.S., Canada, and Australia, and celebrities Kimora Lee Simmons, and Tori and Dean Spelling have worn the vintage-style T-shirts she designed.
For more information contact Graystone at lisa@evolution-vintage.com or check out the store at evolution-vintage.com.
Fast facts
Marisol Restaurant at the Cliffs Resort in Shell Beach will host the annual Women, Wine & Witchcraft winemakers' dinner on Friday, Aug. 13. It's a white-tie affair with a "good witch" theme and it's not limited to women; warlocks are invited, too. The evening begins with a reception at 6:30 p.m., followed by a beguilding five-course dinner by Chef Gregg Wangard. Women winemakers from Talley Vineyards, J. Dusi Wines, Lane Tanner Winery, Niner Winery, Wildhorse Winery, and William James Cellars will be featured. The cost is $65. Call 773-2511 for reservations …
The SLO Department of Social Services will be hosting two Foster Care and Adoption Informational Outreach Sessions on Sept. 7 and 28 from 6 to 8 p.m. The sessions will provide opportunities to meet foster youth and foster parents. No RSVP is required. The events will take place at 3433 S. Higuera Street, Room 115, in San Luis Obispo. For more information, go to slocounty.ca.gov/dss or call 781-1776.
Intern Marin Kautz contributed Strokes & Plugs this week. Send your business and nonprofit news to strokes@newtimesslo.com.