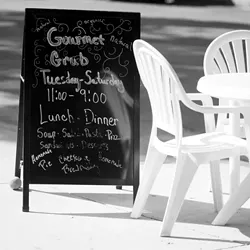 PHOTO BY STEVE E. MILLER
GOOD GRUB : Clare McFarlin makes her gourmet meals from scratch, a touch that will bring diners back repeatedly to her Morro Bay restaurant.
# I first heard about Gourmet Grub from its owner/chef, Clare McFarlin, who e-mailed a request asking me to review her cafe in Morro Bay. I grinned over her brazen invitation. Few chefs are ballsy enough to ask to be reviewed. But it was the winter holiday season and my calendar was overbooked. Nine months later, I finally arrived unannounced to try lunch in her cozy, retro cafe and realized just what I'd been missing. The Chinese chicken salad was impressively fresh and delicious and generously portioned, considering its low price. I was eager to return to try dinner, and when I did I found her cuisine was all that she claimed.
McFarlin's down-to-earth cafe offers a comfortable ambiance where you can enjoy an array of delicious, homemade foods and they're all quite reasonably priced. But when it comes to the food products she buys, McFarlin never sacrifices quality to save money. In her original invitation, she told me she purchases the finest-quality, natural ingredients: hormone- and nitrate-free meats, free-range chicken, and eggs, as well as organic produce.
"We are patronizing many local farmers, like Earth to Table, to get organic tomatoes, greens, carrots, potatoes, squash, and basil," she reminded me when I finally met her. "It's not just because these foods are healthier they taste better."
She also explained that she chose the name Gourmet Grub to make it clear: "This is no fancy-schmanzy restaurant."
Every dish is made from scratch, from the soups, salads, dressings, and appetizers to the thin-crust pizzas, pastas, daily specials, and desserts. The small-sized Chinese chicken salad with a glass of Firestone Riesling provided a lovely treat. But her idea of small was more than plentiful: The broad-rimmed bowl was piled high with crisp greens dressed in a well-balanced ginger/soy vinaigrette, and plenty of moist, tender chicken chunks, crunchy almonds, and green onions, topped with crisped rice sticks and wonton strips.
Sandwich specialties with choices like chicken curry with mangos and almonds, or meatballs with marinara and mozzarella are served with choice of deli salads. McFarlin, who's always thinking of her guests, provided small and large choices of the Chinese chicken salad or spinach salad on the lunch menu.
The first time I walked in the door, solo, the affable McFarlin greeted me warmly and invited me to sit anywhere I liked. That's not the typical response I've received dining alone at a restaurant where they don't know me. Many restaurateurs could learn from McFarlin, who understands that the dining experience isn't just about the food. Good service matters when you want customers to return.
When I studied at the California Culinary Academy in San Francisco (1986 through 1988), I met many aspiring young chefs who were chasing their dreams. And very few of them wanted to end up working for a big-name chef or corporate chain. Most of those passionate dreamers planned to play the star chef role at their own restaurant, where foodies would rave about their extraordinary food. McFarlin reminded me of those ardent youngsters. A 25-year resident of Morro Bay, McFarlin formerly taught English in the San Fernando Valley on weekdays. Her desire to live in Morro Bay full time and a passion for cooking inspired her to create the cafe.
The eatery is a family affair where McFarlin and her youngest son Christopher are chefs. Her daughter Samantha, a professional photographer, and oldest son Patrick, a mason and artisan, also help cook and serve guests. McFarlin proudly displays her photographs and his bronze sculptures in the dining room. She also hangs her own colorful painting of Morro Rock and the foods she serves in the foreground. The family collaborated on the stylish retro interior with black-and-white tile and sparkly red vinyl booths. Counter seating along the front window is terrific for single diners, offering a great view of the downtown district.
Fresh soups include a daily special, like cream of spinach, chicken noodle, and clam chowder. At dinner, I tried the latter and sucked up every spoonful. It's slightly thickened, without that horrid raw flour taste, and tastes mostly of clams with bits of potatoes and carrots. Soups and salads come with freshly baked La Brea mini-baguettes served warm and crunchy. My husband Dan loved the spinach salad topped with freshly chopped eggs and a choice of crispy pork or veggie bacon. Here, vegans and vegetarians will always find an array of great choices on the menu.
From her selection of gourmet appetizers on the dinner menu, we relished the grilled tiger shrimp served over baby lettuces with rich basil pesto. After devouring the prawns, we saved the pesto to dunk the bread. McFarlin said that locals favor the grilled seasonal vegetables, and the tomatoes with mozzarella and basil. Dinner specials provide an array of old-fashioned dishes, such as meatloaf, lasagna, and chicken Parmesan.
Dan tried the Alaskan halibut special served with a delightful sweet-tangy sauce made with gold and red cherry tomatoes. I raved about the sauteed wild tiger prawns over spaghettini with the homemade marinara, proclaiming it among the best marinara I'd ever tasted. McFarlin said she makes it from fresh organic tomatoes. We didn't try her thin-crust pizzas with whole milk mozzarella and Reggiano Parmesan and choice of toppings, but I'm eager to return and try one.
The old-fashioned desserts are irresistible, with choices like bread pudding with chocolate sauce or banana cream pie. We tried the luscious-looking strawberry pie with a thick but flaky crust and lattice-top (fruit fillings depend upon the season). We're not big dessert eaters, but we appreciated this pie because it tasted like freshly-picked strawberries rather than those strawberry jam types too rich for my taste.
The only letdown here: They were out of the first two wines we chose from their wine list. I couldn't fault them, however, when they're offering solid local wines with such low markups. In a place this small, it's impossible to keep large quantities in stock. McFarlin admitted, obviously embarrassed, that we caught them right behind the busy Labor Day weekend before she could re-order more.
With the theater two doors away, Gourmet Grub is perfect taking in dinner and a movie if you can bring yourself to leave the table. Do note that the restaurant is closed on Sunday and Monday, but it's open throughout the day and evening Tuesday through Saturday. With outstanding restaurants like Taco Temple, Shawn's on Main, and now Gourmet Grub in this resort town, these days I've been advising people who visit Morro Bay to think beyond the Embarcadero.
INFOBOX: From scratch
Gourmet Grub is located at 430 Morro Bay Blvd., Morro Bay. For more information, call 772-1030.
BREAKER:
'We are patronizing many local farmers, like Earth to Table, to get organic tomatoes, greens, carrots, potatoes, squash, and basil. It's not just because these foods are healthier they taste better.'
Clare McFarlin, Gourmet Grub
Contact New Times' Cuisine columnist at khardesty@newtimesslo.com.