In the age of too much information, everyone who wasn't there thinks they know what really happened. Emboldened by the anonymity of the Internet, we dole out judgment. Inspired by this phenomenon, best-selling author Catherine Ryan Hyde, 60, of Cambria wrote Ask Him Why, which came out last month. One of her 30 books, Pay It Forward, was adapted into a movie in 2000. She recently sat down with New Times to talk about Ask Him Why and life on the Central Coast.
PHOTO COURTESEY OF CATHERINE RYAN HYDE
WRITE AWAY: Local author Catherine Ryan Hyde, who has published 30 books and counting, grew up in a family of writers.

New Times: What brought you to the Central Coast?
Catherine Ryan Hyde: I moved to Cambria from Los Angeles in 1985. I came up to spend the summer with my mom, who had been up here for about four years. I got about two weeks into the summer, and I thought, "Go back where?"
NT: How did you get into writing?
CRH: I think I came by it honestly. My mother was a writer when I was growing up. She wrote nonfiction. She had two books, one was an anthology and the other was a nonfiction book about having children. There were three siblings in my family, and we all ended up being authors to one degree or another. I think it's one of those things where maybe it's nature and maybe it's nurture, but the bottom line is everybody in my family was an author, so I think it was kind of inevitable in a way.
NT: So what is your latest book, Ask Him Why, about?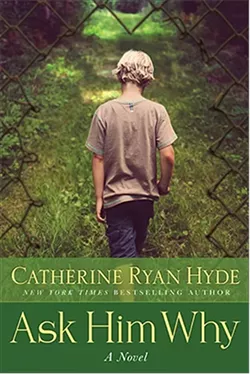 IMAGE COURTESEY OF CATHERINE RYAN HYDE
FACT, NOT FICTION: Cambria based author Catherine Ryan Hyde's latest book, 'Ask Him Why,' deals with the subject of public and media scrutiny after a soldier returns home from Iraq under questionable circumstances.
CRH: Ask Him Why is a novel written from two first person points of view, a teenage brother and sister. I write what I think of as coming-of-age books. Ruth and Aubrey are the kids of a very dysfunctional Orange County family. Their older half-brother Joseph, he goes off to fight in Iraq and 3 1/2 months later he's back. He's not injured; he's just home. Something has gone really wrong over there. First they think he's facing a dishonorable discharge and then it looks like he's facing a court marshall. The media just descends on them. Everybody's got an opinion on it. The family doesn't even know what happened, but the people in the comments section do.
NT: Was the story of Ask Him Why based at all on Bowe Bergdahl?
CRH: A little bit. I did get the inspiration for the idea from watching what happened to him and his family and thinking, "What the hell are these people doing? They don't know what happened." I'm not saying he's a good guy; I'm saying I wasn't there. How do we really know how we're going to behave with people shooting at our ears?
NT: Do you have a favorite book that you've written?
PHOTO COURTESEY OF HUNTER KILPATRICK
LONE WRITER : Cambria-based author Catherine Ryan Hyde named her horse Nathan after the steadfast and loyal character of the same name in her book, 'When I Found You.'
CRH: No. For years, I didn't. And then I wrote Becoming Chloe and that book was my favorite. I don't know why, I just have a heart connection with that book. And now, I've written so many more books that I kind of feel like the ones I've been doing lately are stronger than my old stuff. I have some favorites, but I don't have one that feels like it's standing head and shoulders above the rest.
NT: What's your writing process like?
CRH: It's very scattered. It's not nearly as organized as you would think it is. I have a tendency to write in these huge fits and starts. So when I'm working on something and it's flowing, I'll write about 10 to 14 pages a day, sometimes for seven to 10 days at a time. I tend to write really fast.
NT: What are some of your favorite books by other authors?
READ ON : Get hooked on one of Catherine Ryan Hyde's many (30 and counting) books. To find out more about 'Ask Him Why,' go to

catherineryanhyde.com

.
CRH: I like Jonathan Safran Foer. I really like Everything Is Illuminated and Incredibly Loud, Incredible Close. Interestingly enough, those were two books where I think the movie was as good as the books. I read a lot of young adult books because they just seem very emotionally honest to me. So I read Holly Schindler and Jerry Spinelli and people like that.
Ryah Cooley has all the questions at rcooley@newtimesslo.com.