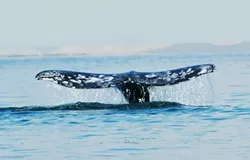 PHOTO BY LARRY WAN
FACING THE HARPOON : Proposed rules for international whaling could threaten the continued survival of gray whales along the SLO County coast.
S
LO County residents are joining other Californians in a protest rally out of the pages of history on May 23 in Morro Bay. The catch-cry of the environmental movement in the 1970s, "Save the whales," will echo across the coast in a grassroots action to halt the future expansion of whale hunting.
"If you care about these wonderful, magnificent creatures—and you should—it's important to go to the rally and give Obama a message," said Sara Wan of the Western Alliance for Nature, one of the groups helping organize the protest.
The International Whaling Commission (IWC), which regulates whaling in the world's oceans, will next month consider new rules that would legitimize hunting by setting kill quotas for seven species of whales for the next ten years. Whale lovers around the world fear the rules would in effect end the global moratorium on whale killing enacted as a result of those '70s protests.
"It's going to be open season on whales, and we've got to stop it. If the average person were aware of this, they'd be outraged," Wan said.
The SLO County Board of Supervisors is set to consider a resolution on May 18 to oppose the proposed rules. The county's resolution, introduced by Supervisor Bruce Gibson, urges President Obama to direct the U.S. delegation to vote against the new rules at the International Whaling Commission's meeting in Morocco next month. County supervisors will ask the IWC to focus on protecting whales and their habitat, and to promote non-lethal encounters with whales such as whale watching and scientific study.
The supervisors, along with other Californians, are especially concerned about what the new rules would mean for California gray whales, the state's official marine mammal. Gray whales swim through SLO County's coastal waters on their twice-yearly migrations and are popular with local whale watchers.
As many as 1,400 gray whales could be killed over the next ten years under the IWC's proposed subsistence quota.
"Whales are considered sentient beings at the apex of the marine food chain that are extremely important for the health and vitality of our oceans," according to the county resolution.

SAVE THE WHALES (AGAIN): Whale lovers are invited to Morro Rock on Sunday, May 23, at 10 a.m. as a show of support for the current moratorium on commercial whaling. Scheduled speakers include actor Timothy Bottoms, former State Assemblyman John Laird, SLO County Supervisor Bruce Gibson, California Coastal Commission staffer Sarah Christie, Morro Bay City Councilmember Noah Smukler, internationally renowned cetacean lecturer Dean Bernal, Sea Shepherd campaigner Mandy Davis, and marine sanctuary advisor P.J. Webb. To sign a petition to President Obama or find out more, check out wanconservancy.org/whales
The California Coastal Commission was scheduled to pass a similar resolution at its meeting on May 12. According to a staff report to the Coastal Commission, a worrying black market exists for whale meat. DNA testing of whale meat found at a Santa Monica sushi bar in March showed that it likely came from an endangered sei whale killed as part of Japan's so-called "scientific" whaling efforts.
"The IWC is a dysfunctional mess," the Coastal Commission's legislative analyst, Sarah Christie, told New Times. Japan, Norway, and Iceland have opted out of the whaling moratorium for years, using a variety of loopholes. With no enforcement authority and no formal treaty to protect whales, the IWC's own figures show that more than 40,000 whales have been killed since the moratorium was enacted in 1986.
Lax oversight of Russia's "indigenous subsistence" quota for whale killing has resulted in whales being fed to foxes in Russian fur farms, Christie said.
The 88-member international commission is now fairly evenly split between pro- and anti-whaling nations, leading to what the IWC calls "a prevalent atmosphere of confrontation and mistrust among member governments."
With the idea of creating a ten-year "period of stability" during which the major issues could be resolved, the chairman and vice-chair released their compromise proposal on April 22, titled "Proposed Consensus Decision to Improve the Conservation of Whales."
It would legitimize until at least 2020 the whaling now carried out by "rogue" whaling nations of Japan, Norway, and Iceland—and "indigenous subsistence" whaling in Russia, the U.S., Greenland, and other countries—by setting catch quotas for gray, humpback, fin, Bryde's, sei, minke, and bowhead whales. The proposal would also open the vast Southern Ocean Sanctuary to whale hunting, as well as establish a new Southern Atlantic Sanctuary where whales could be killed during seven months of the year.
Supporters of the IWC proposal say the whaling moratorium would remain in place, this time with catch quotas. Christie calls that idea "very Orwellian," adding, "If you authorize killing for ten years, it renders the moratorium meaningless."
The IWC "consensus decision" also
calls for additional studies of the impacts on whales caused by global climate change, underwater noise, pollution, and ship strikes.
Local rally organizer Mandy Davis, a Los Osos scientist who traveled to Antarctica for anti-whaling protests with the conservation group Sea Shepherd, is critical of the IWC's proposed compromise, which she called "flawed."
"It's not a compromise for the whales or for you and me," she said, urging concerned local residents to attend the May 23 rally.
"Along with hundreds of others, we will shout a unanimous 'No way, Obama!' and he will hear us."
Award-winning environmental journalist Kathy Johnston can be reached at kjohnston@newtimesslo.com.