If you mixed Grizzly Adams, Waylon Jennings, and Woody Guthrie together, you'd have Jake Smith, chief singer, songwriter, and guitarist of The White Buffalo, a band with rotating members but with Smith always front and center.
He's a raw and untrained talent who never had a voice lesson, didn't pick up a guitar until he was 19 years old, and just one day started doing what he does, which is to pen dark and detailed character studies of people on the edge and then deliver them with a robustness and power that's hard to fathom.
PHOTO COURTESY OF THE WHITE BUFFALO
MOUNTAIN MAN : The White Buffalo, fronted by Jake Smith (pictured), play the Fremont Theater on June 8.
"I've always loved the combination of things that are really beautiful and things that are really dark or heavy," Smith said in press materials. "There's a lot of that on this album."
"This album" is 2015's Love and the Death of Damnation, his fifth album that features his bellowing baritone voice that comes charging at you like a Johnny Cash freight train with Eddie Vedder at the helm.
"With this album, I really wanted to get back to songs," Smith said. "Shadows, Greys and Evil Ways (2013) was kind of a concept album, so this time I wanted to get back to writing individual stories, as opposed to an extended narrative. I wanted each song to make you feel something. In the past, the songs have almost always been pretty dark, but this time, I was also able to channel some happier stuff and write a couple of actual feel-good songs. It's also more varied musically. I really made an effort to expand my sound, and to get out of my comfort zone as a songwriter."
These are big, dynamic songs with the intensity of punk rock contained in the intimacy of Americana folk music. It's hard not to be drawn into stories about a drug deal gone wrong as in "Chico" or the gospel-soul of "Come On Love, Come On In."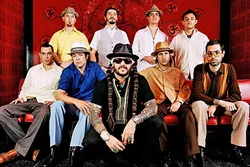 PHOTO COURTESY OF THE B-SIDE PLAYERS
BOOGALOO: The B-Side Players bring their Latin sounds to Tooth & Nail Winery on June 2, for a free show.
The White Buffalo's delightfully dark music has appeared on shows such as Sons of Anarchy and Californication, but he's best enjoyed live, where he leaves it all on stage.
Oh, and if you wondered about his pseudonym, "A couple of guys thought I needed a stage name and threw some names in a hat," he recalled. "I pulled out The White Buffalo, and it seemed to make sense, because I'm a big white motherfucker, and because it created some mystery."
The White Buffalo plays a Numbskull and Good Medicine Presents show at the Fremont Theater next Thursday, June 8 (7 p.m.; all ages; $18 presale at ticketfly.com or $20 at the door).
Numbskull and Good Medicine Presents also host The B-Side Players this Friday, June 2 (6 p.m.; all ages; free), at Tooth & Nail Winery. This nine-piece ensemble explores the rhythms of Latin America and the Caribbean, mixing in the sounds of Cuba, Jamaica, Mexico, and Brazil with the funk, rock, jazz, and hip-hop as well cumbia, salsa, gritty street samba, son montuno, jarocho, and boogaloo!
Good Medicine Presents also booked Dave Alvin & Phil Alvin with The Guilty Ones into The Siren in Morro Bay on Saturday, June 3 (7 p.m.; 21-and-older), but this one's already sold out. Sorry!
Remembering Sam
Samantha Michelle Ford may have succumbed to her third battle with cancer in 2010 when she was just 24 years old, but she continues to inspire others with her tenacity and positive outlook. The dedicated dancer was in eighth grade when she discovered she had a rare form of bone cancer in her right leg, which led to an amputation. Instead of giving up dance, she learned to dance on a prosthetic limb. She also fought off lung cancer before a third attack of leukemia led to her untimely death.
PHOTO COURTESY OF NATALY LOLA
PLAYING FOR SAM: Local singer-songwriter Nataly Lola is one of several acts playing June 3 at Branch Street Deli for the annual Remembering Sam Ford fundraiser.
"God has made me strong in order to help others who are weak," Ford said in a 2006 interview. "I hope that I inspire people to live their lives to the fullest because you never know what will happen to you. As far as continuing to dance and teaching dance, I wanted my students to know that no matter what, if you love something and are that passionate about it, then do it and don't hold back, despite any odds. I can't help but think about how different my life would be if none of this had happened. Where would I be? What would I be doing? Who would I be? Before all of this happened I wanted to be a professional dancer, but now those dreams are gone ... God has a different plan for me, and that is OK. I have never complained, and have never felt sorry for myself because I know that there are other people in the world that are far worse off than me. I love my life, and I can't wait to see what God has in store for me."
This Saturday, June 3, Arroyo Grande's Branch Street Deli hosts the annual Remembering Sam Ford Benefit Concert (3 to 7 p.m.; all ages; free but donations welcome). The deli plans to also donate 10 percent of all sales to raise money for dance scholarships in Sam's name to Grover Beach's The Studio of Performing Arts. In addition, a portion of the proceeds will be donated to The Pablove Foundation, which according to officials "funds pediatric cancer research and advances in treatment; educates and empowers cancer families; and improves the quality of life for children living with cancer through hospital play, music, and arts programs."
The concert features an acoustic lineup of local musicians including Nataly Lola, Mid-Life Crisis, and Izzy Pedego, as well as a special performance by dancers from The Studio of Performing Arts.
Live Oak draws nigh!
PHOTO BY CARLO MIARI FULCIS
THROWBACK COOL: Nick Waterhouse will bring his '50s-style R&B and club jazz, and '60s soul and boogaloo, to the Live Oak Music Festival on opening night June 16; get your tickets!
In the run-up to the Live Oak Music Festival—Friday, June 16, to Sunday, June 18—in Camp Live Oak off Highway 154 about 80 minutes south of San Luis Obispo, I'm featuring a few of the acts that I'm most excited about this year, starting with Nick Waterhouse, who mixes '50s R&B and club jazz with '60s soul and boogaloo.
Waterhouse looks like the actor Jason Schwartzman when he played the earnest but easily distracted student Max Fischer in the 1998 comedy Rushmore, and he's got the sly satirical cool of James Coburn's Derek Flint in the In Like Flint '60s spy series as well as Dean Martin's '60s spy character Matt Helm.
His music is dripping with old-fashioned cool, back in the days when everyone dressed to the nines in sharkskin suits with skinny ties. Waterhouse fell in love with his style of music when he worked in the San Francisco record store Rooky Ricardo's Records, which specializes in rare R&B and soul 45rpm vinyl, which also led Waterhouse to his earlier career as a DJ.
He'd played in acts such as Intelligista (2002 to 2003), which drew comparisons to The Animals, but it wasn't until his self-released 2010 single "Some Place," which he released as a 7-inch single, that he found a live music sound people dug. That first rare single now sells for as much as $300!
Head to liveoakfest.org to buy tickets and check out this year's stellar lineup! If you've been on the fence about going, get off the fence! This year's going to be amazing!
More music …
PHOTO COURTESY OF STARRY EYED CADET
SHOEGAZERS: Starry Eyed Cadet brings their indie pop and rock sounds to Frog and Peach on June 1.
The Zongo All-Stars kick off the first concert in the Paso Robles City Park on Thursday, June 1 (6 p.m.; all ages; free). One of the county's most popular bands—they won the New Times Best Of Readers Poll twice—they deliver excellent Afro-Caribbean dance sounds.
Starry Eyed Cadet bring its shoegazing indie pop and rock to Frog and Peach this Thursday, June 1 (10 p.m.; 21-and-older; free), with opening act Sky Faction. Starry lists Ride, The Stone Roses, C86, The Beatles, Sarah Records, Depeche Mode, and New Order as influences.
Petrella, known as the "First Lady of Country Soul," plays Last Stage West on Friday, June 2 (6 to 9 p.m.; all ages; free). Mixing R&B with country, Petrella has an earthy voice and delivers a powerhouse performance. She's been playing her signature style of music for nearly 30 years, generating five singles that made it to the top 100 on the Country Music Charts with a single from the 100 Proof Woman CD going to No. 14 on the Billboard Hot Country single sales chart.
PHOTO COURTESY OF NA HOA ALOHA
ALOHA!: Hawaiian act Na Hoa Aloha plays the next Red Barn Community Music Series concert on June 3.
Guitarist and ukulele player Mark Baker plays Coalesce Bookstore this Friday, June 2 (7 p.m., all ages; $20 tickets at 772-2880). The Texas native starred in his first musical at age 7 and has toured the U.S., Canada, and Mexico as a solo artist for 25 years.
Cal Poly's University Jazz Bands will present their annual Jazz Night Concert on Friday, June 2, in Spanos Theatre (8 p.m.; all ages; $14 general admission or $9 for students, at 756-4849), which features "several jazz composers who are pushing the boundaries of what jazz is and can be," organizers say.
Hawaiian act Na Hoa Aloha plays the next Red Barn Community Music Series concert on Saturday, June 3 (5 p.m. potluck; 6 p.m. concert; all ages; $20 at the door). Featuring vocalists, ukulele, lap steel, bass, and guitar, the show will also present traditional Hawaiian dance.
Acoustic folk rock duo The Clearwings play Linnaea's Café this Saturday, June 3 (7 p.m.; all ages; pass-the-hat). The San Francisco-based act features Raven Adams (vocals) and Mark Phillips (guitar and vocals), who sing really nicely together! The duo offers a few carefully curated cover songs as well as their originals that bring a rock edge to classic folk sounds.
PHOTO COURTESY OF PATRELLA
COUNTRY SOUL: Petrella, known as the "First Lady of Country Soul," plays Last Stage West on June 2.
Cal Poly's Spring Band Concert featuring the 70-member Wind Ensemble and 80-member Wind Orchestra happens this Saturday, June 3, in Harman Hall of the Performing Arts Center's Christopher Cohan Center (8 p.m.; all ages; $12 and $14 general admission or $9 and $12 for students, at 756-4849). Titled "Winds of Change," the performance features a range of new works for wind band written in the past 20 years.
The Famous Jazz Artist Series hosts its semi-annual fundraiser concert for the Central Coast Jazz Institute this Sunday, June 4, with performances by current members of the institute (6:30 to 8:30 p.m.; all ages; $20 donation requested), in Cambria's Painted Sky Studios. Email charlie@talsanmusic.com for reservations.
The Whiskey Circle plays Frog and Peach on Wednesday, June 7 (10 p.m.; 21-and-older; free). "We're a four-piece female-fronted psych/garage/Americana band from San Diego," the band wrote. Sleep, Tristan, Black Keys, and Lead Belly are a few of their inspirations.
PHOTO COURTESY OF THE WHISKEY CIRCLE
ROCKERS: Psych/garage/Americana band The Whiskey Circle plays Frog and Peach on June 7.
Keep up with New Times Senior Staff Writer Glen Starkey via twitter at twitter.com/glenstarkey, friend him at facebook.com/glenstarkey, or contact him at gstarkey@newtimesslo.com.