When the Twin Towers went down after the terrorist attacks on Sept. 11, 2001, the collective refrain across the country was "never again."
Life is different in a post 9/11 world. Airport security tightened up in a major way, and locations across the country were assessed for how likely they were to be chosen as a target for a terrorist attack. In San Luis Obispo County, worry mounted that nuclear power plant Diablo Canyon could be attacked.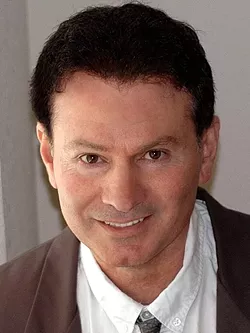 PHOTO COURTESY OF FRANK SCOZZARI
BREAKOUT AUTHOR: 'The Wind Guardian' is Nipomo author Frank Scozzari's second novel.
That very realistic nightmare is the focus of Nipomo author Frank Scozzari's novel, The Wind Guardian, which explores what happens when a group of determined terrorists lay siege to or seize a nuclear power plant located on the Central Coast, intending to spread radiation and destruction into the world. The only things standing in their way are two misfit security guards. New Times sat down with Scozzari to discuss The Wind Guardian, Diablo Canyon, and more.

New Times: How did you get into writing?
Frank Scozzari: Reading was what got me into writing. When I was a child I very much enjoyed reading like Jack London and those types of writers. It inspired me.
NT: What is the gist of The Wind Guardian?
FS: Essentially, it's an attack on a nuclear power plant on the coast of California. The title, The Wind Guardian, what the terrorists are intending to do is blow up the nuclear reactor, the cooling system, in a way that creates a meltdown and the radiation goes into the air and the wind becomes their tool to spread it and wreak havoc on the neighboring towns.
NT: Why did you want to write a book that seems to be about what could happen if there was a terrorist attack at Diablo Canyon?
FS: Many years ago I was what they call an armed responder at a nuclear power plant.
NT: Which nuclear power plant?
FS: Well, I'd rather not say which plant I worked at, but under federal regulations all nuclear power plants have to have these highly trained security guards that are armed and could respond to any alarm zone in the power plant within 90 seconds. When I worked there, there supposedly was a couple, a man and a woman, that wandered off to make love on top of one of the reactors, which happened to be shut down at the time. So that kind of got my thought process going because they weren't where they were supposed to be and they figured out a way to elude the security cameras.
IMAGE COURTESY OF FRANK SCOZZARI
UNLIKELY HEROES: When terrorists attack a nuclear power plant in 'The Wind Guardian,' it falls on two misfit security guards (who are also new lovers) to save the day.
NT: Would you say there's a target audience for this book?
FS: I'd say anybody living around a nuclear power plant would probably get a kick out of reading it.
NT: Is The Wind Guardian your first novel?
FS: No, my first and only other novel was Afar, which is about this hopeless romantic guy who goes to Russia looking for love.
NT: So is that a mail-order-bride kind of story?
FS: Yeah.
NT: What's your writing process like?
FS: For me the writing process is getting a cup of coffee in the morning, going to my computer and writing. They say if you don't turn the faucet on, the water won't flow. I've found I just have to get to the computer and start typing.
NT: Do you have any upcoming books in the works?

READ ON: The Wind Guardian by Frank Scozzari is available on

Amazon

for $3.99 in the Kindle version and for $14.39 in paperback.
FS: I do. In 1932, there was a young starlet in Hollywood who committed suicide off of the H in the Hollywood sign. So I'm writing a detective novel set in the current day that harkens back to that incident.
NT: What are some of your all-time favorite books?
FS: I've always liked John Steinbeck, Ernest Hemmingway, and Jack London. Those are probably my main favorite authors.
Ryah Cooley knows this book is about Diablo Canyon at rcooley@newtimesslo.com.