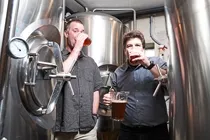 PHOTO BY STEVE E. MILLER
IT'S THE TASTE : Brewmasters John Moule (left) and Eric Beaton (right) are ready to pour their latest creations at the new Creekside Brewing Company, next to the creek in downtown SLO.
Home brewers John Moule and Eric Beaton are living every home brewer's dream. It began in the comfort of their kitchens, and then their personal brew operations overflowed into their backyards and garages. Now their passion for beer has settled in downtown San Luis Obispo and resulted in Creekside Brewing Company.

Creekside Brewing Company hopes to satisfy the taste of a different downtown crowd, not just the typical college kid.

"We want to deal with people who enjoy the taste of alcohol, not just the feeling it gives," part-owner Eric Beaton said. "We cater to the beer geeks."

Nestled beside the creek in the former home of Grappolo, Creekside Brewing aims to bring not only new beer to downtown but also a different take on typical pub fare.

"This location lends itself to be a slightly more upscale dining experience," majority owner John Moule said. "We want to set ourselves apart from the other local breweries."

Selections like mojo tomatoes with fresh mozzarella, sugar cane shrimp skewers, smoked Angus brisket, and Parmesan paprika fries are some of the more unique menu items.

"We serve good beer, we might as well serve good food," Moule said.

Beaton is a former Cal Poly materials engineering graduate and beer judge who has been home brewing for eight years.

"Now that I am ten years past graduation, one of the things I feel is lacking downtown is a place where people in my demographic can sit down and have a good meal and beer in a comfortable atmosphere," Beaton explained.

Creekside will eventually feature six beers that will be brewed in house. In the spirit of micro-brew brotherhood, Creekside will also rotate "guest beers" from different micro-breweries.

"We want to be a Mecca for good beer," Moule said. "We hope to change the lineup regularly and have new beers come in and out."

Creekside has a full bar and features local wines.

"Even our well alcohol is pretty high end," Moule said. "We are all about quality. We wanted to have the best food and drink available."

The new local brewery celebrated their grand opening in early February to a packed house of thirsty patrons who were serenaded by guitarist Matt Cross.

"People love the downstairs bar because it is kind of an old speakeasy," Moule said.

Moule has worked at the Humboldt Brewing Company and interned at a brewery in Visalia. He has been home brewing for 15 years and growing hops for ten.

Beaton enjoys all types and flavors of beer, but the taste isn't what motivates him to brew.

"I enjoy the problem solving and the creativity that goes into brewing," he said.

Creekside Brewing Company (542-9804, 1040 Broad St., creeksidebrewing.com) is open daily for lunch from 11 a.m. to 4 p.m., and for dinner from 4 to 9:30 p.m. The bar is open late every night.

Fast facts

The SLO County Community Foundation is accepting nominations for the 2009 SLO County Environmental Awards. Individuals, organizations, and businesses are invited to apply for the awards in three categories: Environmental Achievement of the Year, Sustained Environmental Contribution, and Environmental Initiative. The winner in each category will receive a cash award of $2000. The deadline for receiving award nominations is March 6. The nomination forms can be obtained from the SLO County Community Foundation, 543-2323 or sloccf.org. …

The Kids' Inclusion program of United Cerebral Palsy of SLO County has special activities for children and teens (ages 6-18) with disabilities coming in February and March. On Sat., Feb. 21, UCP will take a trip to Pismo Bowl, where the youth can bowl and play video games. On Sat., March 28, UCP has an excursion planned to Boomers Park in Santa Maria for mini golf, go-karts, games, and more. Each event costs $25, which includes transportation. Reservations are required, so act quickly. The Kids' Inclusion program is dedicated to providing full access for children with disabilities in schools, child-care, summer camps, and recreation programs. For more information on these activities and other services, contact Tessa Bunge at 543-7102 or youthservices@ucp-slo.org or visit ucp-slo.org. …

It's that time of the year again. The noxious invasive weed known as Yellow Starthistle is back. The plant's name describes the multiple, sharp spines around a bright yellow, seed-forming flower head. The Upper Salinas Las Tablas Resource Conservation District will provide a lesson on how to identify the weed at the Templeton Community Center from 6-8 p.m. on Wed., Feb. 25. Yellow Starthistles have invaded more than 15 million acres in California, with economic and environmental consequences including loss of water resources, lost rangeland forage, lost wildlife habitat, and lost use of recreation areas. Come to Templeton Community Center to learn how to identify the plant, monitor your property, including roadside areas, and treat infested areas before blossoms are in full bloom. For more information, contact Gidi Pullen at 434-0396.

Interns Bridget Veltri and Clinton McGue compiled Strokes&Plugs. Send business and nonprofit news to strokes@newtimesslo.com.