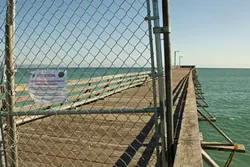 PHOTO BY STEVE E. MILLER
BARRICADED : Half of the Cayucos Pier was recently closed off to the public after a Tribune reporter and photographer raised questions about its safety.
Officials from San Luis Obispo County Parks barricaded off the seaward half of the Cayucos Pier with a chain-link fence on July 5, citing massive deterioration to critical support structures.
The closure is expected to remain a feature of the historic landmark, at least for the foreseeable future. In the meantime, local leaders have kicked off a number of assessments aimed at determining the seriousness of the situation.
According SLO County Parks Senior Planner Shaun Cooper, the deterioration represents a significant public safety and liability concern. He said each section of the pier—known as a bent—is designed to have a row of four pilings to evenly distribute the weight of both the pier itself as well as people who use it for recreation.
The now-closed section, Cooper said, is supported by a bent with only one of four pilings properly in place.
He told New Times the county is currently in the process of putting out a bid to a local engineering firm to complete an assessment of the pier's condition, and will then draft an official statement of its stability and provide documents for the pier's eventual repair.
He added that the section of the pier that remains open to the public is safe.
In March, the county Board of Supervisors authorized $103,000 for the engineering report, and though it's in its early stages, the assessment is expected to be released in the fall.
SLO County Supervisor Bruce Gibson, whose district encompasses Cayucos, told New Times that a roughly $2.1 million price tag to rebuild the pier will have to be paid for with grant funding and—many hope—donations.
Repairs have been happening off and on following a number of serious storms that caused significant damage to the pier in 1993, Cooper said.
Though the structure, built in 1876, is technically owned by the state, the county is responsible for its maintenance and operation.
On July 3, a reporter and photographer from the Tribune were meeting with officials regarding the pier's condition when the hazards were discovered. The seaward section was closed two days later.
Asked why it took reporters poking around for the hazards to come to light, Gibson said, "That's a very valid question."
"It's reflective of a lot of deferred maintenance across the board in our county parks," he noted. "It's just that kind of deferred maintenance that's been going on for years in this [budgetary] climate. We know that moving forward, it's an issue for all of us.
"We have known that major repair was coming, and we've been talking about it for most of the last year, and it's become clear with the level of deterioration we've seen that something needed to be done," he added.
However, a group of residents is taking the fundraising efforts into their own hands. Greg Bettencourt and his nonprofit organization, the Cayucos Pier Project, has pledged to raise some $100,000 in order to make the county appear a competitive candidate for the grants.
And they're already off to a good start. According to Bettencourt, the group was wildly successful over the Fourth of July weekend, raising about $28,000 by selling an estimated 800 T-shirts.
"That demonstrated empirically what we knew all along, that [the pier is] a part of a lot of people's lives," Bettencourt said.
He added that the Pier Project committee met on July 9 to set some long-term goals. He said they came up with three: encouraging donations, with county approval, of commemorative plaques on pier planks for donors; the establishment of a trust fund for money raised beyond the initial $100,000, which he said he hopes will encourage the county to establish a similar maintenance trust fund; and third, to hold an annual fundraising event to serve as an ongoing source of maintenance funding.
More information on the fundraising efforts can be found at savecayucospier.org.
News Editor Matt Fountain can be reached at mfountain@newtimesslo.com.