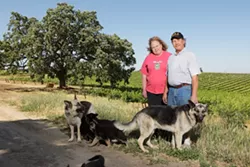 PHOTO BY STEVE E. MILLER
HARVEST HOUNDS : Doce Robles Winery owners Maribeth and Jimmy Jacobsen are justifiably famous for their sumptuous red varietals, and their lovable constant companions.
I
f you're looking for a great party to celebrate the Fourth of July weekend, I know a bargain-priced winemakers' dinner you won't want to miss. Life on the Central Coast means there's at least one wine celebration, festival, or barbecue going on every weekend along our wine trails. Most of the time there are several parties to choose from, much to the delight of wine lovers. But few wine producing regions can boast a party like the Highway 46 West Neighborhood Block Party that includes 16 wineries along Hwy. 46 West in Paso Robles.
They're offering a gourmet barbecue dinner by the talented chef, Ryan Swarthout of Eagle Castle; live rock-and-roll by the local band, Stagefright; and an array of good wines from each of the 16 winery members in this group, plus a souvenir 46 West wineglass, all included at the ridiculously low tab of $25 per person. The member wineries include: Berardo Vineyards (formerly AJB), Castoro Cellars, Croad Vineyards, Doce Robles Winery, Donati Family Vineyard, Donatoni Winery (formerly Mastantuono), Eagle Castle, Fratelli Perata, Grey Wolf, Hunt Cellars, Midnight Cellars, Peachy Canyon, Rocky Creek Cellars, Rotta Winery, Veris Cellars (formerly JanKris), and Windward Vineyard. And with this list of wineries, you'll find just about every varietal grown in Paso Robles, from Viognier and Chardonnay to Pinot Noir and Zinfandel.

FIND IT HERE: Doce Robles
2023 Twelve Oaks Dr. (off Hwy. 46 West)
Paso Robles, 227-4766
Now in their 13th year in Paso Robles, Doce Robles' owners, Jimmy and Maribeth Jacobsen, specialize in the region's big red wines. During this event they'll introduce their newest wines: Vermentino, Tempranillo, and the Sunset Red, the latter a blend of Barbera, Zinfandel, Cabernet Sauvignon, Merlot and Syrah. "I call it our hodgepodge wine, it's all grown in our 40-acre estate vineyard," she explained. "Jimmy's a third generation grape grower and he always says, good winemaking starts in the vineyard. He makes our wines but my husband thinks of himself as a farmer first."
The Jacobsens don't grow grapes for white wines because they think their site is too hot. That's why they buy the Vermentino from another grower with a cooler site. "A lot of people remember us, too, because of our friendly German Shepherds," she laughed, "Even if they can't remember our name. Now, we have six seven-week-old puppies following their mother around the winery."
NEVER COOK BACON NAKED! BY CHEF DALLAS HOLT: If you're a fan of the Tenth Street Basque Cafe in San Miguel, you'll love the cookbook by owner and chef Dallas Holt. His book offers much more than tasty recipes. This tome to good eating also offers sound advice you mother never taught you, hence the risqué title. It starts, sagely, with kitchen basics about knives, then pots and pans, and descriptions of ingredients and techniques. There are 100 recipes, most with chef's notes on substitutions and advice on experimenting with seasonal ingredients. Of course, it includes many traditional Basque recipes. Holt has some Basque heritage, but explains in the introduction that a sheepherder suggested the idea of this restaurant while enjoying a glass of wine with him. Holt started by offering the family-style meals monthly, but they were so popular, in no time at all the meals were focused entirely on Basque dinners. There is no menu, the meals are strictly "chef's choice" with one seating for dinner, limited to Friday, Saturday, and Sunday evenings. Reservations are recommended for the chef's prixe fixe dinner, $24.95 per person. No credit cards are accepted; cash or check only. For all of the details about their family-style dining, or to buy the cookbook ($19.95), go to tenthstreetbasquecafe.com. "We pride ourselves on creating and cooking with inexpensive, simple things in an excellent manner and ending up with a divine dish. It is our intent to make this cookbook user friendly so you can make some of our most requested recipes at home," Holt explained. It's a great read with many easy-to-prepare dishes you'll want to enjoy often.
For the event, Chef Swarthout's block-party menu includes beef and chicken skewers, mixed green salad, rice pilaf, Cuban black beans, and rolls. Swarthout earned fame on the Central Coast when he became the chef at Deborah's Room at Justin Vineyards. Now, he's the executive chef at Eagle Castle Winery on Hwy. 46 West. Every Friday, Saturday, and Sunday, from 11:30 to 3:30 p.m. he prepares food-and-wine pairings in the winery's Crown Room, which is open to all tasting-room visitors. The current menu at the Crown Room features such delicacies as: King crab cakes with an Asian papaya slaw, paired with Eagle Castle 2007 Chardonnay; wild-mushroom risotto with garlic, thyme and crispy shallots, paired with Eagle Castle 2004 Merlot; or, during Sunday brunch, quiche Lorraine with mixed green salad dressed in roasted-shallot vinaigrette, paired with 2007 Eagle Castle Viognier. All of the food and wine pairings are reasonably priced. Find out what Swarthout is cooking each week by visiting their website eaglecastlewinery.com.
Last February the Hwy. 46 West block party was held at Eagle Castle. This popular block party, held three times annually, always takes place at one of the 16 member wineries. This year at Doce Robles, extra parking will be available at Eagle Castle Winery. A free shuttle provided by The Wine Line will escort guests between the two wineries. For more information, visit docerobles.com or call 227-4766.
Maribeth Jacobsen said it's best to order tickets ($25 each) in advance through brownpapertickets.com. If any tickets are available the day of the event, they will cost $30 at the gate. Note, the event usually sells out. Dessert will be prepared by Jacobsen who's baking her "famous" and very popular triple chocolate brownies, which she says are delicious with Doce Robles red wines. "The wineries really pull together for this event. We created it to introduce people to the little mom-and-pop wineries on the west side."
You can reach New Times' Cuisine columnist at khardesty@newtimesslo.com