Listening to "Homesick," a track off of Welcome Home, the soon-to-be-released CD by Each Passing Day, it's easy to hear why the track won top honors at the West Coast Songwriters Competition Grand Finals in Berkeley a few weeks ago. Penned by Each Passing Day's chief songwriter and SLO County native Loren Radis, the tender ballad paints a soul-drenched narrative whose power is hard to deny. It's the second award-winning track by this young composer.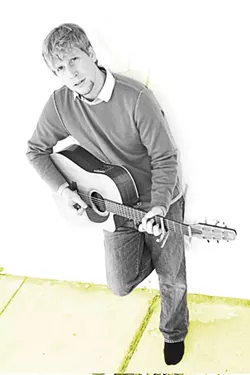 PHOTO COURTESY OF LOREN RADIS
HE'S A CONTENDER! : Award-winning singer-songwriter Loren Radis and his band Each Passing Day play a number of shows this and next month, starting with an appearance on KCBX and a concert at Linnaea's cafe on Sept. 6.
Radis, just 23 years old and the son of professional musician Bo Radis, is the sort of Internet-savvy performer who's found a way to develop a strong online following. Thousands have viewed his YouTube videos of him performing his original songs, as well as covers by Damien Rice, Death Cab for Cutie, Elliott Smith, Simon & Garfunkel, and the Beatles. Hundreds more have logged on to thesixtyone.com and elevated his posted songs into the top 30, ahead of acts such as Iron & Wine and Feist. Naturally he has a well-appointed Myspace page under myspace.com/eachpassingday.
Radis began playing guitar and singing at age 12, but in the last two years he's really tapped into the emotional potency of music.
"My songs helped me through some really tough times," he said, "and if they can help other people, then I'm glad."
Over the next month and a half, he will have a series of shows—both solo performances and gigs with his band—to promote Welcome Home. This Saturday, Sept. 6, Each Passing Day will play an 8 p.m. show at Linnaea's Cafe. Radis will also appear solo that day at 2 p.m. on The Minstrel Song Show on KCBX 90.1 FM. Next Friday, Sept. 12, you can catch the band doing a 5:30 p.m. in-store performance at Boo Boo Records. Each Passing Day's album release party is scheduled for Friday, Sept. 19 at 7 p.m. at Shepherd's Table in Grover Beach, with special guests Tiana Star and Angela White. On Thursday, Sept. 25, Radis will play solo during the SLO Farmers Market beginning at 6:30 p.m. On Friday, Oct. 10, he'll do a solo gig at Cal Poly's Backstage Pizza at 6:30 p.m. And finally on Friday, Oct. 17, he and his band return to Shepherd's Table with special guests Amy Meyers and Julie Christensen. Talk about a media blitz!
Smokin' Weed
Virtuoso acoustic musician Tim Weed has two local performances lined up this weekend that promise to mesmerize audiences with his musical innovation that traverses "an eclectic mix of classical, bluegrass, jazz, pop, and traditional music, incorporating exotic styles inspired by travels around the world," according to press material.
PHOTO COURTESY OF TIM WEED
MIRACLE WORKER : Banjo virtuoso Tim Weed, perhaps best known for his album Milagros, plays Dancing Deer Farm on Sept. 5; and Red Barn Community Music Series on Sept. 6.
Weed may be best known for Milagros, his album of original classical compositions for the 5-string banjo, which is frequently played on NPR. How good is he? In 2005, the Dalai Lama invited him to perform.
At his two upcoming concerts, expect to hear forays into multiple genres as well as captivating vocals by Debbie Daly, whose sound has been compared to Alison Krauss, Emmylou Harris, and Linda Ronstadt.
See Weed and Daly at Dancing Deer Farm this Friday, Sept. 5, beginning with a 5 p.m. potluck. A $15 donation ($25 for families) is requested. Call 541-9900 or 215-9416 for more info. They'll also appear on Saturday, Sept. 6 at 7 p.m. (there's a 6 p.m. potluck) at the Red Barn Community Music Series. A $10 donation is requested for this show. Learn more at myspace.com/redbarnseries, or call 528-4530 for more info.
The pipes, the pipes are calling
If you want to be instantly transported to the bonny hills of Ireland, check out the next Painted Sky Concert series, in association with The Yew Tree, when they present an evening of Celtic music by Paddy Keenan and Tommy O'Sullivan on Saturday, Sept. 6, at 8 p.m. at Painted Sky Studios in Cambria.

PHOTO COURTESY OF PADDY KEENAN
PIPE UP : An evening of Celtic music by the amazing Paddy Keenan awaits on Sept. 6 at Painted Sky Studios in Cambria.
According to Painted Sky owner Steve Crimmel, "This man is the real deal. There is nothing quite like sitting in a room and hearing uilleann pipes being played live. Recordings can't even come close to capturing the magic of their sound. When I mentioned last year to our local musicians who really know Irish/Celtic music that I was able to book Paddy Keenan, the first thing they said, after getting over the amazement, is 'When do tickets go on sale?' Generally acknowledged as the most accomplished uilleann piper performing today, Paddy is certainly one of the most brilliant musicians of his generation. He can rightfully claim his place alongside such open-style legends as pipers John Cash and Johnny Doran. Paddy's accompanist will be singer/guitarist Tommy O'Sullivan."
Tickets ($20) are available in advance at Boo Boo Records, The Yew Tree in Cambria, and the Cambria Business Center, or by calling 927-8330. If not sold out, remaining tickets will be sold at the door.
Blues summer
The Arroyo Grande Village Summer Concert Series and the SLO Blues Society have an awesome afternoon in store for blues lovers when The Cinders Blues Band and the Al and Val Duo play beginning at 1 p.m. on Sunday, Sept. 7 at the bandstand on the historic village green.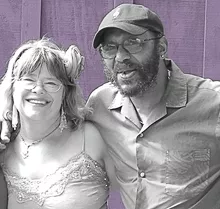 PHOTO COURTESY OF VALERIE JOHNSON & AL B. BLUE
TWO ON THE TOWN : Awesome blues duo Valerie Johnson & Al B. Blue will open the Arroyo Grande Village Summer Concert Series on Sept. 7.
Valerie Johnson & Al B. Blue will open the show. Johnson is a powerhouse vocalist who can channel the spirit of Janis Joplin so keenly that she's been invited to sing with Joplin's original band, Big Brother and the Holding Company. She cut her teeth through eight years of performing with the Bitburg Gospel Messengers. She's also performed with the award-winning blues/gospel group the Holmes Brothers and with boogie woogie piano queen Deanna Bogart. Al B. Blue cooks up funky rhythms on guitar, and once belonged to Big Black & the Congregation, an Afro-funk band that toured the West Coast with Curtis Mayfield.
The Cinders Blues Band—which features four of our most amazing local musicians including Dorian Michael (guitar), Brett Hoover (vocals), Dean Giles (drums), and Paul Olguin (bass)—plays a straight-ahead, slightly raw version of the blues. These guys are tighter than a duck's butt, due in part to Michael and Olguin's 20-year collaboration playing various honky-tonk gigs in L.A.
These free concerts are great family events, and each concert features a different nonprofit organization. Doc Burnstein's Ice Cream Lab offers ice cream at all shows and donates a portion of their proceeds to the featured nonprofit. There are also special raffles and displays. Bring a blanket or lawn chairs, a picnic basket, and join the fun.
More music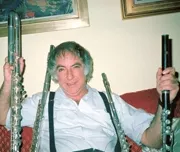 PHOTO COURTESY OF SAM MOST
HE'S THE MOST : On Sept. 7, jazz legend Sam Most will bring his flute virtuosity to the next Famous Jazz Artist Series Concert at the Hamlet in Cambria.
This Friday, Sept. 5, SLO's First Presbyterian Church hosts another Brown Bag Concert, and the public is invited to bring their lunch and listen to the SLO Winds Clarinet Ensemble for free at noon in Wilson Hall of the church. The orchestra just returned from the prestigious Jeju International Wind Ensemble Festival on Jeju Island, South Korea. Call 543-5451 for more information.
This Sunday, Sept. 7, jazz legend Sam Most will bring his flute virtuosity to the next Famous Jazz Artist Series Concert at the Hamlet in Cambria. Most has played with the bands of Buddy Rich, Tommy Dorsey, and Red Norvo, and he is considered the father and originator of jazz flute. Bassist Luther Hughes, drummer Paul Kreibich, and series co-producers Charlie and Sandi Shoemake (vibraphone and vocals) will join the fun. There's a 4 p.m., $15 concert; a 7:15 p.m., $12 show; or see both for $20. Reservations are recommended by calling 927-0567.
CD Reviews
Various Artists—Nobody Knows Anything: Supersoul Recordings
Centering itself as part of the flourishing dance-punk scene while harnessing the edgy artistic energy of New York's short-lived '80s No Wave movement, DFA Records probably had you bopping about sometime recently. With a roster that includes such electronic acts as LCD Soundsystem, Hot Chip, Hercules and Love Affair, The Juan Maclean, and more, the DFA label heads now launch an import imprint, Death From Abroad, and taps the shoulder of Berlin-based Supersoul Recording for the first dance. Spread out over two discs, Nobody Knows Anything showcases the last two years of Supersoul Recording artists, much of which has only previously been available on vinyl or digital formats. A mixture of the motorik pulse of Krautrock, the lunar sexiness of Italo Disco, and techno synths of Detroit house, this will quicken your pace in the center of a packed club or accelerate you faster down the Autobahn. For fans of Justice, Ed Banger records, or Saturday night clubbing.
Seun Kuti & Fela's Egypt 80—Seun Kuti & Fela's Egypt 80
Carrying on the lineage of one of Africa's greatest musical legends, Fela Anikulapo Kuti, Seun Kuti is easily under the attentive microscope that follows any offspring that chooses to don the infamous mantle of a parent. Fortunately for Seun, his half-brother Femi Kuti came first, mixing Afrobeat with modern electronic aesthetics, updating a sound for a new generation. Instead, Seun not only reclaims his father's horn-heavy, orchestrated poly-rhythmic funk, but also the quarter-century knowledge-rich musicianship of his band, Egypt 80, and the militant defiance and outspokenness his father saturated within all his lyrics. On his self-titled debut, Seun Kuti & Fela's Egypt 80, Seun Kuti revives this large ensemble of musicians whose improvised extended grooves push you physically to your melting point, as hypnotic as it is energetic. Sounding every bit as authentic and fiery as his father, this may be the closest we'll ever arrive to hearing the true classic sound of Fela's Shrine.
—Malik Miko Thorne, of Boo Boo Records and KCBX's "Night Train."
---
Glen Starkey has a bumper sticker that says, "Honk if you love peace and quiet." Tell him to shut up and drive at gstarkey@newtimesslo.com.