Faeries don't always get the props they deserve. Fortunately, the second annual Solvang Faeriefest, a fantasy-themed celebration of art, music, dance, and magic, is trying to change that. The Faeriefest, which comes to the Solvang Festival Theatre on Saturday, Oct. 13, is dedicated to honoring the magical spirit of Fae, which organizers explain as "the realm of the Faerie, where magic happens as mysterious beings inspire and challenge our daily lives. Faeries and other mythical creatures exist in folklore all over the world, and they continue to enrich our lives today."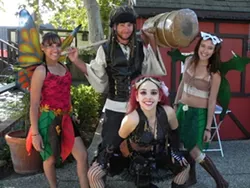 PHOTO COURTESY OF THE SOLVANG FAIRIEFEST
FAERIE FANTASY : Pictured are festivalgoers at last year's Solvang Faeriefest.
The inspiration for Faeriefest struck, as inspiration often does, in the most unlikely of places: Ross. As in "dress for less."
"The idea of Faeriefest in Solvang came up in early 2011 when local artist Clau Orona was shopping at Ross," Faeriefest press materials explain. "The Orona family, being merchants in Solvang, had been thinking of ways to encourage more people to visit the Danish town, but it was not until Clau came across a pair of giant Faerie wings on this fateful day at Ross that she decided that Faeriefest would be the perfect addition to the lineup of festivals that happen in Solvang each year."
The resulting festival boasts games, performances, art installations, and a giant bubble garden. The event will feature live music from the Pirates Charles (a fusion of European folk music and metal), Celtic rock bands Wolf Hollow Revival and Heather Bale, and solo guitarists Kristi Bride and Marc Irving Weber. Storyteller Blue Thomas will regale audiences with fairy tales, literally, and traditional Celtic stories suitable for all ages. Blue Moon Dance Haven will dazzle with a performance of American tribal-style belly dancing.
Attendees are encouraged to dress as mythic characters; pixies, sprits, gypsies, pirates, ancient warriors, ninjas, princes, and princesses are welcome. Local craftsmen and vendors will peddle their fantasy-themed wares, such as masks, costumes, faerie wings, and magic wands.
The Solvang Faeriefest runs from 10 a.m. to 6 p.m. on Saturday, Oct. 13, at the Solvang Festival Theatre. Presale tickets are already available at solvangfestival.com or by calling 794-8958.