Los Osos developer Jeff Edwards wants to install 20 to 25 solar panels on .a hillside villa he's building near the entrance to Monta"a de Oro State Park. Edwards, a self-described practitioner of sustainable design, began construction on the Pecho Valley Road property in early 2005.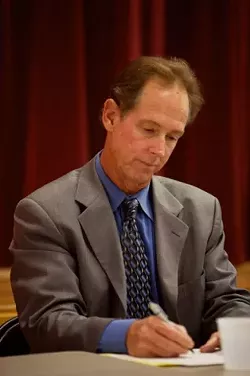 PHOTO BY JESSE ACOSTA
ENVIRONMENTALIST? : Los Osos developer Jeff Edwards thinks that the habitat around his Pecho Coast property could benefit from a few less eucalyptus trees.
# The rub is, to acquire the proper solar exposure, Edwards claims that he must first cut down 395 eucalyptus trees situated on adjacent parkland.
Several bayside residents proved less than stoked.
"This is not right," said one neighbor, who asked to remain nameless. "I don't think anyone should be able to remove public trees to enhance the value of his property."
Some ecologists including those with the state parks office believe that eucalyptus trees are spreading in Monta"a de Oro and endangering the native flora and fauna.
"The acreage displaced by the expanding eucalyptus is coastal shrub habitat," local state parks director Greg Smith said. "We're trying to preserve natural California so people can go on a hike and see how it used to be."
That rationale propelled a successful phase-one bid to remove 80 eucalyptus trees around the property. In their place, Edwards planted native vegetation comprised primarily of coastal live oak and Morro Bay manzanita. The developer stated that he was so impressed with the success of the newly planted shrubbery that he decided to expand the clearing with a request for a second minor-use permit.
"I was pleased to see the habitat grow back to its natural state," Edwards commented. "To have butterflies and hummingbirds flying around and the native plants growing back was pretty exciting."
Pecho settlers planted eucalyptus trees roughly a century ago, hoping for a quick timber source that, ultimately, never materialized. In recent years, the trees' impact on coastal ecosystems has fueled a heated and approaching-age-old debate. Their presence in the particularly unique habitat of Monta"a de Oro only fans the contention.
Members of the Ocean Outfall Group and Save the Park as well as numerous individual concerned citizens stood up in opposition to Edwards' attempts to down a second crop. They spoke during the public comment period at the Oct. 3 Board of Supervisors meeting.
Activist Joey Racano called Edwards' plan "a sneak attack on the Coastal Act," arguing that, even if introduced by Europeans, the trees still serve as shelter for threatened bird species.
"The eucalyptus trees function as environmentally sensitive habitat areas in the coastal zone," Racano said. "Developers want to remove these pesky endangered species, and the first way to do it is to get rid of their habitat."
Director Smith, whose region of oversight includes Monta"a de Oro, formally supported granting the minor-use permit. Some birds do depend on the trees, he said, but displaced species living in the brush habitat are not among them and they face the more immediate threat of extinction.
Additionally, Monta"a de Oro ecologist Vince Cicero described site studies that showed drastically greater biodiversity among the native maritime chaparral.
"There are serious weed problems at Monta"a de Oro, and eucalyptus trees are not one of them," countered Cal Poly's Matt Ritter.
The biologist pointed to African veldt grass which often sprouts when eucalyptus is removed as an example of a more pressing concern.
"State parks wants to restore the native plants, and that's a good goal but the cat's out of the bag," he continued. "If you remove eucalyptus, it causes a huge disturbance."
However, those who look to defeat the proposed permit questioned whether environmental concerns are spurring the developer's efforts at all.
Eucalyptus trees are tall. Manzanita and coastal live oak particularly the elfin variety found at Monta"a de Oro are not. Simply put: an enhanced view on site, opponents say, would increase the value of Edwards' property.
Edwards stated that the truly view-obstructing tree line across Pecho Valley Road, to the west of the property is not a part of the felling plan.
Opponents also asserted that the solar-paneling issue only emerged after the Los Osos Community Advisory Council (LO-CAC) gagged on the concept of removing more trees based on the argument of ecological repair.
"They wouldn't buy it, and that's when he came up with the solar paneling issue," Ocean Outfall Group spokesperson Marla Jo Burton commented.
"Poppycock," Edwards responded. "That's absurd. LO-CAC is biased they've voted against things that I've later had approved through the county."
Finally, Burton and others criticized a statement made by Edwards in The Tribune, in which he described his efforts as mitigation against global warming, while building a 3,900-square-foot mansion requiring as many as 25 solar panels to power.
"Those trees are huge sinks for carbon-dioxide," Cal Poly's Ritter agreed. "That statement was a joke."