It begins soundlessly. The background is stark white, like the band is hovering on a cloud. The guitar and bass player stand behind microphones, and then the drummer walks out and gets behind the kit. Suddenly the indie rock group launches into the song "Kung Fu," and then from stage left comes a crazy Shaolin kung fu master flipping and kicking through the frame, then another from stage right, then sword- and spear-wielding martial artists.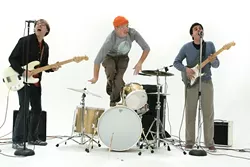 PHOTO COURTESY OF THE DEDICATIONS
THIS ONE'S DEDICATED TO YOU : The Dedications, a San Francisco trio that boasts two former SLO Town musicians, plays Downtown Brew's Grass Roots Tuesday on Aug. 28.
# Welcome to the new video by a band featuring Robert Thayer (guitar) and Carver Cordes (bass), formerly of SLO Town and the band The Night Jerks, now residing in San Francisco and playing with drummer Austin Goldin as The Dedications.
The jangly rockin' trio trips through SLO Town on their first West Coast Tour, playing Tuesday, Aug. 28, at Downtown Brew's Grass Roots night with local act Black Shirts and L.A. band Dirt Dress.
You can check out The Dedications' "Kung Fu" video at youtube.com/thededications and hear some other songs and learn more about the band at myspace.com/dedicationsband, but all you really need to know is The Dedications would rather do it their way than the right way, and holy crap if their way isn't more fun.
Thayer and Cordes have always taken an irreverent approach to music, eschewing convention to create wacky songs that are more about energy and delivery than stellar musicianship.
Playing in a quieter, folkier vein is SLO's own Black Shirts, featuring Kenny Carranza, formerly of The Attractives. With songs about notorious Wisconsin grave robber, serial killer, and nipple-belt wearer Ed Gein, it's no wonder Black Shirts describe their music as "John Mayer walking in on Jack Johnson, Ben Harper, and G.Love having a gang bang in a TJ motel." Check out their site at myspace.com/dieblackshirts.
Dirt Dress hails from L.A., but they boast two members of former SLO Town act The Attractives (more prodigal sons!). Check 'em out at myspace.come/dirtdress.
"It should be a great night as it's kind of a homecoming/reunion/celebration kinda thing," Carranza said. "Oh, it's also pint night."
The show starts at 8 p.m., is 21-and-older, and costs $2 at the door, with $1 draft pints of Downtown Brew's own micro brewed beers.

Get aggro lite!
I'm sorry, but The Aggrolites' name doesn't really fit, and neither does their photo. The band name and photo suggests one of those '90s punk-ska acts (No Doubt, Sublime, etc.), but instead these guys sound more like traditional Jamaican ska, or at least like the late-'70s Brit ska revival.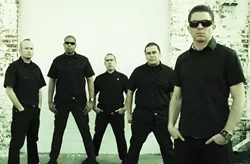 PHOTO COURTESY OF THE AGGROLITES
TRADITIONALIST : Traditional ska outfit The Aggrolites play a free in-store at Boo Boo Records and a show at Downtown Brew on Aug. 24.
# When The Aggrolites formed in 2002, they originally got together as the band for a one-off Los Angeles show backing Jamaican music legend Derrick Morgan. After the show, the band attempted to record an album (but didn't), but became the go-to guys on the West Coast ska and reggae circuit to back a wide variety of golden-age Jamaican and British artists on their American dates, including the great Prince Buster and Culture lead singer Joseph Hill. The Aggrolites finally did manage a recording, Dirty Reggae, at a live-in-the-studio session in 2003, and the rest, as they say, is history.
They signed to the Epitaph Records subsidiary Hellcat Records in 2005. Their second album, The Aggrolites, was released in May 2006, with their third, Reggae Hit L.A., following in June of this year.
On Friday, Aug. 24, The Aggrolites play an 8 p.m. Downtown Brew show (21-and-older $11.50 advance at Boo Boo's), preceded by a 4:15 p.m. free in-store set at Boo Boo Records.

Texas shootout!
Texas blues band The Wes Jeans Band headlines two big nights of smoking blues on Friday and Saturday, Aug. 24 and 25 at O'Reilly's Bar & Grill. This is the band's first and only California appearance.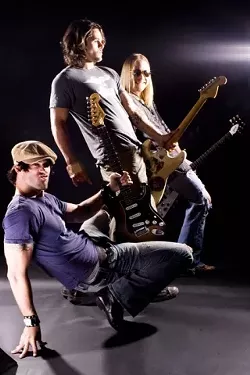 PHOTO COURTESY OF THE WES JEANS BAND
WOW, THOSE ARE BIG, ER, GUITARS! : The Wes Jeans Band, a smokin' blues act out of Texas, plays its debut California gigs Aug. 24 and 25 at O'Reilly's Bar & Grill.
# Michael Wesley Jeans is the newest in a long line of stellar Texas ax men to put their own regional spin on this classic American idiom.
Born in the heart of East Texas in 1981, only 15 minutes from where legendary Freddie King was born, Jeans grew up in a musically enriched family. At 15, he found an old, three-string guitar in his closet and began learning the beginning riff of "Sunshine of Your Love." After only playing nine months, he entered the International Jimi Hendrix Competition held in Austin, placing second among 1,500 other young guitar players.
Fans of the Texas blues and southern rock exemplified by Jimi Hendrix, Stevie Ray Vaughn, Lynyrd Skynyrd, and ZZ Top are not going to want to miss this jaw-dropping guitar slinger.
The shows start at 9 p.m. Local blues band Dr. Danger opens. Tickets are $10 and include one well drink or beer, draft or bottle.
Prodigal daughter

Maybe you remember her when she was just a wee one performing in the 1989 production of P.L.O.T.'s "Oliver!" or in one of the various productions she did with San Luis Obispo Little Theatre and Kelrik Productions. Now the 1996 SLO High Grad returns to town. Must be reunion time around here.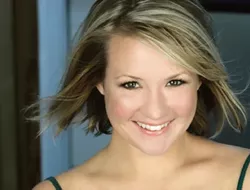 PHOTO COURTESY OF SARAH KLEEMAN
WELCOME BACK : Native San Luis Obispan Sarah Kleeman, a mezzo soprano based in New York, will return home to perform a concert at the Zion Lutheran Church on Aug. 25, accompanied by New York City Metropolitan Opera pianist Justina Lee.
# Native San Luis Obispan Sarah Kleeman, a mezzo-soprano based in New York, will return home to perform a concert at the Zion Lutheran Church, 1010 Foothill in SLO, on Saturday, Aug. 25. Kleeman known for her beautiful voice, intelligent musicianship, and spirited stage portrayals was hailed by San Francisco Classical Voice for her "ringing, assertive, and luxuriant tone."
She spent the summer performing with the Central City Opera in Colorado and has performed for audiences worldwide, but she says her favorite audience has always been her friends, family, and the local community.
Expect a selection of opera arias, art songs, musical theater, and cabaret. New York City Metropolitan Opera pianist Justina Lee will provide accompaniment. Tickets ($15) are available at Boo Boo Records, or by calling 543-8327. Learn more about Kleeman on her website, www.sarahkleeman.com. The concert starts at 7:30 p.m.
Stone cold coolness
The 16th Annual Stone Soup Music Faire is scheduled for Saturday and Sunday, Aug. 25 and 26, at Ramona Garden Park in Grover Beach. The annual event brings the world to you through music, crafts, food vendors, and more.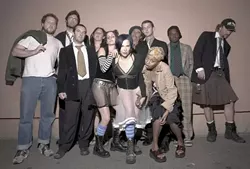 PHOTO COURTESY OF APHRODESIA
EAT UP : The 16th Annual Stone Soup Music Faire is scheduled for Aug. 25 and 26 at Ramona Garden Park in Grover Beach, and this year's headlining act is Aphrodesia.
# This year's headlining act is Aphrodesia, a horn-laden polyrhythmic funk ensemble that Global Rhythm Magazine called "a Pan-African mash-up." Also on hand will be the Cuesta Ridge Mountain Boys, who I saw not too long ago at Downtown Brew. They put on the most electrifying set of live music I've seen in a long time. This is a tight, innovative acoustic group whose music goes well beyond the band's bluegrass roots. You'll also hear Sabroso, Satori Daiko, and many more exotic acts.
The festival will also feature a free Health Faire in the Ramona Garden Park Pavilion on Saturday, Aug. 25, from 10 a.m. to 4 p.m. the 5K/10K Dune Run-Run on Saturday morning a Youth Expo from 11 a.m. to 3 p.m. in the Ramona Garden Park Pavilion on Sunday, Aug. 26 and much more.
Check out the complete schedule at www.groverbeachchamber.com.
More music
The Hoot Road Show presents our neighbors to the north, Canadian act John Reischman & the Jaybirds, on Friday, Aug. 24, at the Steynberg Gallery. The Juno Award nominee (like our Grammies, but with less politics) is a mind-blowing and bending bluegrass act that features Reischman's virtuoso mandolin playing and the acoustic guitar prowess of Grammy winner Jim Nunally. The show begins at 8 p.m. and costs $15, with tickets on sale now at the venue.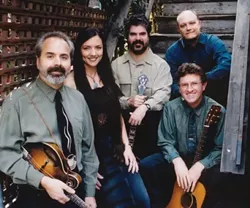 PHOTO COURTESY OF THE JAYBIRDS
FREE AS A JAYBIRD: The Hoot Road Show presents our neighbors to the north, Canadian act John Reischman & the Jaybirds, on Aug. 24 at the Steynberg Gallery.
# Paso Robes' Concerts in the Park series presents its final show on Friday, Aug. 24, from 5:30 to 7:30 p.m. at the downtown Paso Robles City Park, with the relaxing sounds of Hawaiian Slack key guitarist John Neira & Friends. Catch the Aloha spirit and buy $5 raffle tickets for a chance to win a trip for two to Hawaii.
Strike Fire Productions is putting on another gig at Mongo's in Grover Beach on Friday, Aug. 24, at 9 p.m. Headlining is Sic Waiting, an L.A.-based band formerly of SLO. Also on the bill is San Francisco-based punk band The Hardway and Grover Beach locals Two Dollar Pistol. After 10 p.m., there's a $2 cover. Put on your stomp boots and get ready to rumble. (Actually, Mongo's has a no rumbling policy, so play nice.)
Nathan McEuen and Kenny Edwards perform a benefit concert at Castoro Cellars Winery on Saturday, Aug. 25, for Escuela Del Rio. McEuen, the son of Nitty Gritty Dirt Band member John McEuen, is on a coast-to-coast tour to perform "folk rock with both pop and bluegrass influences." The younger McEuen has appeared on Jay Leno and worked with such artists as David Crosby, Kenny Loggins, Willie Nelson, Graham Nash, and Dave Mason. This time around he's collaborating with Kenny Edwards, a founding member of Linda Ronstadt and The Stone Poneys. He's also worked with Karla Bonoff, Vince Gill, Emmylou Harris, Stevie Nicks, Don Henley, Brian Wilson, and Jennifer Warnes. Tickets are $25, available at the venue, KMan Cyclery, Matt's Music Stage and School, and Escuela del Rio. Gates open at 6 p.m. and the show starts at 7 p.m. Miss Oddette's Catering will offer a large smoked tri-tip or chicken breast sandwich with your choice of sides for $12.
The Cal Poly Collegians Alumni Big Band will return to San Luis Obispo again to celebrate its 40th anniversary reunion and to give a free jazz and swing dance concert from 7 to 11 p.m. on Saturday, Aug. 25, in the Madonna Inn Ballroom. The public is invited to dance the night away to the big band sounds made famous by Count Basie, Duke Ellington, Benny Goodman, and Les Brown. The all-male Collegians ensemble was founded at Cal Poly in 1937 by longtime Music Department Head Harold P. Davidson. Members of the group from about 1948 to 1963 are now part of the alumni band. Though admission is free, contributions for the Collegians jazz scholarship at Cal Poly are welcomed.
Grateful Dead-influenced jam band The Skydogs have been around longer than the 17 years I've worked at New Times. I remember them playing at D.K.'s West Indies Bar back in the '80s when I was working as a bouncer. True, that's not as long as the actual Grateful Dead lasted, but it's pretty good for a local band. Check out the gang Mitch "Cheese S Mitchell" Fadum (keyboard), Fred Rodriguez (guitar, mandolin), Drew Iverson (drums), Andy Bird (bass), and frontman Spanky (guitar, banjo) when they play Mongo's on Saturday, Aug. 25. The show starts at 7 p.m. with some acoustic folk and bluegrass, then the band goes electric at 9 p.m.
World-class jazz guitarist Doug MacDonald joins the Pat Cormick Group for two jazz shows (6 and 9 p.m.) on Saturday, Aug. 25, at Atascadero's Hush Harbor Artisan Bakery. Both shows are almost sold out, and reservations are mandatory. Call 460-0541 to see if they can squeeze you in.
I'm not sure why, but Fish Out of Water likes to perform in their bathrobes. They like to send pictures of themselves in their bathrobes and funny hats to New Times. Maybe it's not as strange as some of Elton John or David Bowie's getups from the '70s, but it's pretty bizarre anyway. This week, the quartet of cousins plays a pajama party on Saturday, Aug. 25, at Otter Rock Cafe in Morro Bay beginning at 8 p.m. Those wishing to attend are encouraged to "Bust out those fuzzy slippers and plaid pajama pants" and dance the night away to rock, funk, reggae, and hip-hop. PJ-clad partiers will receive a free CD. I so do not "get" this.
Oakland-based rockers Maxwell Adams play the Frog and Peach on Saturday, Aug. 25. The multi-ethnic quintet delivers headbobbing and throbbing hard rock in the vein of Nirvana, Foo Fighters, Refused, Thrice, Hot Water Music, Canderia, The Dillinger Escape Plan, The Criminals, and Soundgarden, among others.
Jazz is on the menu at the next Arroyo Grande Village Summer Concert Series on Sunday, Aug. 26, beginning at 1 p.m. at the Rotary Bandstand on the Village Green in the Historic Village of Arroyo Grande. The SLO Jazz Federation arranged the entertainment: Acoustic Atrium, an eclectic, experimental jazz trio featuring Alvin Tai on acoustic guitar, Doug Lee on upright bass, and Joel Demir on percussion and Latin Perspective, a five-piece Latin jazz band that specializes in the classic Latin repertoire of the '50s through '70s. The personnel includes Cuesta Jazz Director Ron McCarley on saxophones and flute backed by a rhythm section of Dave Brady, Jim Stromberg, John Van Epps, and Rick Collins.
N.Y.C. pianist Cecilia Coleman and her trio perform next at the Famous Jazz Artist Series at the Hamlet in Cambria. Coleman, who's recorded award-winning albums with her trio and quintet for the Interplay label, has also appeared with many of the leading East Coast jazz artists, notably alto saxophonist Lee Konitz. Bassist Tim Givens (also a N.Y.C. artist) and San Francisco drummer Ron Marabuto will join Coleman on Sunday, Aug. 26, at 4 p.m. ($15) and 7:15 p.m. ($12). See both shows for $20. Concert co-producers Charlie and Sandi Shoemake (vibraphone and vocals) will also be on hand. Reservations are highly recommended by calling 927-0567.
The Horrorpops return to Downtown Brew on Thursday, Aug. 30, for a 16-and-older show, so mark your calendar and buy your $14.50 tickets at Boo Boo's today.
---
Glen Starkey is standing right behind you. No! Don't look! Tell him to quit breathing down your neck at gstarkey@newtimesslo.com.