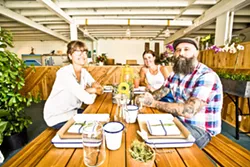 PHOTO BY HENRY BRUINGTON
HUCKLEBERRY WIN: Carla Wingett and Karen Irwin, the owners of Huckleberry Market, are teaming up with local painter Neal Breton to bring an artistic spark to their store.
There's something about that homemade touch that gives an exciting spark of life to any event. Guests notice if the invitations are hand drawn, or if the centerpiece has the unique spirit of the host about it rather than looking like it came from Pier 1. The trouble is, though, it's tough to know where to start. Wouldn't it be awesome if there was a one-stop creative haven where crafty people could find ideas, materials, and input for their DIY weddings and parties?
That's exactly what Carla Wingett and Karen Irwin were thinking when they decided to open Huckleberry Market. "Karen and I have done flowers and entertaining, we've been in the wedding industry for a long time," Wingett said. "We noticed that hole in San Luis Obispo; there's nowhere you can go to get those creative little touches."
Huckleberry Market is a shop that isn't easy to fit in a box. It's a flower and gift shop, it's a decor store, it's a party supply market, it's a creative studio, and it's a community workshop. "Yeah, it does get a little bit much if you explain all of that right away," Wingett said." It all centers around an attractive DIY event aesthetic and it all makes sense in that magical little space.
Each aspect of Huckleberry Market feeds into the others, making the space a one-stop-shop for the entire event process. Customers can go in with no idea what they want their party to look like and leave with a fully formed plan, and everything they need to make that plan a reality—from the flashy centerpieces to the tiny details that really make an event special.
Irwin and Wingett don't want Huckleberry Market to just be a store, they want it to be a community resource.
"We want, as much as possible, to bring the community in and have little creative events that feature local artists and other professionals in the wedding and entertaining industry," Wingett said. "We're not just an online shop, we want to be here for the community."
Huckleberry Market will regularly host workshops to teach customers how to DIY different parts of their parties, events, and weddings. Wingett said that she also plans to host fun community events, like movie nights, at the market. "The whole idea is, we're offering supplies and services for creative gatherings so we also want to have those creative gatherings in our own space," Wingett said.
An artistic workspace will be another integral part of the market. The space will be a creative locus for local painter Neal Breton, who until recently shared a studio space at Studios on the Park in Paso Robles.
"This is his workspace, but he'll have art for sale and illustrations," Wingett said. "He's also collaborating with us on wedding decor and invitations. So, if you want a custom crest or something for your wedding, or some illustration for an invitation, we're gonna work with him on designing things for some of our brides."
Breton also designed the shop's mascot, a charming huckleberry raccoon.
The name "Huckleberry Market" was chosen partially because it's "just a sweet, wholesome sounding name," Wingett said. But it also has a deeper meaning.
"I like that quote from Tombstone: I'll be your huckleberry," Wingett said. "Which is like, I'll be your man, I'll do whatever you need. So Karen and I want to be that in the wedding industry and the entertaining industry.
"We'll make a ceremony backdrop for your wedding, or do your flowers, or just offer the little hostess gifts or things you might need for dinner that night," Wingett said. "We do lots of little creative things here, so that's kinda the idea."
Fast fact
The city of Atascadero is now paying for senior fun. Thanks to the newly instated Senior Scholarship Program, Atascadero residents who are 55 years of age or older can apply for scholarships of up to $30 per year. These scholarships can be used to pay for myriad Atascadero city activities such as watercolor, yoga, clogging, line dancing, and more. A full schedule of qualifying activities is available at atascadero.org. Seniors can call to apply or learn more about the program at 470-3426.
This week's Strokes & Plugs was hand-crafted by intern Cliff Mathieson. Send nonprofit and business news to strokes@newtimesslo.com.