For Betsi Clark, starting her own granola business was a lot like climbing a mountain.
As in, totally enjoyable, exciting, and a wee bit terrifying.
With her 1970s aviator sunglasses and long, blond surfer hair, Clark is more than this reporter's vision of "bohemian cool." She's a self-proclaimed "glutton for adventure." She's the kind of badass outdoorswoman who can find her way up the face of a cliff with little more than a series of small footholds and a security rope secured by a friend.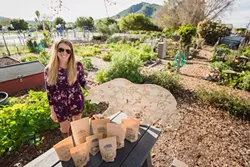 PHOTO BY KAORI FUNAHASHI
OUTDOORSWOMAN: Betsi Clark has woven her love of nature, health, and fresh flavors to her boutique, flavorful Grrrnola.
When climbing at her local gym, Clark forgoes the rope altogether.
A San Diego native, Clark traveled to Cal Poly, San Luis Obispo, for a vague idea of "higher education." After an existential crisis that had her switching from English to business to philosophy, she finally found herself.
"I've always been really active," Clark said. "I grew up sewing and cooking. I took an interest in health that really took root in college."
Whether playing field hockey, water polo, or simply getting outside to hike Bishop or Madonna mountain, Clark found that when she moved her body, it moved her soul. The skills she had picked up in school—business especially—helped to further shape an already healthy entrepreneurial spirit.
Three years after starting her own business, Clark's small-batch, boutique Grrrnola can be found across the Central Coast landscape, from Spearhead Coffee in Paso Robles to Huckleberry Market in the heart of SLO.
With flavors like cocoa and cayenne and triple citrus (made with local Pasolivo olive oil, Therabee honey, raisins, cashews, and a handful of orange, lemon, and lime zest), this is not your average "boring hippie" granola.
"As an adult, I was suddenly exposed to a whole new world of food that I hadn't experienced in suburbia," Clark said, adding that she began to consume more whole grains and veggies. Although cravings for pepperoni pizza and orange chicken arose from time to time, her well-being peaked.
"It was probably the MSG craving more than anything," Clark added.
I think we can all relate to that conundrum.
PHOTO BY KAORI FUNAHASHI
STOMACH GROWLIN': With flavors like cocoa and cayenne and triple citrus, Grrrnola provides a healthy morning wakeup call.
The idea for her healthy, crunchy (and actually very tasty) granola spurred from an ever-growing desire to put more good stuff into her body. But it had to be more than wholesome—it had to be, as the Cali kids say, "bomb."
"I started making granola for myself, and I loved eating it with yogurt every morning," Clark said. "That's where my first recipes came from."
While managing Bru Coffee in Atascadero, Clark's homemade granola was suddenly thrust into the spotlight. The menu needed a revamp and the 20-something took a chance on her own product.
The result was instantly positive. Friends asked for bags of the stuff to take home. Customers swooned. Clark suddenly found a new foothold—her own way up the mountain of her life.
"It was like one of those movies where previous scenes keep flashing and everything starts making sense," Clark said. "Granola is not only easily repeatable, it's also the perfect medium for my creativity. I can always create new recipes."
Clark keeps a detailed log in her phone. Every time she tries something incredible—perhaps a certain spice or flavor combo at dinner—she writes it down for tinkering.
The result? Flavors like peaches and cardamom and white chocolate lavender—far more "inspired" than any granola I've ever consumed. Period.

GET YOUR PAWS ON SOME WILD GRRRNOLA: Filled with raw nuts, seeds, dried fruit, and a rainbow of spices, Grrrnola might be the wakeup call you need to make a healthy, flavorful step in a new direction. Find the paper bags (stamped with Clark's cute bear logo) at Spearhead Coffee and The Rabbit Hole in Paso Robles, Avila Valley Barn in Avila Beach, Huckleberry Market in SLO, Los Olivos General Store in Los Olivos, Éclair Bakery in Arroyo Grande, and Just Baked SLO in Santa Margarita. You can also try a bag at a Grrrnola pop up at Left Field (1242 Monterey St.) during the Junking Trail on April 18 from 9 a.m. to 4 p.m. If you live local and buy online, Clark will even give you free delivery. Talk about good karma, man. Click over to grrrnola.us for her online store and blog.
Clark even suggests tossing the clusters into salads and onto ice cream, and—after sampling three or four bags—I wholeheartedly agree with her enthusiasm.
With no added sugar, no peanut oil, whole ingredients, and gluten-free oats, the flavor-focused granola also appeals to people who are generally concerned about their health, like Clark.
"There's the camp of 'the more sugar the better' granola, and then there's the apple-sauce-and-date granola that is overly healthy and does not appeal to anyone outside of the 'health' niche," Clark said. "I wanted to walk the line."
How did she do the impossible? With a bit of gumption and a whole lot of mad scientist skills.
Just peer into a bag of Clark's decadent "white chocolate" variety, which actually contains zero white chocolate.
Cool trick, huh?
"My challenge was to deconstruct what white chocolate tastes like," Clark said. "I subbed the sugar and hydrogenated oil for good oil and honey, then used cocoa butter to echo the flavor, without all that extra stuff."
Strangely, the mostly vegetarian actually looks to the In-N-Out Burger chain for the inspiration she needs to keep going.
"Keep it simple. Don't try to accommodate everyone. Do what you do really well," Clark said. "By keeping with these ideas, I can create something that people actually want to eat every morning—and feel good about it."