Festival Mozaic is a beast of an event.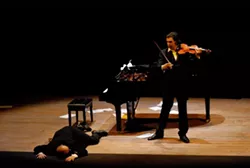 PHOTO COURTESY OF FESTIVAL MOZAIC
PHOTO COURTESY OF FESTIVAL MOZAIC CLASSICALLY UN-CLASSICAL: Aldo Gentileschi (left, on the floor) and Brad Repp (right) make up the Italian musical comedy act Duo Baldo, who will perform as part of Festival Mozaic's Fringe Series, in their only U.S. appearance this year.
In 13 days, the Central Coast's classical music festival delivers a total of 20 concerts in some of the most beautiful settings San Luis Obispo County has to offer. The sheer quantity of options on the festival's program would be intimidating if not for the streamlined way in which its events are presented. Mozaic concerts are neatly divided into four categories: There's a chamber music series, orchestral concerts, classical crossover or "fringe" events, and a uniquely interactive series called Notable Encounters.
And while, in previous years, the festival's programming was structured around a single theme—last year's was "In the Footsteps of Giants;" before that was "Influences in Pop Culture"—this year Musical Director Scott Yoo has opted to let each individual event stand alone. Being able to create a program without thematic constraints seems to have had a liberating effect on this year's lineup, which will include performances of lesser-known works by many famous composers and several events designed to enhance the audience's understanding of the great relationships in classical music history.
There's too much going on at the festival, which runs July 16 to 28, to highlight each event in detail, but that's what festivalmozaic.com is for. Below are a few happenings of particular note.
Duo Baldo
Italian musical comedy act Duo Baldo will perform in Festival Mozaic's Fringe Series on Friday, July 26—their only U.S. appearance this year.
Violinist Brad Repp met pianist Aldo Gentileschi in Prato, Italy, in the early 2000s. But it wasn't until Repp happened to see Gentileschi performing in a play that he realized he was an actor as well. After Repp discovered Gentilischi's theatrical talents, the two began developing a musical comedy act together, and soon had a regular Saturday night gig at the Caffè al Teatro, a café across from the theater where Repp had first seen Gentileschi on stage.
Their weekly performance, Repp explained in a phone interview, became a kind of "open rehearsal," where the duo would road-test new material. During the next few years, the two perfected their act: Repp on a 1736 Testore violin; Gentileschi on the cafe's out-of-tune, upright piano. ("There was an F-sharp that didn't work," Repp recalled, "so we had to avoid the F-sharp.")
Gentileschi also picked up a pair of those nerdy-looking U.S. military-issue glasses—"If they saw them, the enemy would laugh at them," Repp commented—around which the pianist/actor developed a bumbling and utterly ridiculous persona. Repp and Gentileschi, both accomplished musicians in their own right, would begin a straightforward performance, into which Repp would sneakily insert a violin squeak, sending his partner into a frustrated search for the source of the noise. In another act, Gentileschi would pretend to lose the last half of his sheet music, and, with increasing panic, would continue playing the same few bars and over again, like a broken record. The music stand, too, became an unexpected source of comedy: a befuddled Gentileschi would try to adjust it, struggle with it, challenge it to a duel. A piano solo would transition to "Smoke on the Water;" an Italian rap breakdown would erupt out of a violin sonata.

MOZART AND MORE: Festival Mozaic runs July 16 to 28 at various locations throughout San Luis Obispo County. For tickets or more information, visit festivalmozaic.com.
The two remained a purely local attraction—each pursuing his own personal musical endeavors on the side—until 2004, when they were asked to perform as a trio with Italian tenor Andrea Bocelli. A series of prestigious engagements around Italy quickly followed. In 2011, the duo was invited to perform at the Salzburg Festival, a gig that seemed to prove to the public that the musical comedy team could hold its own in the company of "serious" musicians.
"People here are very old-fashioned and traditional," Repp said of his home country, "and anything that makes people laugh can't be serious, especially in regards to classical music."
Since Duo Baldo's formation, many musical comedy acts have sprung up around Europe. But Repp doesn't seem to feel threatened by the competition, pointing to the singular influence shared by all.
"We're all children of Victor Borge," he said. "That's our real inspiration."
Duo Baldo will play at the Cuesta College CPAC.
String Theory
A Sunday, July 21, performance at See Canyon Fruit Ranch by the uncategorizable music and performance collective String Theory sold out in absolutely no time at all, so I'll be brief. Based in Los Angeles, String Theory was founded by instrument designer and composer Luke Rothschild, choreographer/director Holly Rothschild, and cellist and composer Joseph Harvey. From these influences, the ensemble seems to pull together dance, music, fashion, and installation art into one absurdly creative show. The members of String Theory perform on, in, and around instruments of their own invention: some of them wearable, such as one particularly percussive skirt, others massive, site-specific creations. The music ranges from classical to ambient to pop, and their signature instrument is an enormous harp that can be strung up above the heads of the audience or installed on a hillside for an otherworldly sonic experience.
Festival Orchestra: Beethoven and Tchaikovsky
Did I mention that Musical Director Yoo shreds on the violin? He does. He shreds.
("Scott's a genius," fellow violinist Repp gushed in our phone interview. "That man pisses music.")
Not only will Yoo tackle Tchaikovsky's Violin Concerto in D Major, op. 35—one of the most technically difficult works for violin—in a performance by the Festival Orchestra, he'll also double as conductor in the same concert, which also features Beethoven's Symphony No. 3. Known as the Eroica, Italian for "heroic," the symphony is, incidentally, another one of the most challenging works in history.
Yoo selected this musical pairing, he said, to highlight the influences of Beethoven in Tchaikovsky. The performance takes place at 8 p.m. on Saturday, July 28, at the Cal Poly Performing Arts Center. However, music lovers on a budget can attend a free dress rehearsal from 10 a.m. to 1 p.m. the same day, also at the PAC.
Then, on Sunday, July 28, at 3 p.m., the festival will close with a further exploration of the musical relationships between Beethoven and Tchaikovsky, this time in a chamber music setting at the Cuesta College CPAC. Tchaikovsky's Piano Trio in A Minor, op. 50 (one of the most challenging piano trios in existence) will be paired with Beethoven's String Quartet in C Major, op. 59/3—two pieces that were longer and of a greater scale than anything that had come before them, and fit neatly into the final weekend's unofficial Hardest Things Ever theme. You've really outdone yourself, Festival Mozaic! Now, I fully expect you to top this next year.
Arts Editor Anna Weltner is never satisfied. Entertain her at aweltner@newtimesslo.com.