What can we here on the Central Coast learn about redevelopment efforts taking place on the Gulf Coast? According to a group of Cal Poly students, who recently visited the hurricane-ravaged region, a great deal. Granted, six months after Katrina and Rita swept through New Orleans, it's difficult to tell how well the recovery effort is going. Electricity is still scarce or non-existent in some areas, and clean-up crews continue to face a seemingly endless amount of waste and debris. Structural damage affects homes and the still-unstable levee system.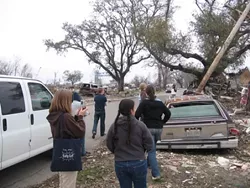 PHOTO COURTESEY OF CAL POLY DEPT. OF ARCHITECTURE
Starting from the ground up Students survey the hurricane-damaged Gulf Coast region, in preparation for the upcoming Design Week 2006, which will focus on the redevelopment of New Orleans.
# And the diaspora of more than half of the city's population has turned once thriving, if impoverished, neighborhoods into war-torn ghost towns. Still, hope springs eternal, and citizens continue to work together for a brighter tomorrow. And in the unknown future of the Crescent City lies a crash course on the challenges and delicacies of urban planning.
Â
"Immediately upon arrival there was silence,� says Joseph Ragsdale, an Assistant Professor in the school's Landscape Architecture department. He led the 11 students through a whirlwind tour of New Orleans and Baton Rouge shortly before the city's Mardi Gras celebrations began. Nothing any of them had seen on television or the Internet could match the experience of seeing the destruction first hand.
Â
"I think we were all shocked by the magnitude of the devastation. Even six months later, the amount of debris—and these people have been working nonstop to clean up their neighborhoods—the amount of waste is just amazing. It was clear that if designers and planners could get their heads together, they could really make the city a better place.�
Â
The group spent three days touring the area, observing clean-up efforts, meeting with planning officials and visiting temporary housing facilities that were still teeming with displaced residents. The purpose of the trip, part of Cal Poly's "learn by doing� mantra, was to collect data and information about past, current, and future restructuring plans to bring to this year's Design Week. Beginning April 3, local professionals, faculty, alumni, and architecture students from the school's five disciplines (Architecture, Landscape Architecture, Architectural Engineering, Construction Management and City & Regional Management) will team up to create their own plans for regenerating the Big Easy, something they all agree will be anything but easy.
Â
"What I really got a sense of was how much needs to go into the planning,� says Lindsey Ringer, a second year student who participated in the research trip. "It's not just the science, math, and practical elements that will determine our plans, even if they might seem like the most important elements sometimes. But there's also culture and history to consider. And the people. There are so many layers that go into the design of any city.'�
Â
One of the key speakers at next week's event will be Randalle Hunt-Moore, a Cal Poly Landscape Architecture alum, who lives in Louisiana and is currently participating in the Bring New Orleans Back (BNOB) effort. Her lecture, "New World, New Orleans,� will address the creation of New Orleans as we knew it pre-Katrina, and the issues the city faces in the wake of the catastrophic disaster. Armed with current plans for the city's future, she'll also work alongside the students to help shape their development ideas. "I'm part of the Louisiana connection,� she explains, a conduit through which some of these students' plans might actually become part of the big picture of rebuilding New Orleans.
Â
"This is more than just a chance to theoretically understand design on a big-city scale,� explains Ragsdale, although the bittersweet opportunity to learn from someone else's mistakes cannot be overlooked. "The students are also potentially building some very important relationships that they can carry into their future. And the possibility that they might be able to help, well, that would be really wonderful.�
Â
Lisa Vilhaur, a fifth year student who has already interned with planners in the Bay Area, says the experience of seeing New Orleans first-hand made a lasting impression on her. "I've seen a lot of development already,� she says. "I mean, this is California. But seeing how everybody was affected, not just poor people, but middle class and even rich people, by what turned out to be really bad planning, it makes you reconsider the threat of your natural surroundings. It's got to be more than just, 'Oh, I like this place and I want to build a house here.�
Â
Perhaps one of the lessons we can learn from New Orleans is the need to balance nature in the face of our human needs and desires. "This [project] is a lot about pushing the boundaries of nature,� says Ragsdale. "In New Orleans, they face flooding and soil erosion, and still they build. We face fires and earthquakes.� When it comes right down to it, the differences aren't that great. For more information contact Cal Poly Public Affairs at 756-7109.∆