Although my middle name evokes her memory, I never had the chance to meet my grandmother, Vivian. What I do know about her is that she understood the power of mac and cheese. For this reason alone, I'm certain I would have liked her.
In honor of the recent third annual Mac and Cheese Fest held in Avila Beach, I thought I'd twist my fork a little deeper into that golden and gooey elixir. It's the stuff of so many lasting memories, my family included.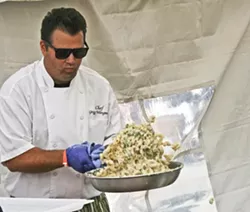 PHOTO BY REID CAIN
MAN OF THE MAC: Gardens of Avila Executive Chef Gregg Wangard proudly snagged the First Place People's Choice Award at the third annual Mac and Cheese Festival, held at the Avila Beach Golf Resort on Aug. 23.
First, let's sink back into a fuzzy, midcentury scene. It's a dreary, drizzling day and my grandmother has just picked my mother up from nursery school. She's popping a frozen Morton's mac and cheese dish into the oven. This was her wet-weather go-to—a way to conjure up instant warmth.
She didn't make it from scratch, but that didn't matter. The dish was creamy and gooey and crusty on the top. It came in an aluminum pie tin, and my mother dutifully scraped the edges to get every crusty bit into her mouth.
"We would sit in the kitchen and eat it together," my mom, Kathleen Collins, said. "In my memory, it was dark outside, even though it was midday because of the rain, and the kitchen windows would steam up. Just thinking about it now makes me feel so warm and cozy."
My mom is not an overly sentimental woman, but the thought of this one particular meal made her take pause. She concluded, "If I had my mom back for a day, that's what we'd have for lunch."
For so many, the simple dish of salt, fat, and carbs represents a beloved comfort food incomparable even to meatloaf or homemade chicken soup. Whether consuming it with beans and weenies while watching The Twilight Zone, as my friend Chad remembers, or observing your own kids freak out over a favorite homespun recipe (one friend said her children nearly lost their tiny minds when they realized pasta and cheese could comprise an entire dish), it's all about connecting over a bowl of something hot and savory.
PHOTO BY REID CAIN
BETTER THAN A CHEESE STEAK: Jeffry's Catering took home the Mac and Cheese Fest Second Place People's Choice Award with a unique spin on the flavors found within a satisfying cheese steak sandwich. The "Paso Mac and Cheese Steak" dish boasted roasted garlic provolone cheese sauce, grilled peppers, and onions.
Excuse my cheesiness, folks.
My mom carried on the tradition, serving me a piping hot black tray of Stouffer's—the modern equivalent to Morton's—any time I was feeling under the weather. It paired nicely with saltines and Sprite, and I still hanker for that particular brand (with its oh so crusty edges to be chiseled) whenever I feel a sniffle creeping on.
But—and I hear you, mac purists—there's so much more to life than the boxed or frozen stuff!
Oh God yes.
Whether oozing with five layers of aged parmesan, Swiss, gruyere, asiago, and mozzarella; topped with breadcrumbs, jalapeños, and bacon; or boasting just a few standard ingredients, the sticky elbows, tubes, and shells continue to grace modern menus from Los Angeles to Austin Brooklyn, and for good reason. It brings us all back to the womb.
The modern world has embraced the cheese: There's lobster mac, and fried mac and cheese balls, and then there's the incomprehensible feast that is the Mac and Cheese Festival, brought to us by American General Media.
For the past two years, I've energetically covered the annual sweaty summer shindig, previously held at Le Vigne Winery in Paso Robles. An air of added excitement surrounded this year's incarnation, held on Aug. 23: It marked a new beginning at the more temperate, sprawling Avila Beach Golf Resort location. About 3,000 hungry tummies and more than 20 competing chefs made the scene, which included live rock 'n' roll, cold craft beer, local wine tasting, and more mac and cheese than anyone could ever possibly consume in four hours. I'm telling you: Those seemingly "sane" scoopfuls truly add up to a full-on mac attack (the only cure for which is more mac).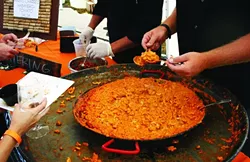 PHOTO BY REID CAIN
BRING ON THE HEAT: Crush Catering's vegetarian friendly seven cheese mac and cheese took flavors to new heats—and heights—with a roasted tomatillo habanero salsa. More than 20 local chefs converged at the coastal Avila Golf Resort for an all-out mac and cheese throw down.
Popularity for the excess cheese is only ballooning, according to Mac and Cheese Festival Director Jessica Beattie. The event has since bubbled into Santa Ynez; Bakersfield; Nashville, Tenn.; and Durango, Colo. World domination is not far behind.
Beattie said jaws tend to drop when she utters the four magic words: "Mac and Cheese Fest" to any unsuspecting audience. People simply cannot comprehend the amount of joy they're experiencing.
"People immediately begin telling me about the last time they had mac and cheese, who made it, how it made them feel, and exactly what it tasted like—it's this psychological trip down memory lane," Beattie said.
If that sounds a tad insane, then you don't know mac. I encountered several flavor combinations that surprised and delighted me to the core, and I'm still strangely satisfied. SLO Brewing Company's blue cheese-infused mac with tender tri-tip. Cass Winery's truffle mac garnished with organic heirloom tomato relish and paired with so much house-smoked bacon that Chef Jacob Lovejoy actually ran out of inventory. Ventana Grill's luxurious mound of pasta topped with a hefty portion of tender lobster.
After much dancing to the sounds of The Tumbleweed Wanderers, too many local libations, and an overall calorie free-for-all, we took to the voting iPads, donated by event sponsor Mac Superstore. This year's winners span from all over the county: Chef Jacob Lovejoy of Cass Winery took home the Cork Dorks Judge's Choice Award; Chef Gregg Wangard of The Gardens of Avila snagged the coveted First Place People's Choice Award; and Chef Jeffry Wiesinger of Jeffry's Catering took home Second Place People's Choice Award honors. It was a difficult decision, I'm sure.
Where my tummy was concerned, there was not a bad batch of mac out there (and I have to give a shout out to Crush Catering, which took a glorious risk with a seven cheese vegetarian habanero mac that sent pleasurable pain and endorphins rushing to my brain).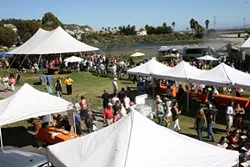 PHOTO BY REID CAIN
MAC ATTACK: An estimated 3,000 hungry cheese lovers got their mac on at the third annual Mac and Cheese Festival, originally held in Paso Robles. This year marked the first for the festival's new location, which offered a scenic coastal view, cool breezes, and plenty of excess calories.
Still wondering, "Why all the hoopla about this ho-hum dish?" Maybe you're just more of a bacon person. That's OK—there are now plenty of fests out there for you to go bonkers over. There's even bacon toothpaste. If this local fest is any indication, mac and cheese is well on its way to a proper place in the sun.
"You could easily walk up to someone and talk about the last time you had a great steak, but it's just not the same,'" Beatie said. "That's been the coolest part about this entire tour: hearing so many memories from people. Mac and cheese is historical and monumental in peoples' lives."
This quote will one day grace the plaque that will no doubt be erected in honor of our friend, mac. As always, I must thank him for the memories. They have been distinctly fulfilling.