It's hard to believe it's been 18 years since Third Eye Blind lit up the charts with "Semi-Charmed Life" off their self-titled debut album. Songs like "Jumper," "How's It Going to Be," and "Never Let You Go" proved the band had legs, but like any good rock 'n' roll tale, there's been personnel changes, long gaps between albums, and legal problems over songwriting credit.
PHOTO COURTESY OF THIRD EYE BLIND
ORIGINAL HIPSTERS: Third Eye Blind (pictured) joins forces with Dashboard Confessional on July 17 at Vina Robles Amphitheatre.
They recently released their fifth album, Dopamine, their first studio album in six years, and while it—like all their subsequent albums—isn't likely to eclipse the success of their debut, it proves that lead singer Stephan Jenkins is still an effective songwriter capable of penning hooky tunes with intelligent and often devastating lyrics.
"I aspire to your rockabilly heart/ All animal and engine/ But I always fake the part/ My side of the bed/ I want push you off the ledge/ 'Cause I can't get you to feel it/ 'Til you're out there on the edge," he sings in the album's title track.
This Friday, July 17, Third Eye Blind and fellow alt-rockers Dashboard Confessional play Vina Robles Amphitheatre (7 p.m.; $45 at vinaroblesamphitheatre.com), with opening act Night Terrors of 1927.
The show is part of a North American summer tour featuring these two stalwarts of the late-'90s and early 2000s alternative rock/post grunge scene, and they're ready to prove they're still relevant.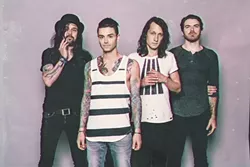 PHOTO BY DAVID BEAN
CONFESS: Dashboard Confessional (pictured) joins forces with Third Eye Blind on July 17 at Vina Robles Amphitheatre.
"After a break that has refueled and fired us up, Dashboard Confessional is more ready than ever to connect with our treasured fan base," frontman Chris Carrabba said in press materials. "We've missed you, friends, and can't wait to spend our summer with you!"
"I love the unbridled enthusiasm of a summer tour," Jenkins added. "All that crowd energy and the heat frees us up. That's why summer is so exciting. We haven't been out for a year, so we're most excited to see you all."
A warm Paso night while hearing tracks like Dashboard Confessional's "Screaming Infidelities," "Hands Down," and "Vindicated," paired with Third Eye Blind's "Graduate," "Losing a Whole Year," and "10 Days Late"? Sounds pretty awesome!
Vina Robles Amphitheatre is also hosting Willie Nelson & Family and Allison Krauss & Union Station featuring Jerry Douglas this Tuesday, July 21, but this one appears to be sold out.
Good Medicine Presents!
Good Medicine Presents has a bunch of great shows this week, but if you wanted to see Still Time's reunion show this Friday, July 17, at SLO Brew, you're too late. This baby's sold out. As an alternative, may I suggest another Good Medicine Presents show instead? Cali-Cubano ensemble Zongo All-Stars plays Tooth & Nail Winery from 5 to 9 p.m. You can read about how much fun I had up there last Friday in Art Bash! on page 39.
Also at SLO Brew, Good Medicine Presents brings Wordsauce, a local live instrument hip-hop with jazz influences ensemble on Saturday, July 18, for an album release party (7:30 p.m.; all ages; $10 presale or $12 at the door).
PHOTO COURTESY OF BAND OF HEATHENS
STRAIGHT OUTTA AUSTIN : Band of Heathens brings their road-honed sounds to SLO Brew on July 19 during a Good Medicine Presents show.
"Built on the idea of cross-contamination, the Sauce brings together members from highly diverse backgrounds and experience in many styles of music," according to their bio. "Their mission is to spread good vibes and awesome music from the Central Coast to the nation, and eventually to the world."
Dope by Design, a seven-piece, live alternative hip-hop band from Pomona will open.
On Sunday, July 19, Austin act Band of Heathens plays the Brew (7 p.m.; 21-and-older; $15 presale or $17 at the door) with Uncle Lucius opening.
Band of Heathens' newest album, Sunday Morning Record (their fourth studio album and seventh overall), finds chief songwriters Ed Jurdi and Gordy Quist in excellent form.
"Sunday Morning Record was born in the midst of change," Quist said in press materials. "Life changes, lineup changes, geographic changes. It was a roller coaster of a year, but that change served the album well and became our muse."
"We set out to make a record that chronicled the journey of the band through a really difficult and uncertain time," Jurdi added. "In the midst of all of this, Gordy and I were writing songs, starting families, moving families, and trying to find a thread to hold onto with our music."
"I really think that this is the most personal group of songs we've ever released," Quist asserted. "We had over 30 to choose from, and they were written while we were pondering some major life changes and digging to find the essence of what the band is."
"This record's a bit on the quieter side dynamically, but I feel like it's sharper around the corners, both lyrically and musically," Jurdi added. "I think people see us as a rock 'n' roll band, which we are. But for us, a lot of the best stuff we've done is our quieter stuff, and we did more of that on this record. The further into life you get, the more you realize that life isn't black and white and that there are millions of shades of gray in between. And as we become better songwriters and better musicians, I think we're better able to explore those gray areas a little more."
This is rock 'n' roll with R&B, blues, and country tinges played by real road warriors!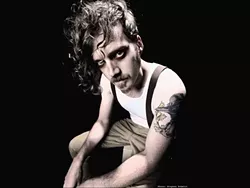 PHOTO BY STEPHEN SCHMITT
ONE-MAN-BAND: Lincoln Durham will play vintage stringed instruments and accompany himself on percussion, creating a brooding Southern gothic sound, during a Good Medicine Presents show on July 21 at SLO Brew.
The show I'm most excited about is on Tuesday, July 21, when Lincoln Durham plays SLO Brew (7:30 p.m.; all ages; $8 presale or $10 at the door). He's a one-man band with experimental and dark elements that remind me of Tom Waits or Nick Cave, not so much in sound as in style and attitude.
"Armed with old bastardized mid-century guitars, hand-me-down fiddles and banjos, homemade contraptions with just enough tension on a string to be considered an instrument, and any random percussive item he can get his hands or feet on, Lincoln Durham is an Obnoxious-Southern-Gothic-Gospel-Revival-Punk-One-Man-Band with a heavy amped edge, preaching the gospel of some new kind of depraved music," said his bio, which sums him up perfectly. "With driving guttural beats back-boning various growling stringed instruments, Lincoln gives birth to a sound that transcends genres with his dark, poetic, and raw writing style, telling tales that E.A. Poe would have been proud of."
Go and tell me how awesome he is. I'm going to be at Willie Nelson that night.
Finally, on Wednesday, July 22, Good Medicine Presents Bears Among Men at SLO Brew (7:30 p.m.; all ages; $10 presale or $12 at the door). The band's sound is a mix of speed death industrial punk rock, a strange mix of pop punk vocals and death metal vocals. Gotta see it to believe it, people.
Got Wood?
"You may remember a grunge band called Twinkie Defense from back in the pre-grunge Dark Room daze," Dahlan Richenberg emailed me recently. "Well, four of us are playing music together again in a band called Wood."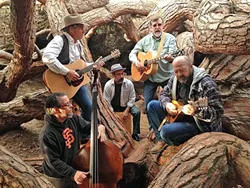 PHOTO COURTESY OF WOOD
PETRIFIED TWINKIE: Members of SLO grunge act Twinkie Defense have re-formed as Wood, a classy acoustic folk act with harmony vocals, playing D'Ambino's on July 17.
I do indeed. These guys have clearly mellowed. A recent YouTube video of them playing in Baywood reveals an acoustic quintet playing thoughtful folk rock with harmony vocals and crisp musicianship. Maybe my memory's fuzzy, but I don't remember Twinkie Defense being quite so competent.
"We're playing at D'Ambino's on Friday, July 17, for a full three hours, and it will be aired on [live video streaming service] Central Coast Live," added Richenberg. "We'll also be recording the show for a live Wood album project."
To get a better idea of their sound, their bio reads, "Somewhere in the audio landscape between the fedora and vest alt-country set and the cerebral meanderings of the neo-hippy jam bands, you will find a sound that is at once familiar and joyously new. Wood is an acoustic ensemble that brings together the influences of many musical styles. Songwriters Steve Kindel, Paul Silva, and Dahlan Richenberg join Rob Strom (bass) and Barry Johnson (percussion) to create a wonderful mix of catchy melodies, thick harmonies, and profound, sometimes hilarious lyrics. It's good music, sometimes a little hard to define, but fits comfortably in the Americana cue."
More music …
Award-winning singer-songwriter Loren Radis headlines the next Songwriters at Play showcase this Thursday, July 16, at Shell Café (6:30 p.m.; all ages; free). Others playing brief four-song sets include Lisa Dilk and Rachael Kauffman.
PHOTO BY PHOENIX RISING
BOOGIE: The Cliffnotes (that's Valerie Johnson on washboard and Cliff Stepp on guitar) play two shows this weekend: July 17 at Branch St. Deli and July 18 at Shell Café.
The Cliffnotes, featuring Valerie Johnson and Al B Blue, play two shows this week. See them Friday, July 17, at 5:30 p.m. at Branch St. Deli; and Saturday, July 18, at 7 p.m. at Shell Café. Expect plenty of boogie blues and swampified rock from this merry band of blues rockers led by Cliff "Crawdaddy" Stepp, whose songs have been produced by B.B. King and recorded by Pure Prairie League, 49 Special, and The Virginia Squires, among others.
Damon Castillo's electrified band is great, but I really like the intimacy of his acoustic trio configuration, which you can hear this Saturday, July 18, when he headlines Sculpterra Winery (6 p.m.; all ages; $15; call 226-8881) with opening act Nicole Stromsoe.
Guitar wiz Guy Budd and vocalist Inga Swearingen play Castoro Cellars this Sunday, July 19, from 1 to 4 p.m. These two pros make great music together!
Unfinished Business brings its '60s rock and R&B to the Arroyo Grande Rotary Bandstand on Sunday, July 19, at 1 p.m. during a free community concert.
Keep up with Glen Starkey via twitter at twitter.com/glenstarkey, friend him at facebook.com/glenstarkey or myspace.com/glenstarkey, or contact him at gstarkey@newtimesslo.com.