She didn't care much for reading growing up, but books themselves somehow held a special fascination for artist Lisa Occhipinti.
"I've always been interested in books as objects," Occhipinti said. "But I like how they contained words, pictures, an entire universe."
PHOTO COURTESY OF LISA OCCHIPINTI
CUT UP: Artist Lisa Occhipinti's piece Parentheticals is made of cut up paperback books that otherwise would have been doomed to the incinerator.
The now twice published Los Angeles-based author enjoys reading a good autobiography today, but her love for the physicality of books still remains. Occhipinti is in the habit of up-cycling them into art. A collection of her whimsical sculptures, photographs, and books are currently on display as the Literally: Identity and the Written Word exhibit at the San Luis Obispo Museum of Art.
On one wall at the gallery is a series of the ends of books cut up into fat chunks, all of different colors and genres. One is arranged in a circle, the other like two parentheses. Simultaneously, I'm compelled to touch it but also a bit sad that these books met the sharp end of the scissors—at least they live on as art now.
"These are all dime store novels that would have been put in an incinerator if I didn't use them," Occhipinti said. "I would never cut up a book that I loved or that had value."
Occhipinti studied bookmaking during her time in art school in France and Italy and began collecting books voraciously both for art and reading. One format she works with is the artist's book, which is a book or book-like object, usually visual in nature and handmade by an artist, intended to stand as a work of art. Her piece Saints and Rebels is an artist's book that uses the cover of an old book with the aforementioned title with new pages of images of people Occhipinti thought had a touch of rebel or saint in them. While many artist's books are limited edition, Occhipinti's are often rarer.
IMAGE COURTESY OF LISA OCCHIPINTI
STITCHING A TALE: Photographs printed on cotton are given extra depth and dimension with hand embroidery in pieces like Asleep in the Afternoon 5 p.m.
"I only make one," Occhipinti said. "It's a singular work of art."
Her photographs are often female focused, featuring the black and white silhouette of a woman without being able to see a face, yet titles such as Prophetess and Visionary allow the viewer to create an entire backstory of their own if they wish. Other photographs like Asleep in the Afternoon 5 p.m. are a collage of images—a woman sleeping and a staircase of people going who knows where—printed on cotton and embellished with hand-embroidered designs.
Other pieces have a clearer backstory if you dig a bit. The paper sculptures Lacrimaria were purposely made from French books in response to the recent bombings in Paris. The title itself translates to 'tears of mourners.'
What's clear from a brief scan of Occhipinti's work is that she doesn't limit herself when it comes to artistic media or concepts.
FLIPPING THROUGH THE PAGES: Lisa Occhipinti's book-inspired art exhibit, Literally: Identity and the Written Word, is on display at the San Luis Obispo Museum of Art through Jan. 29. Admission is free and the gallery is open every day (except Tuesday) from 11 a.m. to 5 p.m. Visit sloma.org for more information. Occhipinti's books, Novel Living and The Repurposed Library, are available for sale on Amazon. Check out locchipinti.com for more of the artist's work.
"It's more about having an idea for something and manifesting that idea," Occhipinti said. "There's beauty to be found in everything. We're so inundated with visual information that I try to create moments that are more reflective."
Ryah Cooley is sucked into a good book at rcooley@newtimesslo.com.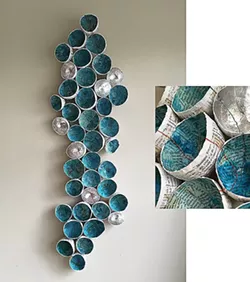 PHOTO COURTESY OF LISA OCCHIPINTI
MOURNING IN FRENCH : Books written in French were turned into sculptures like Lacrimaria as a nod to the victims of the recent Paris bombings.
PHOTO COURTESY OF LISA OCCHIPINTI
ARTIST AND AUTHOR: Lisa Occhipinti's collection of book-inspired art is currently on display at the San Luis Obispo Museum of Art.