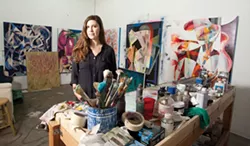 PHOTO BY STEVE E. MILLER
ORGANIZED CHAOS: Artist Julia Hickey, pictured in her San Luis Obispo studio, prepares for two upcoming art exhibits.
Julia Hickey spends her days writing about kidnappings, murders, bank robberies, and prostitution stings. Her nights are quite another story.
An abstract painter, Hickey has been quietly making, yet rarely exhibiting, art in San Luis Obispo for the past five years. If her name is familiar, it's likely because the artist also holds a day job as a crime reporter for The Tribune.
But with two museum exhibits around the corner, Hickey's pseudo-anonymity as an artist may be about change. Hickey's work will appear in an annual group show titled "Call for Entries" at Santa Barbara's Museum of Contemporary Art, opening Saturday, Sept. 28. In addition, Hickey's first solo show, titled "Multifaceted and Polyamorous," will open Friday, Oct. 4 at the San Luis Obispo Museum of Art. I met Hickey at her San Luis Obispo studio space, where the artist cut a generous hour out of her evidently quite frenetically paced creative time to speak with me.
"I've been going to work for eight hours, then going to work out to get all that weird crime stuff out of my brain, and then I've been coming here until midnight every night," Hickey explained. "And that's what I've been doing. So right now, I don't really have a life."
She paused, then amended: "Well, 'have no life' is the wrong way to put it. I have a great life."
Hickey's workspace was a testament to this busy period, all color and texture; masking tape for creating the lines of her geometric abstractions, molding paste for achieving the textured, whipped-cream surface of pieces like the recently completed Birthday Cake Remix.
After graduating from Mission College Preparatory High School, Hickey went on to major in studio art at Yale University. After college, she spent time in the United Kingdom, Spain, and the East Coast before returning to her hometown. Hickey says she's always drawn—she recalled watching the O.J. Simpson trial as a kid and sketching all of the people on the witness stand; unwittingly prefiguring both of her current occupations—but the abstract style she employs today has developed within last three years.
For being a writer, Hickey's art is defiantly nonverbal, wriggling away from the clutches of description. The painting for which the upcoming SLOMA show is named depicts a network of twisty, Escher-like shapes: almost, but not fully realizable in the three dimensional world; a blueprint to the impossible. Hickey cites Georges Braque as an all-time favorite, and a few of her pieces hint at what might have happened had the Cubist painter abandoned his neutral palette and picked up an aerosol spray can.
Describing what makes such pieces work leads to a lovely devolution of language.
"It's a mute thing," she began. "It has logic, but the logic is not intelligible. The logic is—it's like, eating itself. I don't know how to describe it. The logic is fully self-contained. The painting has its own logic, and what it means doesn't matter. What matters is that you've created this, like, self-referential unit. This painting knows what it is, even though you might not be able to put a name on it."

MUTE LOGIC: "Multifaceted and Polyamorous," a solo exhibit of paintings by Julia Hickey, hangs from Oct. 4-Nov. 3 at the San Luis Obispo Museum of Art, located at 1010 Broad St. downtown. A reception to meet the artist takes place Oct. 4 from 6-9 p.m., in conjunction with Art After Dark. For more information, visit sloma.org. Hickey's work can also be seen in the group show "Call for Entries" from Sept. 29- Dec. 8 at the Santa Barbara Museum of Contemporary Art, 653 Paseo Neuvo, Upper Arts Terrace, Santa Barbara. A reception for "Call for Entires" takes place Sept. 28 from 6-8 p.m. For more information on that show, visit mcasantabarbara.org.
A painting of the German Chancellery building seems to have served as a turning point in Hickey's art practice. In her oil painting Chancellery, the concrete and glass structure became a meditation on light and surface; reflection and translucence. Hickey admitted to having little patience for rendering, and said the work took her a year to complete.
"That's also the one that everyone wants to buy," she added.
But instead of lingering there, perhaps capitalizing on the techniques honed on Chancellery, Hickey challenged herself to create a similar effect in an abstract way. Much of her work since has been a product of this exercise.
Among the events that stand out on the artist's resume is a fellowship she received while at Yale to create a series of works based on the violent history of Guatemala, where her mother is from.
"When I was in college, one of my uncles actually disappeared," Hickey said. "Straight up went for a walk one night on his farm, and disappeared. It's possible that it was some sort of, just regular old crime. It's possible that he got mixed up in something he shouldn't have been. It's possible that there was just some plot to kidnap—it's Guatemala; it's just a really crazy place."
In response to the incident, Hickey began a project addressing not only her uncle's disappearance but disappearance in general; highlighting the estimated 40,000 to 50,000 indigenous Guatemalans who went missing throughout the '80s, when the country was in the throes of a civil war.
Through the fellowship she received, Hickey spent a summer in Guatemala doing research for a series of paintings and drawings on the subject. Hickey is critical of the project now, reasoning that compelling stories don't necessarily translate to great works of art.
"I think being at Yale, there's this huge focus on politics, on having these grand narratives behind the things that you're doing," she said. The subject of disappearance, she went on, "was a nice fit as a concept, but it never really made interesting paintings for me. I didn't really think that my paintings could do justice to that, of people disappearing."
In contrast, Hickey's work of late seems to have little to do with narratives, grand or otherwise, favoring instead the mute logic of geometric abstraction.
"When I was in high school I used to love to do geometry proofs," Hickey explained. "You start with this equals that, and it looks like it doesn't make any sense, but after you go through every step of this equals that, all the way down, then you have this gorgeous proof, and it doesn't matter what x and y are. What matters is that you start with one postulation and you end with another one, and in the end you have this perfectly equivalent thing. It doesn't matter what they mean, but the beauty of the proof is still there. It's neat. It's quiet."
Arts Editor Anna Weltner can be reached at aweltner@newtimesslo.com.