Mother Nature displayed quite a spectacle on an early Friday morning, August 16, kicking off the year's first Pinot Noir harvest at Talley Vineyards. The crew had just started picking when a thunderstorm roared and lightning bolts struck the ground creating several grass fires that were just as quickly doused by a following downpour.
Fortunately no one was hurt and the grapes received only a little pre-crush rinse. Their earliest harvest since 1997, but it was only a brief start, said Talley president Brian Talley: "Parts of the west Rincon Vineyard ripened Pinot Noir more quickly than expected, which we attribute to the massive heat wave in June. A little more may come in behind this, but the majority of harvest will come in September." Talley laughed while admitting his only regret was that they didn't get pictures of the fast moving storm.
Still, it was a reminder that this has been a problematic year throughout the Central Coast wine regions.
First there was a harsh frost in April and then it was a heat wave in June; Talley fared better than most, although they've had their share of problems. On April 14 frost damaged nearly
PHOTO BY STEVE E. MILLER
HER PRIDE AND JOY : Talley Vineyards' winemaker Leslie Mead takes pleasure in her highly regarded results
five acres of vines, mostly in Talley's Edna Valley estate named for Brian's grandfather, Oliver, founder of Talley Farms. The damage only occurred in vineyard sections that were not protected by wind machines or sprinklers.
It was also windier than usual, Talley noted on the online blog he shares with his winemaking team at talleyvineyards.com. Despite the weather, he reported the vine growth and green leaves in his vineyards indicated excellent health and vigor. Another severe frost on April 22 didn't affect Talley's vineyards as harshly as did the frost on April 14, but the later episode caused extensive damage at several vineyards, especially in Santa Barbara County.

Although yields are low this vintage, thanks to smaller than average-sized grape clusters, such wine-grape growers as Talley say the quality is great and the flavors are well-developed at lower sugar (ripeness) levels. Talley's Rincon Pinot Noir, a favorite of wine connoisseurs, came in at a low of two tons per acre, while he expects Rincon Vineyard Chardonnay to come in at three tons.
Two weeks earlier I sat down with Talley's winemaker, Leslie Mead, who joined them in January 2005, to taste some of her new wines just being released in Talley's tasting room. During Mead's first year Talley's original winemaker, Steve Rasmussen, worked with her as consulting winemaker. But this talented and highly organized woman took over when Rasmussen left in 2006 to concentrate on his own business: SLO Bottling Services.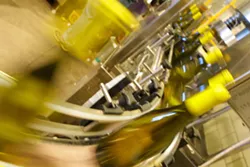 Mead studied natural resources at the University of Michigan. She began her winemaking career at Bonny Doon in the Santa Cruz Mountains, which she described as "boot camp for grapes" because they buy grapes statewide. From there she worked at Hans Fahden in Calistoga where she also made vinegar and at Iron Stone in the Sierra Foothills.
But earning the job as winemaker at Talley obviously meant a lot to her when she admitted: "I totally lucked out being in the right place at the right time."

Mead explained that she works closely with vineyard manager Kevin Wilkinson and Brian Talley. Wilkinson, previously at Laetitia Vineyards, started at Talley in January 2007. He was raised in his family's home near Oliver and Hazel Talley's home in rural Arroyo Grande, so the Talley family has known him most of his life. "Kevin and I go out every day to taste the grapes. He's meticulous in his attention to detail in the vineyards," Mead noted. "The three of us taste together to decide on the estate wines and the blends."
After meeting the new team I asked Talley about Rasmussen, who'd been their winemaker since they founded the winery in 1986. "It's always tough," Talley said honestly. "We worked together 20 years but with time the transition has gone well." Talley's previous vineyard manager, Rudy Romero, who had been there since 1991, also left to begin his own business as a vineyard consultant.
"Winemakers who move around are generational; young winemakers have a greater tendency to move around rather than spend their entire career at one company," Talley explained. "I think that's the nature of being a winemaker. They aspire to fulfill their dream of having their own winery." Fitting in was no problem for Mead or Wilkinson, who provided Talley exactly what he wanted in his new team: uncompromising dedication to quality.

Talley described the 2006 "as a vintage of precision and finesse." And that's exactly what I found in Mead's impressive line-up of wines. You'll still find some of Talley's 2005 vintage wines available, like the Bishop's Peak Syrah I recommended in "Cuisine" (Aug. 21, 2008). I was even more impressed by the classic 2006 estate and Oliver's Vineyard Chardonnays and the Edna Valley Pinot Noir. Talley's newest addition, started by Mead in 2006, is a refreshing 2007 Pinot Gris, a great wine for cheese and salads.
"We're blessed to work with people who are passionate and committed to upholding our family's reputation for quality and integrity," Talley concluded. "We try to keep everyone challenged and interested and let them know they're contributing."
Et voilá returns at last
Chef Jose Dahan has reopened at last, to the relief of locals who love his reasonably priced French bistro on Los Osos Valley Road. I can almost hear their collective greeting: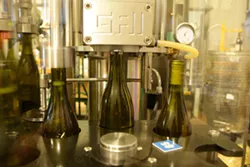 "Welcome back, old friend." Dahan is offering old favorites and some new treats that will delight his clientele. Even though it's the best deal around for a delicious three-course lunch at $16.95 per person, you can simply order one of his tasty entrees for $12. The expanded and redecorated dining room, with pretty murals of France and French artifacts, offers plenty of room for the dinners he'll be serving on Friday and Saturday nights starting around the end of September: reservations are recommended.

Dahan also offers reasonable by-the-glass prices ($6 to $10) for tasty wines from the Central Coast, Australia, and France. For now Et Voilá is open for lunch, Tuesday through Friday, from 11:30 a.m. to 2 p.m. Among his future specials are his popular winemakers' dinners, spa cuisine, and theme dinners like bouillabaisse. Stay informed by signing up for Dahan's emails at jose@etvoilaevents.com. Et Voilá is located at 12304 Los Osos Valley Road, SLO, 544-3663.
---
You can reach New Times' Cuisine columnist at khardesty@newtimesslo.com.