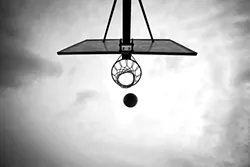 Though the long days of summer are gone, the time is ripe for San Luis Obispo's pickup ballers.
That means many hoopsters, despite age or athletic ability, are looking for the right place to bring their games this fall.
Here's a rundown of the places to lace 'em up around SLO.
First on the checklist are the indoor runs that set aside the pesky obstacles of darkness and weather.
Kennedy Club Fitness at 188 Tank Farm Road, across from the Food-4-Less shopping center, has been a staple in the county for nearly 30 years, and provides top-flight facilities, complete with breakaway rims and a well-lighted professional-sized full court.
Many players show up at noon on Mondays, Wednesdays, and Fridays and play for about an hour. If that doesn't suit your time schedule, then you can arrive any time after 6 p.m. Wednesday through Friday and find the courts occupied or face the dreaded waiting list.
K.C.F. definitely caters to just about everyone in terms of gameplay, whether
5-on-5, 3-on-3, or 21—you name it—and the variety of players here will help you find your place.
If you don't have a membership right now, you can probably find a five-day pass for first-time guests, or if you work locally they may have deals, including low monthly payments or even an enrollment fee waiver.
Next up is the Church of the Nazarene at 3396 Johnson Ave. in SLO. A rubberized full court with scattered divots isn't the most noteworthy thing about the games here, but the play and the people definitely are.
Showing up on Monday nights after 6 p.m., and scattered weekday lunches, you'll find a group of guys who play with fundamentals and good-natured competition that should be present at all runs.
Young or old, it pays to play with guys who know what they're doing, if just for the sake of fewer injuries—and the Church of the Nazarene will give that to you.
For a run that's quite literally smaller, try the Ludwick Community Center at 300 Mill St. in SLO. The dimensions here are about half the size of a regulation basketball court, but the competition at times is just as formidable. Show up for an early lunch on Thursdays from 11 a.m. to noon, or on Monday nights after 7:15 p.m.
This being one of my childhood gyms, I should mention that the rims can be very soft for those with normally clanky shots—quite possibly making you a scoring dynamo—and the hardwood floor, in my opinion, is the best in town beside Mott Gym.
Moving on to the more natural pick-up atmosphere of the outdoor court, we have Emerson Park at 300 Pismo St., adjacent to the SLO Parks and Recreation Department.
This patch of concrete, more affectionately referred to as the "Blue Court," was donated by the local Saturn retailer in 2000 as part of the fitting "Give a Hoop Project."
The court here, as far as the outdoors go, is decidedly level, with only small areas of uneven surface to cause an errant dribble. Loose rims can be found as well, good for the occasional "lucky bounce" or the after-the-game trick-shot artist, and more often than not, nets will be present.
Brisk runs go on after 9 a.m. on Saturdays and Sundays, but the afternoon pick-ups can be quite sporadic, and the gameplay can be just as random.
If no one is running when you show up, take advantage of the purple playground equipment to the right of the court; the strength and conditioning exercises will further develop the necessary skills in your game.
Another good weather-wary spot is Islay Park at the corner of 1200 Tank Farm Road and Orcutt Road—at the bottom of the hill from which it derived its name. This shadowy court can give shooters fits with its double rims and occasional dustiness, but the court is considerably level with a surface similar to the adjacent tennis courts.
Check out this court on Tuesdays and Thursdays between 11 a.m. and 12:30 p.m. where a group of guys have showed up for workday lunches for years without fail (go ahead and ask them about it!). Other than these regulars, finding games can also be sporadic, with your best bet being right after weekday work hours and on the weekends right after 9 a.m.
Then there's the court at Meadow Park, which has proven to be one of the most recognizable places to join a game in SLO-town over the past decade or so, and it deserves its reputation because many weekday and weekend afternoons and evenings you can find a game—or at least another baller to share the court with, perhaps for a game of 21 or H-O-R-S-E.
The court does suffer from two interminable distractions: the daunting double rim and the not-quite-level playing surface, but on any given day Meadow will give most players a chance to show off whatever skills they muster against some form of competition.
Specifically, look toward Wednesday and Friday evenings after 5 p.m. for groups large enough to run 5-on-5. Don't expect to play too late though; the lights aren't on after dark.
Rounding out the outdoor section is the collegiate energy of Cal Poly, which boasts two full courts and three half courts, split between Mott Gym, the old dorms, and the new dorms on the north side of campus (which, if you haven't seen yet, are well worth the trip).
Again, the games are intermittent, but when you do catch one, they're usually on par in terms of energy and skill level.
The games behind Mott Gym usually carry more weight as far as talent goes, but the full court by the Yosemite dormitories will usually bring you a good workout when you may least expect it.
For these runs, try showing up after 3 p.m. on weekdays and after 9 a.m. on weekends, and if you don't make it during these hours, go anyway. You just might find a finals-stressed insomniac engineering student to rain jumpers on.
On a side note, San Luis Obispo is definitely lacking in the area of outdoor nighttime hoops, as noted in the Meadow Park rundown. This means most games end unjustly and abruptly with a blind pass to a cutting shadow, or worse, a baseline basketball tug-o'-war with a teammate you could see just five minutes ago. The point is, I know SLO has curfews and ordinances to keep people out of the park at night, but let us at least keep available lights on another half-hour and keep the sanctity of the game intact.
As with many other indoor and outdoor sports, San Luis Obispo doesn't fall short in terms of places to air out your sneakers and pretend like you're Magic or Jordan or Kobe, with an N.B.A.-caliber first step quick enough to get past any defender.
And yeah, it may be getting rainy and cold, but b-ball is heating up the Central Coast of California, so get out there and put your best foot forward.
Daniel Corpuz is a Central Coast native with a degree in journalism from San Diego State University. A passion for sports and intricate life stories has led him to write people profiles and sports articles for several area publications. Read more of his work at bleacherreport.com. Send comments to the editor at econnolly
@newtimesslo.com.