Three Nipomo men are facing multiple felony charges after they allegedly beat and severely injured another man during a confrontation in a Nipomo neighborhood last year.
Javier Chang 20, Noe Chang Leon, 24, and Francisco Mendoza, 20, appeared before a jury in SLO County Superior Court Aug. 22 for their trial. They are accused of assaulting a 24-year-old Allan Hancock College student by hitting, kicking, and striking him on the head with beer bottles during a confrontation on a Nipomo street in January 2015.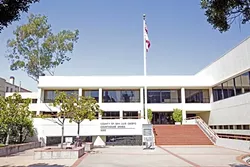 FILE PHOTO
FISTS, FEET, AND BOTTLES: Three Nipomo men are on trial for allegedly beating a 24-year-old Allan Hancock College student in 2015.
According to SLO County Prosecutor Greg Devitt, the incident occurred as the victim was returning home from classes and driving in the 200 block of South Oakglen Avenue. The victim encountered Chang walking in the middle of the street. Devitt said Chang poured a bottle of beer on the victim's car. The young man then pulled over, got out, and allegedly had a verbal exchange with Chang. The argument escalated to a physical confrontation with both Chang and another man, Federico Lazaro, both allegedly hitting the victim over the head with beer bottles.
"I heard it break against my face," the victim, who also lives in Nipomo, testified. "I was dazed and confused, … I was bleeding pretty bad."
Devitt also said that the victim was able to take photos of both men on his phone before Leon and Mendoza joined the fight and continued the assault.
"Punches and kicks. More and more and more," Devitt said in his opening stament, showing the jurors graphic photos of the victim's injuries. "[The victim] was left to fight all four of them."
Raymond Allen, Leon's defense attorney, noted in his opening statement that the victim was the one who stopped his car and started the verbal confrontation with Chang, Leon's brother.
"That is how it starts, with his aggressive behavior," Allen said. "Very aggressive behavior toward Chang."
Mendoza's attorney argued that his client wasn't present during the alleged assault and was only arrested after he returned to the scene of the fight with Leon and Chang and was misidentified by the victim as one of the men who beat him.
The only one of the suspects not in the courtroom Aug. 22 was Lazaro. According to the SLO County District Attorney's office, Lazaro skipped bail and is currently at large with a warrant out for his arrest.
In addition to facing charges of assault with a deadly weapon, the three men could also face enhanced "street terrorism" charges, as prosecutors believe the three men may be members of a gang.
During his testimony, the victim said he saw one of his alleged attackers making what he believed to be gang signs and later mentioned "Nipas," which may have been a reference to a local Hispanic gang.
"I went to Nipomo High School, and I heard it was a gang in the area," the victim said.
Court records also show that detectives found a black New York Yankees hat in Mendoza's room. According to a SLO County Sheriff's Gang Task Force detective who testified before court during a previous hearing, the Yankees iconic "NY" logo can stand for "Nipomo Youth" or "Nipomo Youngsters," a reference to the Nipomo 13 gang, court documents stated. Mendoza's lawyers diputed this claim in court filings.
The question of whether the three men are gang members will have to wait. Judge John Trice agreed to bifurcate the trial, meaning that the jury will consider the assault charges first. If any of the men are convicted, the trial will move into a second phase that will take up the gang-related charges.