The idea of a clean break sounds so final, much easier than dealing with the messy reality of human relationships. But does it hinder more than help us? Elie Axelroth, a retired psychologist and former director of Cal Poly's Counseling Services took to writing after she retired to really focus on the ways relationships can heal us. Her breakout novel, Thin Places, came out in 2015 and won a National Indie Excellence Award this year for the New Age Fiction category. Axelroth sat down with New Times to talk about really writing (rather than pretending to), how we connect with each other, and more.
IMAGE COURTESY OF ELIE AXELROTH
SELF-PUBLISHED: Elie Axelroth's novel 'Thin Places' won a National Indie Excellence Award this year in the New Age Fiction category.
New Times: How did you get into writing?
Elie Axelroth: For a long time I wanted to write, and then when I was 45, I realized that if I didn't do it now, I never would. So I started going to writers' workshops [about 20 years ago], and I was working at Cal Poly so I took a couple of classes, like creative writing and poetry, there. I wrote a couple of short stories and a novel that never got sold. I also spent a lot of time pretending I was writing. A couple of years before I retired, I started working on Thin Places, which I decided to self-publish.
NT: What's your writing process like?
EA: Well, I'm working on the second novel now, and it shifts depending on what part of the process I'm doing. When I'm in the drafting phase I try and write 1,000 words a day, and I've got a program called Scriber, which I really like. I write every day because you just lose the thread if you don't. And I do better if I write in the morning.
NT: What is your novel Thin Places all about?
EA: It's a novel about loss and the power of relationships to heal. It's about a young woman who's abandoned by her mother and she doesn't really know what's happened. She's raised by two very nice people, but never really connects with them. The story really begins when she's off to college, and she thinks she's going to leave it all behind, but she imagines seeing her mother all over campus and ends up going to see the psychologist in the student counseling center, and it's their journey together.
NT: What inspired you to write Thin Places?
EA: It evolved over time. The main character Skye started as being somewhat of this ethereal person who was very in tune with other people, kind of knew what they were thinking or feeling, but as I moved on with it, that wasn't working. Obviously, as the former head of a counseling center, I know something about when students come in with issues of loss. And I also just wanted to portray something different than the therapists you see portrayed in the media.
NT: How long did it take you to write Thin Places?
EA: Well, I'm going to say about five years, that's my best estimate.
NT: And what's your upcoming novel about?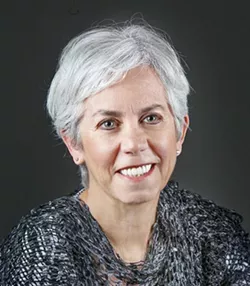 PHOTO COURTESY OF ELIE AXELROTH
BREAK OUT AUTHOR: Retired psychologist and former director of Cal Poly's Counseling Services Elie Axelroth focused on writing her first novel, Thin Places, after she retired.
EA: I'm in the drafting phase, so I'm getting close to a full first draft. It takes place on the same college campus as Thin Places, but involves different people. It actually involves Skye's roommate, and it's also about a faculty member. I'm trying to play around with collective responsibility, the idea that even though we could point a finger at one person, we could all also say, "Well, I had a role in it too." There's a case of stalking on campus.
NT: Is there a working title for that novel?
EA: I was thinking Alone in a Crowd, but then I was in a shower the other day and I thought of White Washed, because there are issues about race as well.
NT: What's the prevailing message behind Thin Places that you hope readers take away from it?
EA: One is that sense about the healing power of relationships. I also hope that people would be able to see that there's some value in going in and talking to a professional therapist. Thin Places signifies all of those places in our lives that can be a force for transformation.
NT: What are some of your favorite books and authors?

TURNING INWARD: 'Thin Places' by Elie Axlelroth is available on Amazon, $10.99 for paperback and $6.99 on kindle. Visit elieaxelroth.com for more information.
EA: I tend to read classics [since I've retired]. I've read a number of Virginia Wolf books and I've read As I Lay Dying and Age of Innocence. I do like books that are really well written. There are a lot of books by African American women, particularly Toni Morrison and Maya Angelou, which I love, because there's such a richness that really comes across.
Tell Ryah Cooley all about your latest creative endeavors at rcooley@newtimesslo.com.