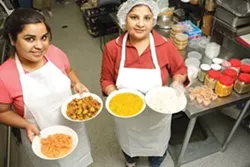 PHOTO BY STEVE E. MILLER
STARS OF INDIA : Neelie Jaggi (left) and Deepika Jaggi offer savory midday meals for delivery to customers on a budget who savor fare faithful to Mumbai tradition.
Tiffin, a new Indian food delivery service based in San Luis Obispo, gets its name from the traditional lunch system in the city of Mumbai. Tiffin refers to lunch or midday meals that come in small containers. Tiffin wallahs in India make the food in their home and deliver it, often by bicycle, to businesses and offices throughout Mumbai. Similarly, the local delivery service in San Luis Obispo makes fresh home-style lunches, which are served in small containers, and delivers them midday.

"We cook out of a commercial kitchen. That's where we do all of the packaging and cooking," said Marketing Coordinator Neelie Jaggi. "Our delivery times are between 11:30 in the morning and 1:30 in the afternoon, so by 11 o'clock all the food is cooked and packaged, ready for delivery." The menu is different every day for two weeks and then starts over again, providing vegetarian meals, non-vegetarian meals, or a mix for omnivores.

All the meals are cooked fresh daily by Deepika Jaggi, Neelie's mother, who's the mastermind behind each dish. She's been cooking for 35 years for her family and friends and came up with the menu with her business partner Neetu Bali, who oversees customer orders and does marketing. Jaggi and Bali have combined family recipes that have passed been down through many generations.

"We wanted to offer a variety and at the same time make it affordable," the Jaggi daughter mentioned. "We wanted to make sure there was rice and there was yogurt, and lentils, and an entree." Each packed lunch includes candied fennel seeds (a traditional mouth freshener), Indian pickles, and a small strip of paper that looks like a fortune missing its cookie, but actually is a little note about how the particular spices became traditional. Neelie added, "We aren't just trying to deliver food, there's a whole educational aspect that we are trying to incorporate into the food."

They use such familiar spices as bay leaves, reputed to help the skin, and turmeric, a member of the ginger family, which has been used in Ayurvedic medicine for centuries as an antiseptic agent. According to Neelie, "It's one of the best health spices out there. We also use cardamom, which aids with stomach acidity; we use ginger, which also helps with stomach ailments and the common cold; and cumin, which is really beneficial for people who have respiratory problems like asthma or bronchitis." Whether or not the spices have any medical benefit, the food is delectable, having been refined through millennia of Indian culinary art.

The bold cuisine is like the famous Bollywood movies, with vibrant colors, winning ingredients, and nuances symbolic of the culture's history. Contact Tiffin at 540-0052 to place an order.

Fast facts

West End Expresso and Tea, located at 670 Higuera St., is celebrating its 30th anniversary in downtown San Luis Obispo. To thank customers, a free 12-ounce cup of coffee will be offered with the purchase of any food through July 4. For more info, contact Rene Scarnegi at 543-4902. …

A Sustainability Weekend on June 27 and 28 will cap a five-day conference, "Science, Wisdom, and the Future: Humanity's Quest for a Flourishing Earth," at the Embassy Suites in San Luis Obispo. New approaches in business, agriculture, architecture, engineering, and politics will be discussed toward developing sustainable, civilized environments free from pollution. The cost is $75 per day and includes lunch. See ScienceandWisdom09.org or call Cheryl Genet at 438-4088. …

There's a new real-estate brokerage in Grover Beach, Peterson Team Realty, headed by Debbie Peterson, who's also providing notary service and a sign-up service for loans. The business is located at 1051 Margarita Ave. Call 550-4490. …

The third annual SLO Downtown Criterium Festival will take place Sunday, July 5. The GreenWay area, sponsored by Solstice Green Directory of San Luis Obispo County, will host returning sponsor New Belgium Brewing Company. Clif Bar will have a booth and exchange regular light bulbs for energy-saving light bulbs for the first 100 people. Other companies in the GreenWay include REC Solar, SLO Regional Rideshare Agency, Green Acres Lavender Farm, Sierra Club, Multiple Sclerosis Society, the Tall Bike Posse, and Blue Marble Investments. Contact Shaba Mohseni at 440-2453. ∆

Tanya Gallardo and Matt Fountain wrote this week's Strokes and Plugs. Send your business and nonprofit news to strokes@newtimesslo.com.