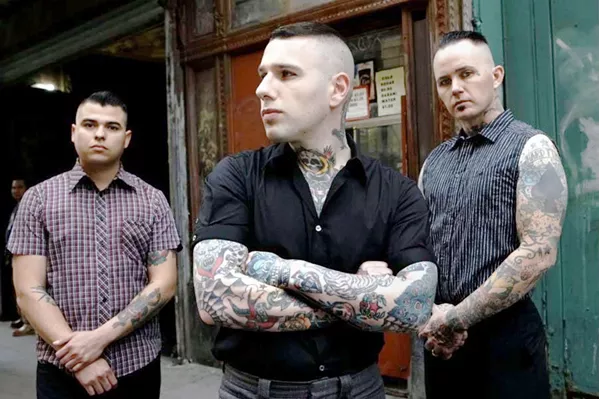 Photo Courtesy Of Tiger Army
IT TAKES AN ARMY Tiger Army plays a Numbskull and Good Medicine Presents show on June 29, in the Fremont Theater.
I like to think of Tiger Army's Nick 13 as the Goth version of Chris Isaak. He's a lady-killer, a great retro songwriter, and a smooth operator with a crooner's voice.
Though Tiger Army is frequently billed as a psychobilly, punk, or post-punk act, listening to a song like "Prisoner of the Night" off Tiger Army's most recent album, 2016's V, suggests Nick 13 is more interested in sexy atmospherics than psycho-punk aggression.
"I walk the streets so endlessly/ Wandering where they cannot see/ Fight my way through the struggle and strife/ But I've become a prisoner of the night," he croons on his first new studio album since 2007's Music from Regions Beyond.
Where has he been? Mostly playing solo Americana music, but in 2014, Nick felt the need to turn his songwriting prowess back to Tiger Army, a band of which he has been the only constant member. He headed into the American Southwest and landed at a roadside motel in the desert, where inspiration struck.
"The songs really started to pour out of me in a short amount of time," Nick said in a promotional video for the recording.
The album's 13 tracks still contain plenty of punk energy and muscular guitar solos, but Nick 13 has moved beyond genre into making songs that don't need pigeonholing. There's certainly an early '60s vibe, a pre-Beatles thing—think Del Shannon's 1961 hit "Runaway" to get an idea of the vibe he was going for.
"That whole era gets overlooked, I think," he said in press materials. "Because there's the narrative about the end of the '50s with Elvis going into the Army, Eddie Cochran, Buddy Holly, and Ritchie Valens dying, Little Richard going to gospel—that is all true, but the people who were able to carve out a niche for themselves before the British Invasion, and not just do the pure pop things, that to me was some of the most interesting music. And it was some of the most innovative as well. Because the first wave of rock 'n' roll was over, and everybody was trying to figure out what's going to happen next. And I think there was a lot more experimentation, sonically and otherwise, than that era is generally given credit for."
Nick 13 also mentioned Roy Orbison's work as being influential to his music.
"Before I spent time in Nashville, I never really spent time thinking about Roy Orbison as a Nashville artist," Nick said. "I didn't realize that all of his albums were recorded there. And really, a lot of the elements that they were using on those early Monument singles—the sort of non-R&B female background vocals, things like harp or piano that help give it that sort of otherworldly sound, were pretty much the same thing they were doing on other country records of the time—just minus the pedal steel."
Of course, Nick 13 can't get away from his roots and love of artists such as the New York Dolls, Johnny Thunders & The Heartbreakers, The Ramones, and Static Age-era Misfits.
"I think what it is about those particular artists is that there was a real connection to rock 'n' roll and pop singles of the late '50s and early '60s beneath the surface in their work," he said. "You hear it to varying extents. And I wanted to almost strip away a little bit of the noise, and kind of play around with those ratios. You know, the urgency of punk at ground zero, and what influence it was taking from the original rock 'n' roll. And just kind of tweak those ratios a little bit. Because that was something I always heard in there."
Hear Tiger Army when Numbskull and Good Medicine Presents brings the band to the Fremont Theater this Thursday, June 29 (8 p.m.; all ages; $25 presale at ticketfly.com or $28 at the door). Murder by Death and Tim Barry will open the show.
Genre benders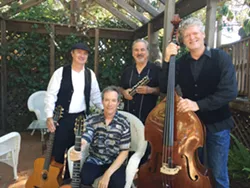 Photo Courtesy Of The Idiomatiques
GYPSY JAZZERNAUTS Santa Barbara's The Idiomatiques play the next Red Barn Community Music Series concert on July 1, in Los Osos' Red Barn.
The always fun Red Barn Community Music Series at Los Osos' Red Barn hosts Santa Barbara-based The Idiomatiques this Saturday, July 1 (5 p.m. potluck; 6 p.m. show; all ages; BYOB; $15 at the door).
Mixing Gypsy jazz, Latin, mainstream jazz, and some R&B, The Idiomatiques are the first Gypsy jazz band in history to place on Billboard's contemporary jazz top 30 chart! Members of the band have worked with Gilles Apap, Michael Jackson, Boyz II Men, Larry Carlton, Michael McDonald, Kenny Loggins, Ronnie Laws, and others.
Their debut album, Let's Go Have Some Fun, is full of swinging Gypsy standards, original compositions, and unique arrangements. Bring a dish to share, a beverage or two, and enjoy this community concert.
Get your tickets while they're hot!
If you've been sitting on your hands, get off because the sixth annual Central Coast Oyster Festival is coming up quick, and now's the time to buy tickets for the Saturday, July 8, event at the Avila Beach Golf Club (noon to 8 p.m.; all ages; $25 general admission, $10 child admission, and $38 tasting tickets available at centralcoastoysterfestival.com).
Photo Courtesy Of Atlas Genius
THE WORLD IS THEIR OYSTER Australia's Atlas Genius headlines the sixth annual Central Coast Oyster Festival on July 8, at the Avila Beach Golf Resort. PHOTOCOURTESY OF CHAD KELHOFFER
The lineup includes Australian alt-rock act Atlas Genius, Oakland-based hiphop collective the Zion I Crew, deep grooving reggae act El Dub, jam band The Alpine Camp, and local singer-songwriter Chad Land.
As in years past, the expansive rolling green lawn will be transformed into a whimsical play land with creatively designed stages, bars, and lounges designed by SpinCycle Event Installations & BAMBOO DNA, "known for their awe inspiring art installations with Coachella Music & Arts Festival, Burning Man, EDC Vegas, Lightning in a Bottle, and many others," according to event organizers.
Plus, oysters prepared by top chefs! Not into oysters? No fear—other epicurean delights will also be available. There'll also be a bike valet if you want to ride and save the $10 parking costs.
More music ...
Photo Courtesy Of Dubbest
CANDY GRUNGE Foresteater brings his "Dream Psych" to Last Stage West on June 29.
Foresteater brings his "Candy Grunge" to Last Stage West on Thursday, June 29 (6 p.m.; all ages; free). Mikey Pro had a dream about "a band playing on an island in outer-space surrounded by electric rainbows," and this is the "Dream Psych" manifestation of that dream.
Nomalakadoja plays the Frog and Peach this Thursday, June 29 (10 p.m.; 21-and-older-free). "We're an up-and-coming band based out of Santa Cruz," bandleader Spencer Vantress said. "We specialize in a unique blend of upbeat reggae with a rocky island twist, which we've dubbed 'Feel Good Music.'"
Photo Courtesy Of The Viper Six
DUB MASTERS Dubbest will bring their reggae sounds to Frog and Peach on June 30.
On Friday, June 30, Santa Margarita's The Porch Cafe (7 to 9 p.m.; all ages; free) will present an evening of song and story, sung and told by irascible raconteur Don Lampson, who claims he will channel his inner Mick Jagger, "producing a dramatic change unseen since Dr. Jekyl turned into Mr. Hyde! There is no cover, but all tips and donations will be gleefully, avariciously, and gratefully accepted."
SLOfolks will once again host Afro-Celtic dance band Baka Beyond this Friday, June 30, at Castoro Cellars (7 p.m.; all ages; $25 tickets at Boo Boo Records or by calling 238-0725).
Dubbest and Synrgy will bring their reggae sounds to Frog and Peach on Friday, June 30 (9 p.m.; 21-and-older; free).
Photo Courtesy Of Snap Jackson
THE LAST HURRAH Swinging dance act The Viper Six has two more gigs together before longtime vocalist Emy Bruzzo relocates to New York: the Avila Bay Athletic Club on June 30, and D'Anbino Cellars on July 1.
Swinging dance act The Viper Six has two more gigs together before longtime vocalist Emy Bruzzo relocates to New York. See them at the Avila Bay Athletic Club on Friday, June 30 (6 to 8 p.m.; all ages; free) and again at D'Anbino Cellars in Paso Robles on Saturday, July 1 (8 to 11 p.m.; 21-and-older; $10 tickets available at 227-6800).
"We are very happy that Emy has this wonderful opportunity and we wish her the best," bandleader Ted Waterhouse said. "But it is hard to imagine the band going on without her at this point."
Anyone out there remember Shawn Myers? He grew up in Los Osos, but for the past four years he's lived in worked in New Orleans as a professional musician. "I'll be coming through the Central Coast to play a show at the Otter Rock Cafe as part of a multi-week tour with Noelle Tannen and her band," Myers said. See them on Saturday, July 1 (8:30 to 11:30 p.m.). "We'll be featuring some local horn players on part of the show as well," Myers added. Tannen has a pretty amazing voice, so this should be a great jazz and soul show.
Get your patriotism on!
Paso Robles' Paderewski Festival returns on Saturday, July 1, with live music, wine, food, and fireworks! The annual patriotic-themed concert and Independence Day celebration at the Paso Robles Horse Park features the San Luis Obispo Symphony paired with Youth Symphony members and led by Christopher J. Woodruff, who will perform a 90-minute patriotic pops program with a fireworks finale. Gates open at 4 p.m., walk-around wine tasting runs from 5 to 7:30 p.m. for adults purchasing reserved seating, while interactive arts, games, and painting activities organized by Studios on the Park will be provided for young families. Tickets range from $20 general admission to $3,500 sponsored tables. Net proceeds benefit the Paderewski Festival Youth Piano Competition and Student Cultural Exchange Program, San Luis Obispo Youth Symphony, and Studios on the Park's Youth Art Program. Visit paderewskifest.com for ticket info.
Photo Courtesy Of Cups
BLUEGRASS B-DAY Snap Jackson & the Knock on Wood Players headline Atascadero's 4th of July Bluegrass Freedom Festival at Atascadero Lake Park on July 4.
The Arroyo Grande Village Summer Concert Series continues on Tuesday, July 4, with spirited concert band music from the ever-popular Village Band playing patriotic favorites (1 p.m.; all ages; free), from the Rotary Bandstand in the Village of Arroyo Grande. Expect two sets of rousing patriotic music and John Philip Sousa marches.
Atascadero plays host to the 4th of July Bluegrass Freedom Festival with Snap Jackson & the Knock On Wood Players at Atascadero Lake Park (4 to 8 p.m.; all ages) on Tuesday, July 4. Expect an evening of bluegrass, barbecue, boating, bounce houses, beer and wine, and more. The event also includes opening acts Honeysuckle Possums and local favorite BanjerDan Mazer, who will also act as emcee.
Summer single!
HOT SUMMER SINGLE! Twin brothers Damon and Dominic Castillo have teamed up under the name CUPS to release a terrific summer single, "Inside Out Upside Down," available on iTunes, YouTube, Bandcamp, Spotify, and Facebook.
I've got another hot single for you to light up your summer party! Featuring twin brothers Damon and Dominic Castillo under the band name CUPS, their new single "Inside Out Upside Down" is a head-bopping blast with a cool beat, engaging instrumentation, and a hooky chorus that'll dig in and refuse to let you go!
"Somewhere the wind was in your hair and you were a prisoner of every stare. So you got a little rude, oh girl, it kind of takes me out of the mood. The buzzing bees are at your knees but Hollywood beside you would fumble the keys. You know it's not right, just don't kick me out of your room tonight. I lose myself when you're around like I'm inside out and I'm upside down. I get so high when you're around like I'm inside out and I'm upside down. Last dance you never miss a chance to torture me with a little side-glance. And you smile and say you have to go every time I'm jamming on my Casio. They're all slaves living in caves, waiting for your debutant waves. Keep me up all night, and when I'm gone don't expect me to write."
The modulation on the vocals goes in unexpected directions, as does the melody, but it always returns full circle to that irresistible chorus. With electric and acoustic guitars, synthesizers, bass, Mellotron, piano, and percussion, it's just got a really cool sound.
These local boys have really delivered and I want to hear more, but according to Damon, "Right now it's just a summer single. We've been collaborating on a lot of music lately, mostly for licensing for film and television. I'm hoping to follow up with some more CUPS releases though. It was mixed by our good friend Karyadi Sutedja. We went to school with him back in Boston at Berklee College of music."
There's a lot of talent on display! Find the song on iTunes, YouTube, Bandcamp, Spotify, and Facebook.
Attention local bands that want some radio airplay!
If you're a local band, KPYG 94.9FM has an opportunity for airplay for you on their new Saturday show Sauce on the Pig, from 10 a.m. to noon. It's co-hosted by Wordsauce member Wesley Price and Urban 805 member Moon Powell.
Interested parties can drop off music to The Sauce Pot (245 Tank Farm Road, unit K, SLO), Wordsauce's studio, where you can also rent rehearsal rooms or record your next opus.
Call, text, or email Price at 235-3731 or wikiwesprice@gmail.com for more information. ∆
Keep up with New Times Senior Staff Writer Glen Starkey via Twitter at twitter.com/glenstarkey, friend him at facebook.com/glenstarkey, or contact him at gstarkey@newtimesslo.com.