In a small, blue room, 20 actors thunder Hail Caesar! and stamp their feet. Similarly dressed in white T-shirts and blue sweatpants, the performers are a well-disciplined regiment of soldiers, men of both action and feeling, much like Shakespeare's warrior characters.
PHOTO BY STEVE E. MILLER
LIGHT OF FOOT : Inmate performers rehearse an Elizabethan dance the day before opening night.
# With only 24 hours to go until opening night, all of their focus and passion is being channeled into passages from Antony and Cleopatra, Romeo and Juliet, Henry VI, As You Like It, Othello, and other plays. The actors voluntarily skip meals. They feel obligated to because they've missed 5 1/2 days of rehearsal due to recent lockdowns. Lockdowns are a prison life routine even at the California Men's Colony's West Facility, where the least dangerous inmates live out the months and years of their sentence. Stays at the facility average three to four years, but can extend to life.
The actors insist that under Shakespeare's intoxicating influence, lockdowns and other emblems of prison life fade into non-existence, if only for a couple of hours. On Feb. 20, 21, and 22, before a crowd of fellow inmates and local theater aficionados, the performers became Shakespeare's exquisitely crafted characters for In a Kingdom of One's Own: An Original Celebration of the Works of William Shakespeare.
I enjoy this, said Leroy Perry III, who plays the role of a general named Arthello. It takes me out of prison. It allows me to dream a little bit.
Perry is one of thousands of prisoners to participate in the London Shakespeare Workout Prison Project, a program founded in 1998 by Bruce Wall. With help from professional actors hired by the London Shakespeare Workout Prison Project, inmates spend several weeks rehearsing fragments of Shakespeare plays, as well as passages from wordsmiths Edna St. Vincent Millay, Alfred Tennyson, Abraham Lincoln, and Jerome Kern.
Wall was inspired to bring the project from London to the green foothills of San Luis Obispo after meeting Deborah Tebola at a European Prison Education Association convention last summer in Dublin. Tebola is an institution artist and facilitator at the CMC's Arts in Corrections department, where inmates can participate in creative writing, poetry, expressive drumming, painting, and theater. The facilities set aside for these activities are conspicuous. Mosaics, murals, and paintings ornament nearby buildings and grass. And, according to CMC Public Information Officer Lt. Mike Siebert, staff members who need paintings for their office can place a request with Arts in Corrections.
After a three-day visit to the CMC in September, Wall knew that he wanted to host a full-length production there. Tebola and her board-treading inmates were equal to the task. They had already
PHOTO BY STEVE E. MILLER
FACE OF A THESPIAN : Professional actor Lucinda Clare leads inmates during a long and intense rehearsal.
# hosted a successful series of original productions at the men's colony, beginning with Crow in 2001. After that first production met with success, theater at Arts in Corrections swung into a higher gear. Tebola facilitated writing workshops with the prisoners, who would write the plays and hold auditions across the yard. Every aspect of the production, including the sets and the costuming, involves a degree of collaboration.
Each play deals with some aspect of incarceration or reintegration, so they speak to our inmates, Tebola said with obvious pride. The reason I wanted to keep doing it is that it's a huge team effort. It's kind of like coaching a football team that nobody thinks is going to win. Twenty to 60 inmates are involved in the production, so you have these guys who would never be together and they become a real team and you see that transformation happening.
In another play, titled Where on Earth, inmates addressed an unofficial but extremely powerful prison code, the concept that kindness illustrates weakness. Another show acclimated inmates to the language of the dread bard, whose thous and think yous can send ordinary mortals into spasms of horror. In All's Good That Ends Good, performed in December of 2005, Shakespeare is arrested and sent to Siberia. At Dostoevsky's recommendation, Shakespeare writes about his experiences, mentally escaping his physical confines.
Everyone loved that play, and it kind of raised the barrier, Tebola said. I had inmates come up to me afterward and say, &lsquoI didn't think that Shakespeare was for me, but now I'm not afraid to read Shakespeare.' And I think the cast members are surprised by how passionate and vibrant Shakespeare is.
On Feb. 10, Lucinda Clare and Cornelius Macarthy arrived at the men's colony, sporting English accents and professional acting resumes. Clare now lives in Hollywood, while Macarthy hails from London. Under the direction of Wall, who arrived in San Luis Obispo a little more than a week later, the two professional actors and 20 inmates many of whom had no prior acting experience embarked on a demanding rehearsal schedule.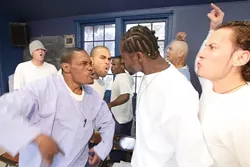 PHOTO BY STEVE E. MILLER
TO BRAWL OR NOT TO BRAWL : What looks like the beginning of a prison fight is really a Shakespeare workshop.
# Wall is an exacting director, but it's obvious that he bears genuine affection for his performers. In the two minutes he could spare for a New Times interview, he insisted that the inmate performers were persevering under circumstances that would have foiled most professional actors and registered astonishment for the level of talent he had encountered. In particular, he noted that an inmate playing the role of As You Like It's gender-bending Rosalind wouldn't be misplaced among the legendary talent of the Royal Shakespeare Company, a compliment Wall insists he wouldn't pay if it weren't true.
Wall doesn't seem to be exaggerating. If every actor invested the same fervor and careful craftsmanship into each performance, bad reviews would be nothing more than an unhappy memory.
Clare and Macarthy are equally eager to credit their fellow performers' talent. Macarthy is quick to point out that the language and emotional intensity of Shakespeare isn't out of place in the barbed wire confines of the men's colony. The incarcerated men are equal to the language of Shakespeare to a degree that many community actors and even some professionals can't match. Having led their own lives of tempests and passion and vengeance, they don't shirk the 100 percent emotional investment required to bring Shakespeare to life.
Shakespeare deals with emotions that society tends to suppress, Macarthy said.
Despite the underlying compatibility of the material and the venue, for most of the 20 or so actors, the opportunity to act is unexpected. Having never ascended the stage of a community theater, who would expect to recite Shakespeare in prison?
Robert Flory, who performs the role of Queen Margaret from Henry VI, is one of the more seasoned actors while growing up, he participated in productions of South Pacific and Damn Yankees, and just before he began his prison sentence, he attended Wicked. The bulky blonde, wearing sunglasses during rehearsal and sporting arms laced with tattoos, could easily pass for the Hulk's stunt double, if the Hulk had need of one. When he insists that none of his peers give him a hard time about his new pastime, it's easy to believe him.
It's pretty vicious, said Flory, who has spent two years at the CMC and is counting down the last 70 days of his sentence. This stuff would put Scarface to shame. Two people's heads get cut off in one scene. I've read Shakespeare before, but I haven't read anything like this.
Under the influence of this new interest, Flory is even thinking about his future in different terms. Whereas he used to consider a job to be mundane, albeit necessary, he now realizes that work doesn't have to be something he gets stuck doing. The football fan even spent most of the Superbowl practicing his lines. He's also noted a shift in thinking from his fellow actors, stating that the London Shakespeare Workout Prison Project gave them the strength to be the people they want to be.
I'm doing a scene out there with a guy who's a gangbanger, and for him to be able to empathize with how any other person feels is incredible, Flory said. When you commit a crime against someone, you have no compunction about what that other person is feeling. When they ask me for acting advice, I tell them you just have to think about who this person is. Why is the queen so angry? You have to evolve to that point where you're not self-centered, you're not the id gone wild, as Freud puts it.
Jekaret Caruth is at the other end of the spectrum. Caruth is one of the younger inmates, and began an 11-month sentence at the end of December. He was inspired to audition for the program because he was concerned that other inmates would turn their backs on Shakespeare, for fear of appearing weak. And while he wasn't necessarily a Shakespearean scholar going into the program, he's now reciting lines in his sleep. Literally. A friend told him he was delivering his lines in the dead of night a day and a half before opening night.
This has actually brought a change to my life, more possibilities for myself, Caruth said. Coming to prison, it made a more positive effect on my life than I ever thought it would because on the outside I never would have been able to slow down. I was moving too fast.
---
Arts Editor Ashley Schwellenbach lives by the code that apathy is weakness. Send I voted stickers to aschwellenbach@newtimesslo.com.