Apple Farm Inn's new gourmet shop, Market at the Mill, is situated a mere 30 or so yards from the highway. But the little shop, ensconced in birch trees and the fragrant scent of popcorn and homemade ice cream, seems worlds away from busy automotive travel, work, and mundane to-do lists. In fact, the Market at the Mill is a world in which food is celebrated and cooking is much more than a mindless everyday chore.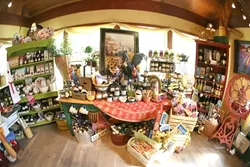 PHOTO BY JESSE ACOSTA
FIND WHAT YOU'RE LOOKING FOR : Apple Farm Inn's new Market at the Mill is packed with enough food—already prepared and waiting in ingredient form—to fill hungry visitors' stomachs and keep aspiring chefs busy for years.
# "I got the idea because we live in a great area for wine and food, and we wanted to take advantage of all the beautiful foods in the area,� said Executive Buyer Pamela Johnson. "Plus, with the trend of people nesting into home and cooking, it seemed like this shop would fit that.�
Inspired by the Old Millhouse building, in which the market is now located, Johnson wanted to create an old-fashioned market where shopping would be fun. The gristmill adjoining the market suits the nostalgic ambience and provides power for the ice cream maker.
"When we started, I knew basically what we wanted to do here—to make a place that's fun,� Johnson said. "I wanted to create a place where you could come in, take a picnic basket off the wall and fill it with fun products, and go picnic outside. And we always have fun music and lots of scents and aromas and a feast for your eyes.�
After three months of work, the Market at the Mill officially opened on July 1. With its close proximity to trees, benches, and the winding San Luis Obispo creek, the market fulfills Johnson's goal of creating a venue for summer picnickers. Woven red baskets hang from the market ceiling, waiting to be filled with wine, fruit, freshly made sandwiches, and containers of yogurt imported from Greece. And if the picnic space just outside the market isn't tempting, there's bound to be some shady nook of San Luis Obispo that suits the needs of picnickers.
Inside, employees offer several samples of the many sauces, cheeses, candies, beverages, and dipping oils that the market carries. For Johnson, it's important that guests try new products before making a purchase. Though the samples rotate from day to day, it's always possible to get a sample of the market's cider, popped corn, or homemade ice cream. This month's ice cream, Old Glory, has a vanilla base and assorted red and blue candies, patterned after sparklers.
Amid the jars of sauces and bottles of wines, the center of the market is dedicated to childish delights, with ropes of licorice hanging from the ceiling and barrels of old-fashioned candy waiting to be pillaged by eager hands. Pixie Stix, fireballs, jawbreakers, Mary Janes, old-fashioned chewing gum, and Salt Water taffy abound, along with rare European licorice chips.
"American licorice tends to be very sweet,� Johnson explained. "These are more salty. Some people are really licorice connoisseurs, but it's hard to find in the area.�
And after sampling ice cream, dipping sauces, and all manner of other treats, parched customers can purchase large bottles of root beer, honey wheat ale, or sarsaparilla- or vanilla crÀme-flavored Hansen's sodas.
The Market at the Mill also sells cookbooks for the would-be chef who loves food and gourmet ingredients, but can't quite figure out how to put them together. Other cooking accoutrements include bowls and spatulas. And, as time goes by, Johnson plans to expand the market's assortment of local products.
The Market at the Mill operates seven days a week from 9:30 a.m. to 5 p.m. Apple Farm is located at 2015 Monterey St. For more information, call 544-2040.
Ashley Schwellenbach's one weakness is her sweet tooth—and she isn't above accepting bribes. Send your business news to
kvelie@newtimesslo.com
.