Don't worry. Those lobster corn dogs—light, crunchy, and Instagram worthy as they are—aren't going anywhere. Can you imagine the riot that would ensue if such a dramatic travesty were occur in the Village of Arroyo Grande? Grown men would fall to their knees in the streets!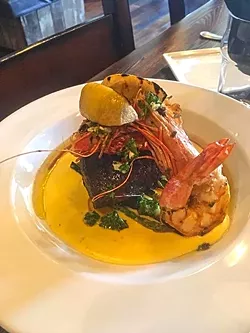 PHOTO COURTESY OF MASON BAR
MORE THAN APPS: What goes into Mason Bar's new Cioppino? Well, to start: Four little neck clams, three snow crab claws, a 5-ounce piece of tooth fish, four jumbo head-on tiger prawns, tomato white wine fumet, fried leeks, garlic, shallots, saffron oil, and grilled baguette.
With its old-school butcher shop, burgeoning farm-to-table dining scene, and unique wine offerings, "the village" has developed its own appetite for "artisinal" flavor, and the hipsters and the ranchers can all probably agree: Mason Bar's creative gastropub plates—and the craft and barrel-aged cocktails served alongside them—offer up tangible proof of that change.
Just as AG is now home to a cutting-edge gastronomic test kitchen, the critically acclaimed Ember Restaurant, Figueroa Brewing Company, and a growing list of downtown hangout options that remain open long after dusk, Mason Bar has continued to ramp up its offerings.
Approximately two years after its grand opening as a cocktail and tapas hangout, full dinner entrees have landed on the menu. The eatery's once cozy dining room has expanded to include a new, 3,000-square-foot seating area adorned with stone; reclaimed barn wood; animal hide; and a sleek, modern fireplace. A proposed 51-room boutique hotel is slated to move in nearby, a great thing for restaurant owner Bill Hales, who also owns Shell Beach Brewhouse, Mother's Tavern, and Rooster Creek Tavern.
The retooled Mason Bar and Kitchen, invites locals to really eat, not simply nibble and share. The new, upscale pub grub menu is worldly California fusion with an Americana twist.
PHOTO COURTESY OF MASON BAR
STEAK AND A DRINK: Sometimes you just want the raw deal. Go for the savory beef tartar at Mason Bar in Arroyo Grande.
"We have three local farms that provide the Mason local cuts of meat, an ever-changing week-to-week offering," said Mason Bar General Manager Daniel Perez. "We strive for fresh, local, and organic produce that is responsibly sourced. We care about serving sustainable fish, like our toothfish, which is similar to Chilean sea bass, and our trout, which is very similar in taste, texture, and look to salmon."
With star dishes like prawn-packed cioppinno, roast duck with gorgonzola and polenta, and tender sweet-tea-brined Paso Robles chicken served over chili puree, malt smashed fingerling potatoes, heirloom roasted carrots, and sherry garlic sauce—you might think that you'd need to dress up for dinner, but no. Flip-flops or cowboy boots, and you're good to go. I mean c'mon. This is still the Central Coast.
However, a dive it is not. The vibe is dark and sultry. You certainly won't find women's brassieres entangled in the antlers of a beast adorning the wall (a la authentically cool Bill's Place) or peanut shells scattered across the floor (a la famously delicious Klondike Pizza), but you will find a varied crowd of local folks reclaiming cocktail hour with a side of steak tartar and roasted Brussels sprouts.
PHOTO BY HAYLEY THOMAS CAIN
A BARREL WITH YOUR NAME ON IT: Barrel-aged cocktails are flowing at Mason Bar. You can even snag your own exclusive barrel with your name on it (Yes, there's a current waiting list for that).
According to Perez, the restaurant is simply offering what locals have been asking for for a long time: more variety in the village. The restaurant stays open from 5 to 10 p.m., with full menu offered at your barstool from 11:30 a.m. to 10 p.m. The bar, which has become a local watering hole where mid-century cocktail culture and modern mixology collide, is open till 1 a.m. every Friday and Saturday.
"With our sister restaurant Rooster Creek down the street, I feel like we represent the first and last thing people see as they drive through the village," Perez said. "There is a revived community spirit here, and we want to bring back that charm because, well, it was stagnant. Now, with the Spoon Trade and Ember and others coming in, there's something to enjoy across this region, from the beach to Huasna."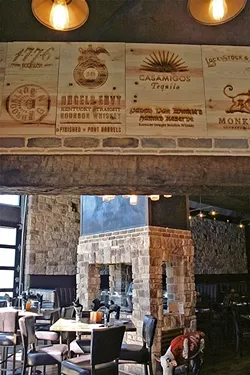 PHOTO BY HAYLEY THOMAS CAIN
DINNER HOUR: Mason Bar in Village of Arroyo Grande has expanded its seating to encompass former neighboring restaurant, Robert's. Complete with reclaimed wood, stone walls, and a sleek, modern fireplace, these renovations have upped the bar's reputation from a swanky place to sip craft cocktails and nibble on apps to a legit dinner spot.
Known for its antique stores, historic swinging foot bridge, and fertile farm land, AG is truly finding its foodie footing. But it's about so much more than a plate of cold-water lobster tail battered in carnival batter served with creole remoulade. It's about feeding people, and a community, with fresh ideas and fresh blood.
"Really, we're still the new kids on the block," Perez added.
I'd say, down on Branch Street, it's a good block to be on.
Hayley Thomas Cain appreciates a barrel-aged cocktail. She can be reached at hthomas@newtimesslo.com.

UNSCREW THE LID: Mason Bar is located at 307 E. Branch St. in Arroyo Grande. For more information, go to masonbarag.com or call 202-8918.