No joke: In a new video, comedian Drew Carey is drawing attention to the case of Charles Lynch, the former owner of the Morro Bay medical marijuana dispensary, who faces federal drug charges in a trial expected for July.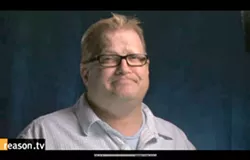 IMAGE COURTESY OF REASON.TV
DREW'S NEWS: In a new video, comedian Drew Carey is taking up the cause of Arroyo Grande's Charles Lynch, who faces federal charges for running a shuttered Morro Bay medical marijuana dispensary.
Carey, the host of The Price is Right takes a critical look at the shutdown of Lynch's dispensary and Lynch's federal prosecution in a video posted on reason .tv, a Libertarian-leaning site on which Carey vows to publish documentaries that "take a hard look at the variety of threats to our liberties—and celebrate what it really means to be free."
Lynch's story is told largely through the lens of a local man, Owen Beck, and his parents.
Beck, with the blessing and help of his parents, became a customer of Lynch's dispensary at age 17 following a fight against bone cancer. He was seeking relief from pain and the symptoms of the resulting chemotherapy.
Now, according to the video, Lynch faces extra charges related to selling marijuana to minors in part because he sold marijuana for use by Beck and others in similar situations.
In the video, there's little question where Carey's sympathies lie. At the video's conclusion, he asks: "Are we really helping minors by keeping them from medical marijuana at all costs, or are we treating their parents like children?"
Lynch's dispensary was shut down in a raid by local sheriff deputies and U.S. Drug Enforcement Agency agents in March of 2007. The video tells the story of how he now lives in his Arroyo Grande home awaiting trial while monitored via an ankle bracelet.