Trader Joe's 2011 R.G.M.V.
When it comes to fashion, I look at the quality and construction of the garment (say, a vintage dress with well-crafted seams and detailed finishes) rather than a fancy price tag or big-name brand. I apply the same philosophy to wine, which can cost an arm and a leg (and still be undrinkable) or can cost less than $5 and wow an entire dinner party. A new summer discovery with teeny tiny price tag: Trader Joe's R.G.M.V. Yes, the name appears cryptic, until you consider what's inside: 46 percent roussanne, 33 percent grenache blanc, 9 percent marsanne and 12 percent viognier. Cute, right? This refined Rhone blend is not only packed with Fuji apple and white nectarine flavor, but it's also a true local product, with grapes sourced entirely from the Central Coast. Store this baby in your fridge and serve with grilled fish tacos topped with mango avocado salsa. You'll be feeling as perky as the fresh basil plants sitting out front of our local South Higuera storefront (also an excellent bargain).
• $5 per bottle at Trader Joe's, 3977 South Higuera, SLO.

BarrelHouse Brewing Company's Templeton Ale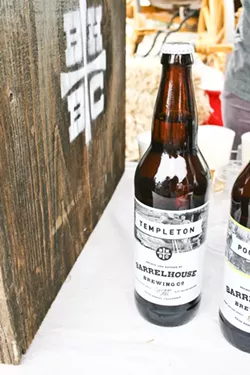 When I think of BarrelHouse Brewing Company, I think about playing on their flatbed truck-turned stage (music is my second passion), twirling to Monty Mills and the Lucky Horseshoe Band during their recent Tinker Tin Trailer Prom (anyone have a lead on a pink and white '60s trailer?), and—last but certainly not least—lounging on the grass by the brewery's waterfall with a frosty pint of BarrelHouse Brewing Co. Templeton Ale. The beer is simply built for a summer day: sessionable (aka drinkable), light, and crisp with a low alcohol content that will keep you from getting sloppy. Also, I do have a huge soft spot for beers that remind me of wine, and this one has a delightful twinge of sauvignon blanc up its proverbial sleeve. I suggest making the trip out to the Templeton-based brewery, located just a stone's throw from Firestone Brewing Company. Most weekends you'll find authentic local bands, interesting food trucks, and even a portable taco shack. Be sure to try a full flight of the beers, but if you can't decide where to go from there, do what the locals do. Templeton Ale, all the way.
• About $5 for a pint, BarrelHouse Brewing Company, 3055 Limestone Way, Paso Robles.

Hayley can be found singing to her malnourished strawberry plant at hthomas@newtimesslo.com.