On May 2, 1983, the U.S. Supreme Court struck down a California state statute requiring anyone found loitering to provide identification to approaching law enforcement officers. The plaintiff in the case was Edward C. Lawson, an intelligent, dreadlocked black man with a penchant for taking late-night constitutions through San Diego's most affluent neighborhoods. Following an eight-year string of failures in lower courts, the suit first saw the light of day in the Ninth Circuit Court of Appeals.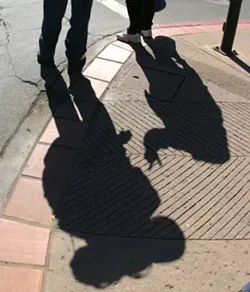 PHOTO BY CHRISTOPHER GARDNER
CAMP ON : Oft-maligned urban camping bans might soon draw the attention of homeless advocates in other tourism hubs, but the streets of San Luis Obispo remain free from specific overnight restrictions.
# The Ninth vindicated Lawson's crusade, ruling the statue's use of the word "loitering� was unconstitutionally vague. When the Supreme Court agreed, it prompted the disarmament of an oft-alleged instrument of civil rights abuse and, as collateral damage, law enforcement's only card to play against panhandlers.
For a long time, transient legislation in California sat in limbo. Eventually an outcry from shoppers, retailers, and the tourism industry started to caress the ears of municipal policymakers, many of whom leaped at the opportunity to champion for local businesses. The stage was set for transient legislation to re-emerge in creative manifestations, and a veritable hodgepodge of prohibitions sprung up all over the state.
Last month, the Ninth struck again with a landmark decision deeming one such transient caveat unconstitutional. It ruled that, so long as Los Angeles lacks adequate shelter space, its outdoor sleeping ban amounted to cruel and unusual punishment against the homeless—a breach of the Eighth Amendment to the Constitution. Among its many effects, the decision bent public interest lawyers toward seeking violations of the Eighth Amendment as a new modus operandi. Los Angeles announced May 3 its intent to appeal the case to the Supreme Court. "It's a pretty tight decision, but we only need one good case to break the whole thing open,� homeless advocate Kate Wells says.
But even if the Supreme Court upholds the ruling, the friends of California homeless still face a minefield of challenges. For one thing, precedents could prove hard to translate from case to case due to fundamental differences in the way violations are determined. Los Angeles has outlawed street sleeping, but other bans might prohibit more specific practices, such as camping within city limits. "There are nuances to every law,� Wells says, "but, really, the result is the same.�
Inferred intent aside, determining where the precedent will fall for each and every ordinance involves a great deal of guesswork. "I'm sure most cities are reviewing their ordinances with the aim of remodeling them after ones cited positively by the courts,� Monterey city attorney Debra Mall says, referring to laws upheld in Portland and Santa Ana. In San Luis Obispo, a time, place and manner restriction imposes a one-hour limit on anyone using a bench within a 24-hour period. While the law equally affects everyone using the bench, the homeless, or transients among them, bear the brunt of the mandate. Popular among retailers, the ban nevertheless raises questions over its alleged inequity, and whether it will hold up under a challenge?
San Luis Obispo City Attorney Jonathan Lowell says he "strongly feels the city's prohibition is narrower in scope than that of Los Angeles� and will survive Eighth Amendment scrutiny. The SLO law applies only to benches and (unlike L.A. or other cities with urban camping bans) doesn't explicitly outlaw sleeping on the street. "We were simply looking to balance the rights of everybody who uses the benches,� Lowell says. But he isn't the only city attorney confident the local ordinance would survive a theoretical challenge. "The L.A. law is the most broad-sweeping of any ordinance of its type in the country,� explains John Barisone of Santa Cruz. "I haven't recommended any action to our city council.� For once, homeless advocates agree; likewise pointing out the flagrant generality of the overturned ordinance. "It was just, all around, an incompetent effort to criminalize homelessness,� Monterey-based activist Moira LaMountain stresses. Although nowhere near as draconian in its transient dealings as Los Angeles' war on Skid Row, San Luis Obispo—like so many cities with transient ordinances—possesses one characteristic critical to the Ninth's decision: an obvious lack of shelter space. "It's perhaps a little bit better here than in L.A.,� Lowell admits. It certainly couldn't be any worse.
At least for now, forget about gauging the values or detriments of the local ordinance; the fledgling law went on the books only last week. But if relief seems at all apparent, it's because San Luis Obispo lacks condensed commerce by design—a state of affairs taxing on the soles of shoppers living in a car-to-Segway-to-escalator culture. So for the hefty masses of irked retailers and shoppers demanding available public seating, the ordinance proves welcome, if not terribly overdue. To say nothing of retail atmosphere.
"The process even this far has been quite frustrating for folks downtown,� city councilman John Ewan says. "It's important to remember, we're not talking about the homeless here; we're talking about panhandlers.� Fortunately, for the ordinance's many supporters, the precedent in Los Angeles is far from established, as advocates, nervous the Ninth's ruling may dissolve, are reluctant to move to anything new. ∆
Send your comments on this story to pklemz@newtimesslo.com.