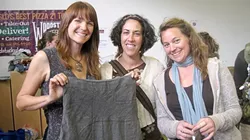 PHOTO BY NICK POWELL
SEWING CIRCLE : Allison Rice transformed a ruffled dress into a sexy skirt with the help of friends Kasey Rosecrans and Melanie Wolf.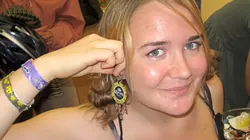 PHOTO BY NICK POWELL
EYE-CATCHING ACCESSORIES : Emma Teixeira hammered the hell out of beer caps to make a pair of earrings anyone can thirst over.
It was March 12, a sunny Saturday afternoon, when I sauntered over to the San Luis Obispo Museum of Art with a spring in my step and a bag of unwanted clothes slung over my shoulder. It was SLO's second annual Swap-O-Rama-Rama, and, like everyone else in attendance, I was hoping to unload some old clothes and take home an outfit or two that would make the ladies say, "My, oh my, that Nick Powell is one handsome gentleman."
I emptied my bag into a mess of clothes strewn about the grass outside the museum, and a pair of volunteers swooped in to sort my threads into the proper piles. It cost $10 and a bag of clothes to attend. This year, the money went to help SLOMA with its children's art programs. Even at the entrance, there was excitement in the air.
Inside, I found a sewing circus, with ringmaster Jennifer Alexander rushing from one craft station to another between throngs of seamstresses. It was a flurry of fashion! No, an utter melee of treasure-hunting madness! Maybe it was a large group of a hundred or so people happily chatting with friends, showing off choice finds, and helping one another make improvements and alterations.
Yeah. It was more like that. But whatever it was, people seemed to like it.
I met a couple of kids sewing for the first time and making matching dresses out of an old curtain. A group of 20-somethings made sexy skirts and covered a stained jacket with a new patch. One guy was sewing a few small shirts into one large one and toying with the idea of giving it a cape-like flare.
"I get all my clothes from thrift stores," said Jonathan O'Donnell. "It lets you create a more individual look that's not cookie cutter."
PHOTO BY NICK POWELL
TECHNICOLOR DREAM DRESS : This colorful garter is a small piece of Anzimee Thomas's plan for a "funky, fun princess dress."
PHOTO BY NICK POWELL

SEW-MANDO VEST : Rob Appell of The Cotton Ball is the Batman of sewing. His utility vest, expertise, and six sewing machines kept things running seamlessly at Swap-O-Rama-Rama.
Throughout the event, Jennifer pulled raffle tickets for prizes and emceed an impromptu fashion show of outfits found at Goodwill. I tried to take pictures, but my crappy point and shoot only caught blurry backside pics. Oops.
"It's super fun. I'll come again," said Anzimee Thomas as she added embellishments to a rainbow-colored garter, part of an elaborate dress she hoped to make for her upcoming wedding. She liked the idea of creating something unique instead of following the usual bridal traditions.
"The people here are definitely helpful," she said. "I have no idea what I'm doing."
Enter Rob Appell, a quilter's answer to the Navy Seals. This guy was dressed to fight some kind of sewing apocalypse in a utility vest stocked with needles, thread of every color, scissors, and anything else a sewer might desire.
"The goal is to let people be creative," Rob said. "If you've never sewn before, you're not tied down by the usual rules, so anything is possible."
Rob runs The Cotton Ball in Morro Bay, a fabric shop that lent six sewing machines to the Swap-O-Rama shenanigans. He said sewing allows people to customize their wardrobe and create unique styles.
"Shirts only come in three sizes," he explained. "But people come in every size imaginable."
Good luck finding wisdom like that at your average swap meet.
After mingling among the various craft stations, where Tyler Elwell helped people imprint shirts with homemade stencils, Cari Bourquin stitched hats together, and Sharon Gove of Beads of Sharon fame taught folks how to pound beer caps and other junk into beautiful jewelry, I made my way to the clothing tables to find some raw goods of my own.
PHOTO BY NICK POWELL
YOUNG SEAMSTRESSES : With the help of volunteers, friends Sabina Zink and Gretta Carlson fashioned differently styled dresses from the same curtain cloth.
PHOTO BY NICK POWELL
MAD HATTER : Professional hat maker Cari Bourquin was on hand to help people turn old clothes into headwear that's just fabulous.
Unfortunately, pickings at the men's table were slim. Every time I saw some clothes I would wear, I realized I had already worn them for several years and that I was the one who brought them.
I looked around and really noticed for the first time that the whole museum was jam packed with women. Were I single, I could have dropped a plethora of situationally appropriate pick up lines: Do those pants have a mirror in them? (Boom!) That outfit sure would look good crumpled up by my bed. (Hoo-yah!) Do you usually hang your clothes? 'Cause that bottom's off the hook. (Scooby-Doo!).
Instead, I said things like, "Der, what do you got there? No, it's cool. I'm not a creep actually. I'm a reporter."
Contributor Nick Powell wears clothes almost every day. Send fashion tips to npowell@newtimesslo.com.