Three months ago, San Luis Obispo native Ashley Friend began a cross-country road trip that has had her bouncing from Brooklyn to Wisconsin, back to Brooklyn, and westward toward San Luis Obispo, with her soft-coated Wheaten terrier Isadora—named after the incomparable modern dancer, Isadora Duncan—in tow. Inspired by John Steinbeck's Travels with Charley, Friend would travel to hitherto unseen regions of her homeland, creating and refining choreography for her contemporary dance piece, ID. The work that evolved from this melding of travel and art would be called: ID—I Love America. And at the end of the journey to the Pacific Ocean, she would perform and discuss her work in San Luis Obispo.
PHOTO BY ASHLEY FRIEND
TRUSTY STEED :
"I've been working with this idea of America, that I loved the land of America and not the politics," explained Friend. "I've been working with the idea for like two years and there are huge parts of America that I hadn't seen before—Vermont, Rhode Island, New Hampshire, and the Dakotas. But I had the idea that they were these beautiful places."
Her journey unfolded, fatefully, with the eBay purchase of a 1994 Pleasure Way conversion van equipped with a bathroom and kitchen. The four-wheeled steed, snow white with turquoise stripes, was originally owned by a preacher from Nebraska.
Friend charted her journey in such a fashion as to allow her to see as many new sights as possible, eschewing speed—in the form of main roads and highways—in favor of out-of-the-way farm roads. After two years of living in New York—the consummate urban environment—Friend spent her days on the open road, and nights in various campgrounds across the country. Even armed with a GPS and a well-equipped van, it was impossible to simulate her everyday living environment, and especially her normal rehearsal space.
"I decided to take it on the road because I'm used to rehearsing in a studio and doing my rehearsals in these different campsites. It's been really
PHOTO BY ASHLEY FRIEND
HOME SWEET HOME IN VERMONT :
interesting to see how site affects the work," she explained. Ever the adaptor, Friend interwove the identity of her many outdoor rehearsal spaces into the fabric of her piece which, ironically, explores identity. She incorporated her physical reactions to the rocky beaches of Maine or slippery pine needles into her work, comparing the seeming handicap to a concept she frequently explores in her work. Called "scary body," Friend creates a phrase of movement, attaches a physical handicap such as a prosthesis, and then repeats the choreography, to explore how her altered body re-shapes her work. Sometimes, Friend admits, nature affected her rehearsals more than she would have liked.
"Sometimes it's way too hot to rehearse so I sit and think. Or it's raining. And also there's a shyness if people come and watch you. Do I look like a crazy person doing this? Probably. Is that OK? I don't know."
As a result of not being able to work barefoot, as she would in the comfort of a dance studio, Friend decided to incorporate flip-flops and sunglasses into her finished product, along with the latex gloves and golden guns she had already reserved as props. She also elected to remove a large monologue about diversity—a word she considers watered down by overuse—instead simply saying the word, along with "yes" and "no" repeatedly over the course of her 45-minute performance. The overall impression of ID, after all of the roving artist's nipping and tucking, is that of dance as a living entity that grows and evolves, tentacling from one experience or thought to another.
Friend started work on ID in August of 2007, after returning from a summer in Europe.
"It's about decision-making and how that affects our lives," she explained. "Or does it affect our lives? From 'should I buy that card' to 'should I marry that person.' Just ID. Identity, identification, sort of reflective." She also explored Freud's concept of the id, the seedy underbelly of each individual's personality.
PHOTO BY ASHLEY FRIEND
MURDO, SOUTH DAKOTA :
And to express her longing for California, and the significance of place in her work, Friend turned to the music of The Beach Boys. Because, ultimately, this journey is a homecoming for her, even if the process of returning home may alter her perception of the city where she grew up. It was her mother's suggestion that she schedule a performance at the Steynberg Gallery, where she will dance on Aug. 23 at 8 p.m. The following day she will provide a demonstration and discussion of her work at a private residence in San Luis Obispo, and on Aug. 27 she will give a demonstration and lecture, displaying photographs and videos from her travels at the SLO Library.
The technology that Friend used to document her travels—via blogs, photographs, and video clips—is an integral aspect of her experience, even beyond the purpose it served as a recording tool. When she's not creating choreography for The Contemporary Dance Core in New York, Friend makes sound designs for other choreographers and does video editing. She spends most of her days at a computer, and is unaccustomed to being at the mercy of battery life and AC outlets. The experience, she ruminates, transformed her into a technology conservationist. But even in limited quantities, technology colored almost every aspect of the cross-country trek. Alone in her van she could still share her private thoughts on her blog, right down to her fantasy about meeting Quentin Tarantino at a rest stop. She could also use technology to express precisely what she wants to say, which isn't always possible in dance.
"As I see this nation at the brink of its decline I decide to celebrate its beauty," she blogged from Rhode Island on June 8. "There is something very special about the rebellious nature and the founding of the land as we know it, not something so special about slavery or the treatment of the natives by the spaniards (sic) (mexico) (sic) and the whites."
PHOTO BY ASHLEY FRIEND
WISCONSIN MORNING :
As soon as Friend concludes her trio of appearances in SLO, her fearless summer of travel and dance will begin to wane. She intends to sell her van in San Luis Obispo, pick up a smaller vehicle for her return journey, and arrive back in Brooklyn on Sept. 15. She will have dedicated an entire four months of her life to this particular endeavor, returning to the Atlantic with video footage, troves of digital photographs, and leaving behind the injunction "dance in all conceivable places."
INFOBOX: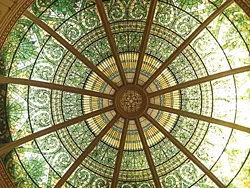 PHOTO BY ASHLEY FRIEND
HARRISBURG :
Ashley Friend hearts SLO
Ashley Friend will be performing choreography she has created while traveling across the United States over the last three months. She will perform Aug. 23 at 8 p.m. at the Steynberg Gallery. $5. On Aug. 24 at 4 p.m. she will give a demonstration and discuss her work at 989 Pasatiempo Drive in SLO. Potluck, bring food. And on Aug. 27 at 7 p.m., she will give a demonstration and lecture, including photos and videos from her trip, at the SLO Library. A blog of her experiences is available at http://id-iloveamerica.blogspot.com/.
---
Arts Editor Ashley Schwellenbach has re-written history several times over. Send liberty bells to aschwellenbach@newtimesslo.com.