The first thing you notice is the scent of Christmas, a mix of Monterey pine, noble fir, white fir, and Douglas fir.
Three of those varieties are growing on 15 acres at Holloway's Christmas Tree Farm. The noble fir is shipped in from a place called Mossy Rock in Washington state. A tractor with a bucket mounted on the front is lifting one that's 8 to 9 feet tall.
Each mechanical clunk of the bucket moves the tree up and down, shaking dry, loose needles to the ground. In between sips of coffee, owner Carl Holloway explains that it's important to get rid of dead, brown needles because they can be a fire hazard.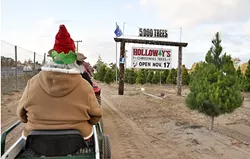 PHOTO BY CAMILLIA LANHAM
FFT: A Fast Farm Tour at Holloway's Christmas Tree Farm takes ATV "train" passengers around the farm, past trees that will eventually be cut down by families who want to take them home for Christmas.
Cement troughs line the area north of the fire pit, containing bound up noble firs—their trunks stuck in a couple of inches of water. Holloway says once the trees get home, they should also be kept in a little bit of water. That not only reduces the fire hazard, but also increases the "keepability" of a tree. And Holloway says noble firs keep the longest of all the trees he sells.
"I tell you what, it's a heck of tree. It's real stiff and it holds ornaments real well," he says.
Born in 1956, Holloway remembers being 6 or 7 years old and moving water pipes in the fields. He's been trimming trees his whole life.
"Dad sold his first tree in 1962," he says. The tree lot started on the east side of Oakglen Avenue in Nipomo and expanded across the street to the lot facing Highway 101. That first lot's been in the family since 1918, when his relatives bought it for $15 in gold coins from a woman named Lena Rose.
Holloway and his wife, Debbie, started running the farm in 1998, and his father passed in 2003. Debbie takes care of everything on the back end: payroll, buying the trees from out of state, managing the hiring, etc. And in the offseason, in addition to taking care of the tree farm, Holloway works full time as a certified journeyman welder to help pay the bills.
A woman walks up to the bench where he's sitting. A fire is burning in the brick fire pit next to him—kids will definitely be roasting marshmallows after it gets dark. She's concerned about picking out a tree so early. It's the day before Thanksgiving. Her kids are in town for the long weekend, back from school.
"We have to decorate it tonight. It's the only time we're all together," she says. "Do you think these ones will make it to Christmas?"
He gives her an affirmative and she asks about getting a tree flocked that afternoon. He points her to a big white tent with white dusted trees set up inside of it.
"We're flocking as we speak," he says.
Some workers start stacking wood against the side of the red building with green trim nearest to the pit, getting ready for a chaotic, busy weekend of families. The sun is starting to set and trucks are stacking up in the parking area.
"That's really what it's all about," he says. "Where else can you go where everyone has a good time? … It's too much fun. I mean look at this family coming up. Mom and Dad, two kids. I love this lifestyle."
The farm will be open until Dec. 24 from noon to 8 p.m. during the week and 9 a.m. to 8 p.m. on the weekends. It's located at 561 South Oakglen Ave. in Nipomo. Call 929-6203 or visit hollowaysfarm.com for more information.
Editor Camillia Lanham wrote this week's Strokes. Contact her at clanham@newtimesslo.com.