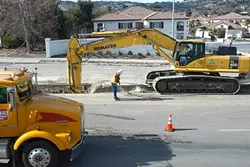 PHOTO BY STEVE E. MILLER
TRENCH DANGER : Jake Gaines and Manuel Villagomez drowned in a narrow trench after an excavator broke an existing water line that flooded the trench.
Teichert Construction has been hit with $140,000 in fines for an accident that killed two men in Paso Robles last October, and criminal charges could also 
be on the way.

Jake Gaines and Manuel Villagomez drowned while working inside a 30-inch diameter section of pipe as part of the Nacimiento Water Project in Paso Robles. Crews were installing the section in a 10-foot-deep trench.

Gaines and Villagomez were trapped after an excavator ripped through an 8-inch existing water main and flooded the trench and the pipe. According to a report, Hank Duggins, the Teichert foreman for that job site, ordered the excavator operator to continue digging despite concerns that there could be a hazard.

The California division of the Occupational Safety and Health Administration (Cal OSHA) concluded that Teichert committed a "serious" and "willful" violation. The company has been issued two citations, each with a $70,000 penalty.

Cal OSHA officials said Hank Duggins was the site supervisor and therefore most responsible, but penalties are placed on employers and not employees.

Duggins said he had not read the report and declined to comment because "it's such a complicated case." Duggins and his attorneys deferred all questions to Teichert spokesperson and vice president Steve Mitchell.

"The loss of our two workers continues to sadden all of us at Teichert," Mitchell said in a news release.



BAD TO WORSE: Cal OSHA issues five types of violations. Serious violations are those that present a risk of serious injury or death. Willful violations are made by employers who consciously violate safety laws.
However, Teichert officials still plan to appeal the citations, he added. "It is important to know that the company places a high value on compliance with all work rules and regulations."
Mitchell declined to comment beyond a prepared statement. In a previous interview he praised Teichert for having a strong safety record and said the Nacimiento fatalities were the first for the company since the late 1980s.
Teichert has had seven accidents, not including the one in Paso Robles, since 1980, according to the U.S. Department of Labor. The department also reported four other serious violations issued since 2004. Two of the violations were appealed and the penalties were reduced.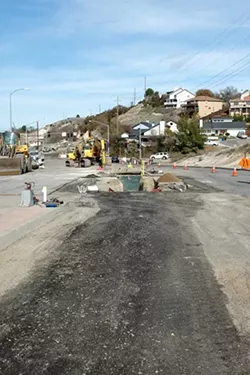 Teichert's current appeal will probably be put on hold until after decisions are made regarding criminal charges, Cal OSHA officials expect. The accident report will be forwarded to the county District Attorney's office. Chief Deputy District Attorney Jerret Gran said his office had not received the report as of press time. Cal OSHA officials said the process of sending the report to law officials takes a few days, but it was on the way.
Andreea Minea, a Cal OSHA district manager, said the violations and penalties against Teichert are some of the highest that can be imposed. The only violations worse by Cal OSHA standards are for repeat offenders and companies that do not fix identified safety hazards, Minea said.
To fix the problem in this case, Teichert was required to identify the 8-inch water line with a blue paint mark and "bleed" water from portions of the pipe near construction operations. Teichert has already complied with those requirements, Cal OSHA officials said. Cal OSHA Regional Manager Dan Shipley said the post-accident safety measures were "basically doing what they should have done in the first place, which was marking all utilities."
In their report, Cal OSHA investigators concluded that Duggins ignored warnings from Paso Robles water officials about the existence of a water line up to the day before the accident. He told crews to keep digging after he was again warned that night, the report states.
"He was the supervisor of the site, therefore the person in charge of the operation with the power to stop or continue [digging]," Shipley said.
Duggins told his crews to continue digging. His son, Zack Duggins, was operating the excavator and continued digging "as per 'my dad,'" according to the report. Gaines and Villagomez remained in the pipe even as Duggins and others argued over whether there was any danger.
Investigators also determined that another Teichert employee, Project Engineer Nick Feliz, did not make the necessary request for a new paint mark on the road, which would have identified the water line for the excavation team; the original paint marking had faded. The report states that Feliz told Paso Robles officials, in an e-mail before the accident, that Teichert employees knew where all the utilities were. Feliz could not be reached for comment.
There were no cases filed with the SLO County Superior Court by either the Gaines or Villagomez families as of press time. Neither family could be reached for comment. An attorney representing the Villagomez family, David Mastagni Sr. of Sacramento, did not return calls for comment. ∆
Staff writer Colin Rigley can be reached at crigley@newtimesslo.com.