I've been checking out videos online of Trigger Hippy, the new soul-drenched collaboration by Jackie Greene (vocals, keys, guitars), multi-platinum recording artist Joan Osborne (remember her Top 5 hit "One of Us?"), Black Crowes co-founder Steve Gorman (drums), Nick Govrik (bass), and Tom Bukovac (guitar). Having just seen Jackie Greene a couple months ago when he opened for the Tedeschi Trucks Band, I know he's in excellent form as of late, and this twin vocalist attack with Osborne sounds downright righteous!
PHOTO COURTESY OF TRIGGER HIPPY
SUPERGROUP!: Trigger Hippy—featuring Jackie Green, Joan Osborne, Black Crowes co-founder Steve Gorman, and others—plays SLO Brew on Oct. 5.
This is a rock band by way of R&B, soul, Al Green, and Stax Records—gritty and soulful. Their new 11-song debut has been bringing in lots of great press, but this is a band best experienced live, and you can do just that this Sunday, Oct. 5, when Trigger Hippy plays SLO Brew (7:30 p.m.; 21-and-older; $25 presale or $30 at the door).
Each member is an incredible performer in his or her own right, but together they seamlessly click.
"Sure, you can see this as a 'player's band,' but it really is a band, in the true sense of that word," Gorman explained in Trigger Hippy's press bio. "We don't see this simply as a project. It's vital that Trigger Hippy be a real communal effort that feels good to all of us."
"Steve is not a person who thinks small," Osborne added. "He kind of said, 'Well, who would I get if I could get everybody I wanted?' and went for it. We all have very complementary strengths."
This show is going bring down the house! Greene and Osborne sound great together, Greene's keys are magic, Gorman's one of the best rock drummers alive, Govrik drops perfect bass lines, and there's a very good reason why Nashville cat Bukovac won five consecutive MusicRow Session Guitarist of the Year awards. Miss this at your own peril.
SLO Brew's actually got a pretty phat schedule this week, starting Thursday, Oct. 2, with the always-entertaining California Honeydrops (7:30 p.m.; 21-and-older; $18 presale or $20 at the door). Fronted by the charismatic Lech Wierzynski, the son of Polish political refugees raised in Chicago and Washington, D.C., he was exposed to wide range of musical influences. "When my dad was growing up in communist Poland in the '40s and '50s, old American music was illegal and therefore very cool," he said in press materials. "He passed on the love of old stuff to me: everything from Louis Armstrong to Sam Cooke." As their bio says, "Their style may not have a name, but one thing is certain: The California Honeydrops don't just play music. They throw parties."
Speaking of a party, I've seen The English Beat probably 10 times, and I'm never disappointed. Here they come again this Friday, Oct. 3 (7:30 p.m.; 21-and-older; $21 presale or $23 at the door). This late-'70s and '80s ska revivalist group has so many upbeat songs, you'll be pogo-ing all night long. "Tears of a Clown," "Mirror in the Bathroom," "Stand Down Margaret," "Save It for Later," "I Confess"—I could go on and on. And they're recording a new album, so expect some unfamiliar material!
On Saturday, Oct. 4, SLO Brew hosts American Aquarium (7:30 p.m.; 21-and-older; $13 presale or $15 at the door), a Raleigh, N.C., band who's newest studio album, Burn.Flicker.Die., is filled with dark lyrics: "I wish my addictions didn't mean so much/but we all can't be born with that kind of luck," BJ Barham sings on the title track. It's haunting, Southern Gothic stuff. The Cerny Brothers will open.
On Wednesday, Oct. 8, you can check out Rising Appalachia (7:30 p.m.; all ages; $15 presale or $17 at the door), featuring sisters Leah and Chloe who grew up in the Southern U.S., but spent years traveling the world inspired by international roots music.
"Their unique and beautiful sound is illuminated through poetic and soulful vocals, spoken word, and an eclectic array of instrumentation including banjos, fiddles, various drums, kalimbas, and beatboxing," according to their bio.
And if you didn't get enough awesome '80s action with The English Beat, mark your calendar for Thursday, Oct. 9, when ABC plays SLO Brew (7:30 p.m.; 21-and-older; $25 presale or $28 at the door). The slick UK pop legend Martin Fry, replete with gold lamé suit, will bring the New Romantic sound with his hit singles such as "The Look of Love," "Poison Arrow," "Be Near Me," "How to be a Millionaire," and "When Smokey Sings."
Thirty-three by the sea!
PHOTO COURTESY OF THE FABULOUS THUNDERBIRDS
THUNDERBAY: The Fabulous Thunderbirds headline the Morro Bay Harbor Festival's second day on Oct. 5.
Can you believe it's time for the 33rd annual Morro Bay Harbor Festival? Well, it is, and this Saturday and Sunday, Oct. 4 and 5, bring the whole family for two days of entertainment, amazing food, and plenty of fun activities. It also happens to be Morro Bay's 50th anniversary as an incorporated city.
"This year's festival is going to wonderful," Don Doubledee, executive director of the 2014 Harbor Festival, said. "And we're thrilled it promises to be a well-attended event that will benefit so many local nonprofit organizations. With their help, they enable us to present such a great festival. It's truly a local event."
The schedule of live music is too extensive to fit here, so go online for all the details, but a couple of the notable performers include Beatlemania (at 2 p.m. on Saturday) and the Fabulous Thunderbirds (at 2 p.m. on Sunday). Music runs from 10:15 a.m. to after 5 p.m. There are also events like the Hawaiian shirt and oyster eating contests and a kids' cove with alpacas, a climbing wall, a slide, a petting zoo, and a bounce house.
There's also a second stage (Starboard Stage) that will feature additional live, local entertainment both days from the likes of the Los Osos Middle School choir, the Morro Bay High School choir, and Morro Bay Pacific Dance Center, and Tribe Elation—a belly dance troupe—and more.
Nearly 20,000 visitors stop by each year. Admission is $12 per adult, $6 for children 6 to 12, and free for children 5 and under. Get $2 off admission tickets online at mbhf.com.
Rocktober 322!
One of the many things I love about our local music community is how they come out to help one of our own. Take Dru Lynch, wife of David Lynch, a musician with deep roots locally. She's taken ill with a rare form of cancer, so what do her friends do? They schedule a fundraising concert for her this Sunday, Oct. 5, at the SLO Elks Lodge
"This is a fundraiser for our friends Dru and David Lynch," organizers explained. "Dru has been diagnosed with a rare and aggressive cancer. She is fighting it with chemo, her great, beautiful, open spirit, and the help and love of her husband, musician David Lynch (also creator of the Piecake!) and their three really cool sons … but they could use a little help from us as well. Because Dru and David have rocked every party like the shining Queen and King of Party Town, it is only right that we throw them a great party."
Open to the public, the event runs from 1 to 6 p.m., features five bands including The Uptown Rulers (1:15 to 2 p.m.), the David Lynch Band (2:15 to 3 p.m.), Chick Tuesday (3:15 to 4 p.m.); the Kristen Black Band (4:15 to 5 p.m.), and the Mighty Croon Dogs (5:15 to 6 p.m.).
There's also a barbecue, a "bad-ass" silent auction, and an "exploding pumpkin!"
The cost is $20 at the door, and the lodge is located at 222 Elks Lane, the same street at the Sunset Drive-In. If you can't make it but still want to donate, send a check directly to the donation bank account made out to David Lynch and mailed to Rabobank, 75 Santa Rosa St., SLO, CA 93405. Please put the account number in memo line: 9324467272.
Dru, we're rooting for you!
More music …
PHOTO COURTESY OF GALKO
EDM KINGS: GALKO, featuring Dylan L. Freiberg and Ahmed Medat Fahmy, bring their electronic dance music and hip-hop sounds to Linnaea's on Oct. 2, and The Hemp Shak on Oct. 3.
GALKO, a live indie EDM and hip-hop experience, comes to Linnaea's Café this Thursday, Oct. 2 (8 p.m.), and to the Hempshack on Friday, Oct. 3 (starting at dusk). Featuring Ahmed Medat Fahmy (producer, musician, DJ) and Dylan L. Freiberg (MC, lyricist), the duo creates a gritty urban sound, and for the Friday performance, painter Billy Bacsko will be creating a painting live and on the spot as GALKO plays. "It's art after dark weekend after all," the band said. "We combine the driving force of electronic dance music and the grit of true hip-hop, segueing seamlessly amongst psychedelic trance to deliver an intriguing live performance of non-stop raw energy."
Break out the dirndl and lederhosen because this Friday, Oct. 3, The Mudskippers will bring some German music to the Noontime Brown Bag Concert at First Presbyterian Church of SLO (corner of Marsh and Morro). Bring a sack lunch … maybe a bratwurst, jagerschnitzel, or semmelknoedel?
"The name of our band is Random, and we're doing a special event at Tognazzini's Dockside Two in Morro Bay from 3:30 to 8 p.m. on Friday, Oct. 3," lead vocalist Kelly Whitaker wrote. "It's free to get in and we'll be kicking off an early Harbor Fest. Our band has been playing out for private gigs as well as the Tavern in Cayucos, the Fuel Dock in Morro Bay, and wineries. We have something in our music for everyone with a twist on the '80s. It would be really cool to get some print from you, if at all possible." Boom! Done.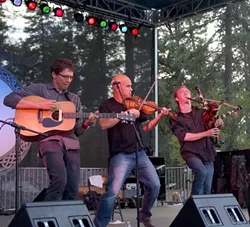 PHOTO COURTESY OF MOLLY'S REVENGE
IRISH IN THE RED BARN : Molly's Revenge plays the Red Barn Community Music Series on Oct. 3.
Rev up your Irish engines with a performance by Molly's Revenge at the Red Barn Community Music Series in Los Osos this Friday, Oct. 3 (5 p.m. potluck; 6 p.m. show; $15 donation; BYOB). This dynamic, acoustic Celtic band brings tons of energy and passion to their performances, playing a classic combination of bagpipes, whistle, and fiddle, with a backdrop of guitar, mandola, and bodhran.
Erin Inglish and Ray Duncan together? I'll take it! In a new live music series called Folk Troubadours, these two young ladies will appear on the inaugural double-bill, and as the series continues, you'll always hear the "music and musings of two folk music acts each show," according to organizers. See them this Saturday, Oct. 4, at the Steynberg Gallery at 8 p.m. Both of these songwriters have played the main stage at the Live Oak Music Festival, and last year they opened for Jackson Browne. Expect two solo sets, Ray Duncan at 8 p.m. and Erin Inglish at 9 p.m., with some never-before-heard collaborations. A $15 to $20 suggested donation is requested at the door, or pay in advance online at www.erininglish.com.
PHOTO COURTESY OF RAY DUNCAN AND ERIN INGLISH
TWO ON THE TOWN: Singer-songwriters Ray Duncan and Erin Inglish share the bill for Folk Troubadours, the inaugural show of a new series, starting Oct. 4, at the Steynberg Gallery.
Keep up with Glen Starkey via twitter at twitter.com/glenstarkey, friend him at facebook.com/glenstarkey or myspace.com/glenstarkey, or contact him at gstarkey@newtimesslo.com.