PHOTO COURTESY OF DON LAMPSON

A FACE LIKE A ROAD MAP : Troubadour Don Lampson will weave his spellbinding tales of triumph and tragedy during a CD release party for Take Part of Me With You on Aug. 22 at Painted Sky Studios in Cambria.
D
on Lampson is to Americana music what John Wayne was to Westerns—larger-than-life, authentic, and 100 percent heart and soul. In fact, the only difference between Lampson and Wayne is that Lampson's still alive (For now! Watch your back, Lampson!), and he has bigger feet (Wayne wore a size 6, which at 6' 3" explains why he walked funny, eh?).
On Saturday, Aug. 22, Don Lampson and Friends (Eric Brittain and Charlie Kleemann) will perform a CD release party at Painted Sky Studios in Cambria at 8 p.m. It's a fitting location since the album, Take Part of Me With You, was recorded there, formerly a watering hole called the Bucket of Blood Saloon.
Lampson's narrative tunes explore life's roiling sea of ups and downs, loves and losses, and Brittain's accompaniment on everything from guitar to fiddle to dobro to mandolin perfectly accents these tales of triumph and tragedy. Kleemann keeps the rhythm thumping on his standup bass.
Admission is $15 and includes a free download card of Take Part of Me With You as a souvenir of the occasion. Pick up presale tickets at Boo Boo's, the Cambria Business Center, or by calling 927-8330.
No rest for the wicked
You get Sunday off, but that's it! Once again, Downtown Brew has one show after another, beginning on Thursday, Aug. 20, when indie power pop quartet Hellogoodbye plays a 7 p.m., all ages show ($15). The emo rockers blend Nintendo bleeps with sugary sweet hooks to play their infectious brand of music. Fun. opens this show (and yes, there's period after their name because the fun stops there). Fun. plays jangly, horn-driven '70s pop.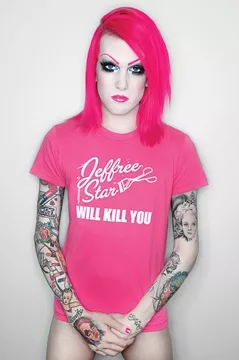 PHOTO COURTESY OF JEFFREE STAR
SHE'S NOT A BEAUTY QUEEN! : Check out Jeffree Star (whose makeup nods to Marilyn Manson!) on Aug. 21 at Downtown Brew, one of six shows at the SLO Town club this week.
Come
Friday, Aug. 21
, you can catch
Jeffree Star
(7 p.m.; 16-and-older; $12 presale or $13 at the door). I've never heard of her, but her autobio speaks for itself:
"I'm a billboard, advertising your aging confidence, self-destruction, and sagging self-esteem. The appearance of my own body is cut and dissected every time I breathe. My horror of beauty is not when I'm laying naked on the bathroom floor, but when I'm staring at myself, wondering what's underneath the painted-on feelings and made-up eyes. I'm not a fucking beauty queen." Ooookay! Artist Vs. Poet opens the show.
On Saturday, Aug 22 you can wrangle up some country and southern rock with Jason Boland and the Stragglers (8 p.m.; 21-and-older; $13 presale or $15 at the door). These dustbowl troubadours, purveyors of red dirt music, are touring in support of Comal County Blue, their new album on which Boland "deals with life, politics, and the human experience informed by that Oklahoma tradition and his own personal experience."
After your Sunday breather, the Brew returns on Monday, Aug. 24 with Bleeding Through (6:30 p.m.; all ages; $15 presale or $17 at the door). This hardcore-metal-punk act is pissed off. Come feel their anger. Mmm. Anger.
Things take a slight turn for the positive on Tuesday, Aug. 25 when hip-hop act Jedi Mind Tricks returns to the club with opening act MC Esoteric (8 p.m.; 16-and-older; $20). Once again, quotes from the ensemble's bio say it best: "Watching television is like taking black spray paint to your third eye;" "Children are smarter than any of us. Know how I know that? I don't know one child with a full-time job and children;" "Christianity has a built-in defense system: anything that questions a belief, no matter how logical the argument is, is the work of Satan by the very fact that it makes you question a belief. It's a very interesting defense mechanism and the only way to get by it—and believe me, I was raised Southern Baptist—is to take massive amounts of mushrooms, sit in a field, and just go, 'Show me.'" Just say no, kids. Just say no.
Finally, on Wednesday, Aug. 26, get a dose of alternative and punk rock when Ted Leo and the Pharmacists headline a show with opening act Jeff the Brotherhood (8 p.m.; all ages; $12 presale or $14 at the door). Ted Leo got his start in the all-ages venues of the East Coast, polishing his songwriting prowess in acts such as Citizen's Arrest, Animal Crackers, and Chisel.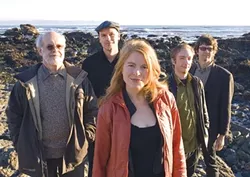 PHOTO COURTESY OF MOLLY'S REVENGE
REVENGE IS SWEET! : Molly's Revenge returns with vocalist Moira Smiley on Aug. 22 at St. Benedict's Episcopal Church in Los Osos.
The Celts are coming!
Molly's Revenge returns with vocalist Moira Smiley to the Red Barn Community Music Series on Saturday, Aug. 22 at St. Benedict's Episcopal Church in Los Osos. The event kicks off with a 6 p.m. optional potluck followed by a 7 p.m., $10 show.
Dynamic, acoustic Celtic band Molly's Revenge puts on a helluva show—energetic and more infectiously engaging than swine flu! If you like bagpipes, whistle, fiddle, and song set against a backdrop of guitar, bouzouki, and mandola, then get ye to St. Benedict's for the finest Irish and Scottish concert you've ever heard.
Molly's has played many of the top folk festivals and performing arts events in the U.S., not to mention prestigious events in Scotland, Australia, and China. They've released seven albums to boot. Award-winning vocalist and accordionist Moira Smiley has done extensive vocal work for folk, new, early, and pop music projects for film, television, and recordings worldwide.
If you happen to find yourself in NYC this week …
The Texas Tornados took a couple of big hits in the last few years. First Doug Sahm passed away, then Freddy Fender. But the band, which also includes SLO Town resident Louie Ortega, refuses to go gently into that good night. On Sunday, Aug. 23, the band reunites at the Lincoln Center's outdoor free music festival to play a Doug Sahm tribute in the plaza in front of the venue.
"This is sort of a kick-off," explained Ortega. "We just got Doug's boy Shawn Sahm, and he's stepping up front, stepping into Doug's shoes—big shoes to fill. Before Freddy [Fender] died, we also recorded a tribute album to Doug, but the estate sort of sat on it for a while, but now it's being released. We're hoping this show will kick off a tour. There're a lot of agents coming to see it. And we're hooked up with Ray Benson of Asleep at the Wheel."
The Tornados' new record will be released on Benson's label, and they'll tour with Asleep at the Wheel to get things going again.
"That's pretty hip," added Ortega. "We'll be riding his coattails for a while and then spin off on our own."
If you're in New York this week, check out the return of the Texas Tornados and see local Grammy winner Louie Ortega jamming with the band. When the CD comes out, be sure to get a copy. It features the late Freddy Fender singing a song penned by Ortega.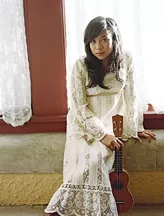 PHOTO COURTESY OF ZEE AVI
SHE'S HUGE IN BORNEO! : Malaysian superstar Zee Avi, whose new album is on Jack Johnson's Brushfire Records, appears on Aug. 25 at Mother's Tavern.
From Malaysia with love
Brushfire Records proudly presents Malaysian superstar Zee Avi on Tuesday, Aug. 25 at Mother's Tavern (8 p.m.; 21-and-older; $10).
Zee Avi, just 23, is already a huge talent bringing a universally positive message from her birthplace of Borneo—an ancient island east of Malaysia that remains an untouched, natural paradise.
"I was bred to be a lawyer," said Avi, but music won out and she ended up in L.A. recording her first album, a joint release from Ian Montone's Monotone Label and Jack Johnson's Brushfire Records. How'd they discover her?
She began recording her songs on a webcam and posting them on YouTube.
"I remember getting so excited when there was one new comment from some random person I didn't know. One read 'I'm lost for words—I shall favorite it and ponder if that's okay,'" written by Kris Rowley, a U.K. singer-songwriter with a YouTube following under the name Zzzzzzzzap. He began posting her videos on his site, which began a viral snowball effect.


More music …
Downtown Association has Cali-Cubano ensemble the Zongo All-Stars playing Farmers Market's Main Stage (the corner of Nipomo and Higuera) on Thursday, Aug. 20 from 7 to 8:30 p.m. Dig the hot, high-energy mix of Afro-Latin, Afro-Caribbean, jazz, calypso, reggae, and funk delivered with horns, drums, percussion, steel drum, and bass.
Zebedee Zaitz of Sparrows Gate and Jody Mulgrew of the Johnny Starlings ditch their respective ornithologically-named bands and play a set each at the Clubhouse on Thursday, Aug. 20. Anthony Roselli opens the free, 7 p.m. show.
Alt-country/ Americana singer-songwriter Bob Harp hits Last Stage West on Thursday, Aug. 20. The Bay Area performer recently released Collecting Dust, and he cites artists like Roy Buchanan, Allman Brothers Band, Bobby Womack, Van Morrison, and Donny Hathaway among his influences.
Hit Farmers Market and Frog and Peach on Thursday, Aug. 20 to see CHUM, a surf-alternative-garage rock act hailing from Manhattan Beach. Billing themselves as SoCal's killerest surf band, the group claims, "We don't care about credibility, because we are incredible." Awesome!


PHOTO COURTESY OF DEVON ALLMAN
ALLMAN JUNIOR : Devon Allman's Honeytribe returns to the Central Coast on Aug. 20 with a show at Instinct in Atascadero.
Rock Sisters Productions welcomes the return of
Devon Allman's Honeytribe
to the Central Coast on
Thursday, Aug. 20
at Instinct in Atascadero. Local heroes
Criticnue
will open the 9:30 p.m. show. Tickets are $12.50 presale (at all Vallitix locations) or $15 at the door.
The Cinders Blues Band brings its high-powered blues to Paso Robles Concerts in the Park series on Friday, Aug. 21 from 5:30 to 7:30 p.m. at the City Park in downtown Paso Robles.
Fill your eras with the awesome country rock sounds of Rancho Deluxe on Friday, Aug. 21 from 5:30 to 7:30 p.m. when they play Concerts in the Plaza in front of the SLO Mission.
The Demos hit Terraza Grill (formerly the Spindle and Cisco's) on Friday, Aug. 21, at 7:30 p.m., right after Concerts in the Plaza. Wander over and keep the party going as the group delivers an evening of classic country, retro R&B, and tremolo-tinged surf rock.
City Nights Jazz presents bebop great Lanny Morgan performing with the Mike Raynor Group on Friday, Aug. 21, at 7 p.m. in the Inn at Morro Bay. As a leader of his own group and a solo performer, Morgan's been on the scene here and abroad since 1969, playing every major jazz club and festival that exists and guesting as soloist/clinician at colleges and universities in nearly every state of the union.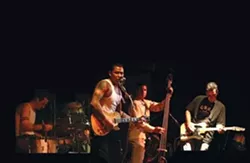 PHOTO COURTESY OF THE HYDRAMATICS
HOT EL CAMINO NIGHTS! : If you're up in A-Town on Aug. 21, be sure to hit Camozzi's after the Hot El Camino Nights cruise to see The Hydramatics.
If you're up in A-Town on
Friday, Aug. 21
, be sure to hit Camozzi's after the Hot El Camino Nights cruise, because that's when roots and rockabilly act
The Hydramatics
will be bringing the heat!
PHOTO BY BRITTANY APP
SACRED PINE : Check out the multi-band benefit for the Rotary Club in Cambria on Aug. 22 at the Cambria Vets Hall with eight bands, including Pakes (pictured).
Check out the multi-band benefit for the Rotary Club in Cambria on
Saturday, Aug. 22
at the Cambria Vets Hall. Billed as the "Sacred Pine Alternative Music Festival '09," the all-day event (11 a.m. to 9 p.m.) features eight full bands—
Axia
,
The Prestige
,
Grenade for Pacifist
,
Pakes
,
My Javelina
,
Impossible Sunday
,
Skykillers
, and
Speak EZ
—as well as several acoustic singer-songwriters. Best of all, it's only $7 at the door. This one's all-ages and family-friendly, folks.

PHOTO COURTESY OF KARLA BONOFF

THE PROGENITOR : Karla Bonoff, who led the way for the current crop of female singer-songwriters, plays Aug. 22 in Cal Poly's Spanos Theatre.
According to
Billboard Magazine
,
Karla Bonoff
led the way for the current crop of female singer/songwriters: "Long before Alanis and Jewel, there was a breed of singer/songwriters whose earthly anthems of soul-searching, heartache, and joy touched souls in a way few can muster today." On
Saturday, Aug. 22
, at 8 p.m. in Cal Poly's Spanos Theatre, check out an intimate evening with Bonoff and her special guest, guitarist
Kenny Edwards
. Bonoff's songs have been recorded by plenty of artists: Linda Ronstadt did "Someone To Lay Down Beside Me," "Trouble Again," "All My Life," "Falling Star," and "Goodbye My Friend"; Bonnie Raitt covered "Home"; and "Tell Me Why" was sung by Wynonna Judd. Call 756-2787 for tickets ($29 to $35).
They're impossibly young looking, but I have a good feeling about The Skaflaws, who play the Frog and Peach on Saturday, Aug. 22. This is their second trip to SLO, after playing with RX Bandits on campus at Cal Poly, where the guitarist (Tommy Matthews) is a student. Check out this female-fronted ska-rock-reggae act from Santa Cruz.
Get your jazz on when Arroyo Grande's Village Summer Concert Series welcomes Latin jazz pianist Larry Arone featuring vocalist Maite, playing in quartet form, and The Mike Raynor Trio at 1 p.m. on Sunday, Aug. 23 at the Rotary Bandstand. This free concert was aided by the SLO County Jazz Federation.
San Francisco area saxophonist Mel Martin brings in a quartet that features famed N.Y.C pianist Don Friedman for the next installment of the Famous Jazz Artist Series at the Hamlet on Sunday, Aug. 23. Martin is perhaps best known as a member of BeBop And Beyond, while Friedman has been the recipient of numerous jazz awards such as Downbeat magazine's "New Star" of the year. Robb Fisher (bass) and Jeff Marrs (drums) will join them for a 4 p.m. show ($15) and a 7:15 p.m. show ($12). See both for $20. Call 927-0567 for reservations.
The Popravinas return to the Frog and Peach on Wednesday, Aug. 26. The Santa Monica-based alt-Americana band puts on a countrified, rockin' good show.
Stripping down his usual full band set-up, singer-songwriter Mikey de Lara will perform several acoustic solo dates in SLO County: Wednesday, Aug. 26 at Linnaea's Café (8 p.m.); Thursday, Aug. 27 at the Porch (6:30 p.m.); and Saturday, Aug. 29 at the Clubhouse (7 p.m.). Said de Lara during a recent radio appearance, "Performing an acoustic solo set is incredibly gratifying because there's so little between the music and folks who are taking it in. If an artist can make it happen with just an instrument and their voice, they're really bringing something special to the table." Expect a raw, intimate live show.
Mark your calendars for Thursday, Aug. 27, because that's when you're going to deliver a big ol' "ommmm" when Danyavaad and The Shimmy Sisters play an 8 p.m. show at the Steynberg Gallery ($10). The Middle Eastern-fusion music ensemble is a feast for the eyes and ears.
Also make a note of Nashville singer-songwriter Mare Wakefield, who returns to Linnaea's Café on Thursday, Aug. 27 for an 8 p.m. show. With a lovely, lilting voice and sweetly infectious folk song chops, she'll win you over.
Glen Starkey is on vacation. Don't write to gstarkey@newtimesslo.com.
CD Reviews
Jack Peñate—Everything Is New
For his sophomore album, Jack Peñate gleans an eager exuberance from adventurous song crafting, relinquishing the sweet U.K. pop of his debut for a heavy dabbling in Afro-pop melodies and rhythms. It's difficult to pin down what makes the album as appealing as it is. Maybe it's the unabashedly good-natured sentiment that runs through it (as un-cool as cheerfulness can be). But the guiding hands of producer Paul Epworth (Bloc Party) has positioned Peñate as a late summer delight, as each song arrives full-formed and contagiously familiar. "Everything Is New" revives the overblown instrumentations of Congotronics, and along with "Tonight's Today" mines the bubbly vibrancy last heard on Vampire Weekend's debut, with a healthy dose of handclaps to keep the beat alive. The tropics infuses "So Near," as clipped high-life guitars pair with a piano to mimic the tinny ding of a steel drum. And Peñate's cockney accent consistently slips into Robert Smith adulation, which only adds to the fun. Worth a listen.
Yim Yames—Tribute To
In 2001, with little more than a guitar and an avalanche of vocal reverb, My Morning Jacket frontman, Jim James held a late-night tribute to the passing George Harrison. This is an intimate affair, traveling the arc of a six-song set. Positioning Harrison's Beatles compositions with choice cuts off his classic All Things Must Pass, it's sequenced as only a true fan could have requested. Starting with the romantic pining of the White Album's "Long, Long, Long" and ending with the plaintive reassurance of "All Things Must Pass," James mirrors Harrison's spiritual love and mystical calm throughout this homage. Even more fitting are the echo-laden vocals of James, recalling the saturated production of Phil Spector who recorded All Things Must Pass. Whether its the ghostly, backwoods banjo reading of "Love You To" or the stripped-down, overdubbed harmonizing on "My Sweet Lord," James will make you want to revisit the originals, which is the perfect eulogy a musician can give to a fellow songwriter.
—Malik Miko Thorne, of Boo Boo Records and mikovision.blogspot.com, where you'll find archived reviews and soundclips.