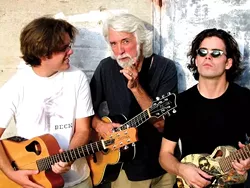 PHOTO COURTESY OF JOHN MCEUEN
EAST COAST BOUND : Nitty Gritty Dirt Bander John McEuen (with son Nathan and Scott Gates) plays a couple final West Coast shows at Painted Sky Studios on Jan. 16 before permanently moving to Manhattan. Get him while the getting's good.
Nitty Gritty Dirt Band (almost) founding member and multi-instrumentalist John McEuen (banjo, guitar, mandolin, fiddle) is getting ready to permanently bust a move to Manhattan, which will severely limit his West Coast exposure, but you can check him out one last time when he plays a couple of shows at Cambria's Painted Sky Studios on Friday, Jan. 16.

Though McEuen is generally credited with being a founding member of the popular country-rock band, which ironically was formed in Long Beach far from anything country-esque, he actually replaced Jackson Browne, who along with Jeff Hanna and Bruce Kunkel formed the Illegitimate Jug Band while still in high school. Later in college they renamed it the Nitty Gritty Dirt Band, adding Jimmie Fadden, Ralph Barr, and Les Thompson. Because McEuen replaced Browne before the band recorded its first album, Browne's been sort of forgotten as a member (not that it hurt his career!).

The Dirt Band (as it was known in the '70s) had several modest hits and even made an appearance in Paint Your Wagon, a musical starring Clint Eastwood (who, judging by his song over the credits in Gran Torino, hasn't much improved voice-wise). Their real success came in 1972 when they released Will the Circle Be Unbroken, a three-record set of traditional country and folk tunes, which eventually went platinum and cemented the band's reputation for musicianship and respectful homage to the Americana genre. The project was spearheaded by McEuen. The band was also the first U.S. rock band to tour the former Soviet Union, and they performed and arranged Steve Martin's 1978 novelty hit single "King Tut." Interestingly enough, McEuen has enjoyed the most fruitful and critically acclaimed solo career (he left the band in 1986 only to return later).
McEuen is the only California musician to perform solo on the Grand Ole Opry. He's made more than 40 albums (six solo) with 20 top 20 hits that have earned four platinum and five gold recognition awards, six Grammy nominations with a win in 2005 for Best Country Instrumental, CMA and ACM Awards, a Western Heritage Award, an Emmy nomination, and an IBMA Record of the Year Award.
He's currently producing an album featuring all of Steve Martin's music. Guest artists include Vince Gill, Dolly Parton, Tony Trishka, Earl Scruggs, Pete Wernick, Stuart Duncan, Jerry Douglas, and Tim O'Brien.

If I were you, I'd call for tickets ($20) right now (927-8330) since the venue can only seat 75 people per show. The performances (6 and 8:30 p.m.) will be recorded live for possible inclusion in upcoming CDs, which means your applause may end up on a record. McEuen will be joined onstage by his son Nathan (guitar, vocals), Chuck Hailes (upright bass), and Scott Gates (mandolin).

Return to the spotlight


PHOTO COURTESY OF RAGG
ROLLING THUNDER : Hardcore rockers Ragg (pictured) headline a show with L.A.'s new darling The Fabulous Miss Wendy and Depths of Chaos on Jan. 16 at Hoovers Live.
Ragg
's been hiding out, or at least it might seem that way to SLO County since they haven't played many local gigs. They did win an award not too long ago at the Rock City Awards in L.A., where they represented the Central Coast and won a trophy for Best Central Coast Band.
"We're proud to represent and do our best for the Central Coast," said core members Anthony and Monique, "but we don't believe there's a 'Best Central Coast Band,' so we wouldn't want to call ourselves that. There is a lot of good music, it just pertains to people's likes and dislikes. So we just say we won an award for best band representing the Central Coast."
Ragg has used some of its L.A. connections to bring a few of L.A.'s finest to the Central Coast this Friday,
Jan. 16
, when The Fabulous Miss Wendy joins Ragg for a show at Hoovers.
"She's going to do an acoustic rock set," added Ragg, "but she is all the buzz in L.A. now even without her whole band. We were surprised she'd come to our little area to play anyway. She has two songs on VH1's The Pick Up Artist and is featured in Revolver magazine and Girls and Corpses Magazine. She played with us at the Rock City music awards last month. She's a little crazy ... OK, a lot, but in a good way."
Depths of Chaos is also on the bill.
PHOTO COURTESY OF GUY BUDD
LUCKY 14 : Blues guitar slinger Guy Budd is one of several performers playing the 14th Annual Sharing the Dream Concert & Cultural Art Festival on Jan. 17 at Laguna Middle School.
His dream come true
The Rev. Dr. Martin Luther King, Jr. had a dream, and dang if it isn't coming true with the impending inauguration of Barack Obama. That's why this year's
Annual Sharing the Dream Concert & Cultural Art Festival
seems especially poignant. Now in its 14th year, the
Saturday, Jan. 17
event will feature a tribute concert with performances by
Louie Ortega
,
The Shival Experience
,
Guy Budd
,
Bob & Wendy
,
Maheyla & the Ritual
, and An All Star Music Jam during the 11 a.m. to 5 p.m. event held at Laguna Middle School ($10, or free for students and seniors; a $5 lunch is also available from Bon Temps Creole Cafe).
The proceeds from this event help the Sharing the Dream Organization promote and organize future celebrations of the Nationally recognized King Holiday and Black History Month in San Luis Obispo County.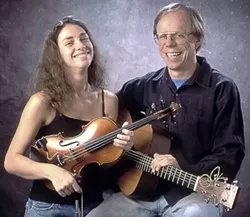 PHOTO COURTESY OF NOTORIUOS
TWO ON THE TOWN : On Jan. 15, St. Benedict's Church hosts acoustic duo Notorious—New England musicians Eden MacAdam-Somer and Larry Unger—during a Red Barn Music Series concert.
More music...
The
Thursday, Jan. 15
Red Barn Community Music Series event
won't be held in Los Osos' Red Barn, instead it will take place at 7 p.m. (6 p.m. potluck, as usual) in St. Benedict's Church (2170 Clark Valley Rd.). But expect the same kind of great folk music and downhome atmosphere as usual when acoustic duo Notorious—New England musicians Eden MacAdam-Somer and Larry Unger—bring together traditional and contemporary acoustic music from around the world. A $10 donation is requested at the door.
Don't forget about the good food and music presented by the Boutique Hotel Collection's
Central Coast Folk Festival
, running from
Thursday, Jan. 15 through Sunday, Jan. 18
. See the full schedule and buy tickets online at www.CCFolk.com.
What with the unfortunate death last year of Sigma Alpha Episilon pledge Carson Starkey, fraternities once again have a pall cast over them, obscuring the frequent philanthropies they engage in like this week's "Rock the Path" for
PathPoint
, a benefit concert for people with disabilities. Delta Sigma Pi, a co-ed business fraternity that focuses on professionalism, brotherhood, and community service, has the following bands lined up to perform:
Nothing Ever Stays
;
Scarlet Letters
;
Chase McBride
; and See the Light. It all happens this
Friday, Jan. 16
from 7 to 11 p.m. in Cal Poly's Chumash Auditorium in the University Union. Tickets are $6, available on campus at the Business Building Breezeway or at PathPoint, 265 South St., Suite H.
Lil Rev, a multi-instrumentalist (mandolin, ukulele, banjo, guitar, and harmonica), plays the Steynberg Gallery this Friday, Jan. 16 from 8 to 10 p.m., bringing music he bills as "Fiddler on the Roof meets O Brother Where Art Thou." That's Jewish folk music for in the uninitiated, songs of home, love, struggle, triumph, dreams made good, hope, and faith. And like me, he's from Wisconsin—good Midwestern stock! This show will set you back $10.


PHOTO COURTESY OF FISH OUT OF WATER
STILL SWIMMING : After seven months in Hawaii, Fish Out of Water is back with a new drummer and a show at Mongo's on Jan. 16.
Fish Out of Water
is back from their seven-month Hawaiian vacation/tour and playing Mongo's Saloon this
Friday, Jan.16
, delivering their pajama-clad amalgam of rock, funk, reggae, hip-hop. The group consists of cousins Brandon and Kyle Moon, who recently added drummer Russel Lundgren from Oahu. In April, they're releasing a new album, Paid Vacation, and heading out on a national tour, so get 'em while they're here. The show starts at 9 p.m.
Oh, did you want to see
Alex de Grassi
? Well, I guess you should have gotten off your keister and bought some tickets, because the Grammy-winning guitar master's two SLOFolks concerts are already sold out. The
Saturday, Jan. 17
Castoro Cellars and the
Sunday, Jan. 18
Coalesce Bookstore shows are booked. But you can hear de Grassi live on KCBX 90.1FM during
Sonnie Brown's Minstrel Song Show
from 2 to 4 p.m. on
Saturday, Jan. 17
.
SLO's World Rhythm & Motion Studio
, which has to close its doors at its current location, is holding a fundraiser party to raise money to find a new location. This
Saturday, Jan. 17
, the studio will throw one last hurrah beginning at 7 p.m. that will include a silent auction, potluck, and performances by
Tribal Revival
,
Tahitian Dance & Drums
,
Surya Devas
,
Saja
,
Hula
, the
Arabic Ensemble
,
Louie Ortega
, and more. There'll also be a movie watching slumber party (BYO sleeping bag!). It all happens at 150 South St., next to the Greyhound Bus Depot.
United Church of Christ San Luis Obispo hosts the
Springfield Missionary Baptist Choir and their Friends
for a Gospel Songfest this
Saturday, Jan. 17
at 7 p.m. at the United Church of Christ (11245 LOVR). Proceeds will help Springfield retrofit their 70-year-old church building. For more info, call 544-1373.
Two-time Canadian National Fiddle Champ
April Verch
returns with her band for a 7:30 p.m. concert on
Sunday, Jan. 18
at Steynberg Gallery ($15 tickets on sale at the venue). Verch recently released Steal the Blue, which sounds like a cross between Alison Krauss and Natalie MacMaster.
PHOTO COURTESY OF CAL POLY ARTS
PERKY! : Annie, one of America's favorite musicals, comes to the Cohan Center on Jan. 19 and 20.
What could be better than the plucky tale of a perky redheaded orphan?
Annie
, one of America's favorite musicals, comes to the Cohan Center at 7 p.m. on
Monday and Tuesday, Jan. 19 and 20
, for two family-friendly performances (Those 16-and-under pay just $20; the rest of you pay $44 to $54). The original Broadway production won seven Tony Awards, including Best Musical, Book, and Score. For this production, Tony Award-winning set designer Ming Cho Lee created a fresh look. Hear classics like "It's the Hard-Knock Life," "Easy Street," "N.Y.C.," and the ever optimistic "Tomorrow." Call 756-2787 for tickets.
The nightmare will be over in just a few more days, when the moron and warmonger known as George W. Bush will be shown the door and the silver-tongued hope of the world will get his shot to burnish our tarnished image. If you want to celebrate the change but can't make it to D.C.,
San Luis Obispo Grassroots Democracy
, an independent political action group, is hosting Barack Obama's inauguration celebration on
Tuesday, Jan. 20
, at SLO's The Graduate from 5:30 to 9:30 p.m. Tickets are a $10 donation per person for a DJ (Malik Miko Thorne!) and dancing. Food and beverages will be available from The Grad menu. Free appetizers and desserts will be provided. There will be a drawing for a Genuine Buddy 50cc Scooter from Central Coast Mechanics, as well as many other prizes and Obama memorabilia.
Michigan singer-songwriter and environmental educator
Joe Reilly
writes songs and uses music to bring people together across lines of race, class, gender, religion, and age. On
Wednesday, Jan. 21
, he'll play Linnaea's Cafe with Judy Piazza for an 8 p.m. pass-the-hat show (suggested donation, $5). ∆
Glen Starkey doesn't suffer from insanity; he enjoys every minute of it. Send him the talking cure at gstarkey@newtimesslo.com.
CD Reviews

Various Artists—Le Pop: Les Filles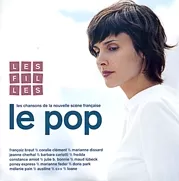 Whether it's the emotional devastation sung by Edith Piaf or the sultry alluring whisper of Bridgette Bardot, French chanteuses always seemed to have your heart tied around their finger, despite any language barrier. Or so say a pair of German DJs and their record label Le Pop Musik, which has issued several Le Pop compilations, each championing French Pop in all its subtle shades. Their latest, Le Pop: Les Filles, focuses on the current crop of talented females of the Nouvelle Scène. Singer Fredda coos with languid jazz cool on her track "Barry White" while producer Kid Loco shapes Julie B. Bonnie's "Bonjour Monsieur" into a midtempo sweetly-jazzed organ groove. With a helping hand from Calexico's Joey Burns, Marianne Dissard "Les Draps Sourds" revives the hot gypsy jazz of Django Reinhardt and Stephanie Grappelli, where the pipe-organ in Loane's "Petit Boheur" resuscitates the air of a circus trapeze act. A steady collection with little disappointment.
J. Tillman—Vacilando Territory Blues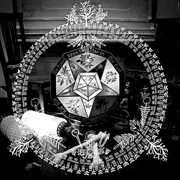 Tramping in the same circles as indie troubadours Damien Jurado and Richard Buckner, J. Tillman has been turning out his home-crafted CD-Rs since 2004. Recently, fortune has found him drumming for 2008's breakout band Fleet Foxes, and even nabbing assistance from his bandmates Christian Wargo and Casey Wescot. Deriving an intimate aesthetic from his quivering soft vocals as well as his minimal arrangements and bare-bone production, a stark and fragile tenor is struck throughout Vacilando Territory Blues. It has the mood of grey skies and beading rain trailing down windows, a melancholia that pulls from the confessional ruminations of singers from Nick Drake to Leonard Cohen. Depending on your temperament, this constant glum (not counting the sole upbeat, let-loose rocker "New Imperial Grand Blues") may either capture your listless spirit perfectly or slowly suck you into a drooling nap, either of which could be exactly what you need after whirlwind day.
—Malik Miko Thorne, of Boo Boo Records and KCBX's "Night Train."