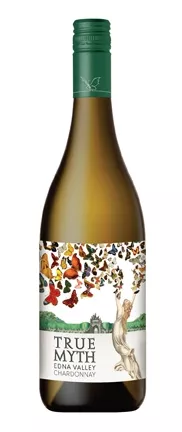 TRUE MYTH 2012 CHARDONNAY EDNA VALLEY:
The latest label from Edna Valley's pioneering Niven family, True Myth is their salute to classic Central Coast Chardonnay from their famous Paragon Vineyard. During the first two decades of professional winegrape growing in this beautiful valley—the latter '70s and '80s—wine experts (growers, winemakers, and media) all believed that Edna Valley was best suited to Chardonnay. Of course the Pinot Noir and Rhone wine zealots proved them wrong; this region grows excellent white and red wines. This delicious, nicely balanced chardonnay is available at the Baileyana/Tangent tasting room on Orcutt Road in SLO, and at California Fresh Market for $16 retail.



CANALS & NUBIOLA CAVA (NON-VINTAGE) SPAIN:
The Spanish know what they're doing when it comes to dry sparkling wines that give a lot of bang for your buck. This dry bubbly is refreshing with notes of apple, citrus, and spice. It drinks as well on its own and pairs nicely with food. Serve this with a savory omelet of bacon and Swiss cheese, with shellfish, and most cheesy appetizers. A great buy at BevMo! in the 5-cent sale: It's only $12.95 for one bottle and 5-cents for the second bottle. It's a wise choice for stocking up the cellar with the holidays rapidly approaching—a glass of bubbles is the perfect aperitif to start a party.