While I was shopping at Scolari's in Pismo Beach early this week, Cindy, one of my favorite checkers, called me out to me: "Kathy, I can't wait to tell you about a new restaurant in Oceano I discovered last night with my son—we had a great meal there."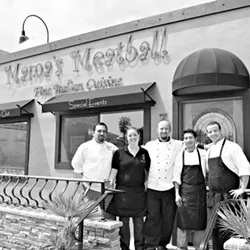 Photo by Steve E. Miller
THE CREW : Pictured are (left to right) Miguel Angel Hernandez, Julie Woosley, Nicola Allegretta, Jose Martinez Rosa, and Luca Allegretta.
"Was it Mama's Meatball?" I said with a grin, then explained that I had the same experience.
"Everything about it was great," she reported, "the food, the service, and the prices."
Her dinner at the cozy new trattoria, which is just steps from the beach, was as impressive as my lunch when I visited it a week earlier.
Although I thoroughly enjoyed the toasty bruschetta topped with slivered artichokes, sun-dried tomatoes, and mozzarella ($5), I was even more impressed with my first bite of the orecchiette con braciole ($12). I could instantly tell that the ear-shaped pasta was freshly made. Topped with beef—a sirloin steak rolled around a core of Italian pancetta, parmesan cheese, fresh garlic, and spices—it was so meltingly tender and delicious I couldn't keep my fork away from it.
The goodness and generous portions didn't stop there. The linguini fradiavolo ($13)—delicate strands of linguine topped with Mexican shrimp, garlic, extra-virgin olive oil, and spicy tomato sauce—was every bit as good in quality and freshness. When I got to the dessert, a classic tiramisu, I proclaimed it the best I've tasted in years. I was excited about sharing the discovery of this great new eatery. All of this food comes at amazingly low prices for the quality and generous portions, and the good deals extended to the small wine list featuring mostly Italian wines.
I met owner/chef Nicola Allegretta for the first time at the Oceano restaurant. The views of the waves crashing on the beach were gorgeous as I parked out front, but only one window table for four provides V.I.P. seating to get that view. But once you've enjoyed the food here, the view won't be the main attraction. The chef said that he was changing the menu seasonally, but his regulars didn't want him taking their favorites off. Now, he admitted, he plans to only change it annually.
"We really love people," Allegretta said proudly. "My main thought is that God gave me the power to do this and I need to share."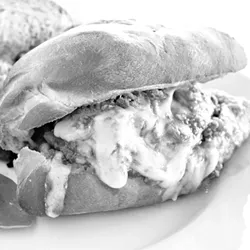 He believes he can keep the quality high and the prices low with enough volume in sales.
"People have no time to cook or go to the store and get all of the ingredients for almost the same amount of money if they ate here," he explained. "We simplified it for our customers who can enjoy it here, or order ahead and pick it up to take home."
Although the menu notes that it's fine Italian cuisine, this isn't an upscale restaurant. It's a quaint and casual trattoria with its colorful walls and adorable photographs of Allegretta's son and daughter playing with spaghetti inside a giant pot. It only seats 35 people, but it offers comfortable wooden chairs and white-tablecloth-covered tables. Allegretta said that his wife, Jacqueline, designed the interior or their restaurants and decorated them.
Recently, Allegretta changed the menu so you can order salads by half or full size ($4 to $10), soup by the cup or bowl ($4 to $7), or pizzas by the personal or regular size ($6 to $14). Pastas aren't split, but are still reasonable ($11 to $16), with great choices like Linguine alla Pescatore with clams, mussels, calamari, shrimp, scallops, and salmon in a white wine and marinara sauce. There are more great choices in over-stuffed panini ($9 to $12).
The eatery at the Avila Hot Springs (near Hwy. 101) offers only an express menu. Both it and the SLO branch in the Creamery offer seating inside and out. For a $4 delivery charge, you can have your order delivered to you at home or at work if you're near one of his three locations.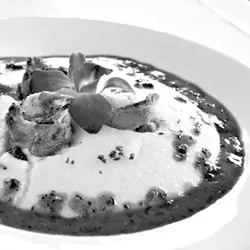 Mama's Meatball offers a convenience I've long wished for: a reasonably-priced eatery where I can dine in or order take out and bring home food that's consistently good.
INFOBOX:
Three's company
Mama's Meatball now has three locations: 325 Pier Ave., Oceano, 473-2383; 250 Avila Beach Dr., 627-0288; and 570 Higuera St., SLO, 544-861.
INFOBOX:
Celebrate wine!
On Friday, May 16, the day before the popular Paso Robles Wine Festival, Treana is offering a wine and cheese pairing seminar led by San Francisco food writer Laura Werlin, winner of the James Beard Award for her guide, The All American Cheese and Wine Book. Her latest book, Cheese Essentials: An Insider's Guide to Buying and Serving Cheese, was also nominated this year. The artisan cheeses will be paired with award-winning wines from Treana, Liberty School, and Austin Hope. The event takes place at the historic Paso Robles Inn at 1:30 p.m. A book signing reception follows the seminar, with appetizers prepared by the hotel's chef Kelly Wangard. Tickets are $35 per person, and space is limited. For reservations, call Barbara Smith at 238-6979, Ext. 217.
Enjoying life's simple pleasures is the theme for the 26th Annual Paso Robles Wine Festival in Paso Robles Downtown City Park. The festivities begin at 2 p.m. on May 17 with more than 90 wineries offering more than 400 premium wines. New this year: an unlimited tasting format so you can get to know more of these wineries—but don't forget to spit. The Paso Robles Wine Country Alliance promises to combine the best of Paso's culinary accomplishments, from fine wines to gourmet foods. Chefs and artisan food producers will be highlighted in the new "artisan alley," featuring specialists like the Abalone Farm, Windrose Farms, Hearst Ranch Beef, and much more. There's a demonstration kitchen starring local chefs, including Tom Fundaro of Villa Creek, Matthew Riley of Matthew's, Chris Kobayashi of Artisan, and several others.
Friday through Sunday, more than 115 wineries along Paso's wine country trails will offer open house events; some are free, but most offer an array of treats from wine and food to entertainment at a minimal fee. The grand tasting takes place from 2 to 5 p.m., festival admission tickets are $55 per person (designated drivers and children older than 2 years get in for $15). For those purchasing advance tickets, premium admission is available for $75 per person, which allows you to enter the tasting an hour earlier, at 1 p.m. For details, reservations, and/or advance tickets visit www.pasowine.com. On the 17th, some tickets might be available at Santa Lucia Bank, but that's no guarantee. Tickets won't be available if the event sells out, so ensure your chance of getting in by purchasing them in advance.
---

You can reach New Times' Cuisine columnist at khardesty@newtimesslo.com.